Venetian Plaster in Greenwich, Darien, New Canaan, Westport and Surrounding CT & NY Areas
If you want to infuse new life into a residential or commercial space, there's no shortage of ways to go about it. As a Fine Paints of Europe Master Certified Painter, we often recommend adding some fresh paint when someone approaches us about transforming their home or business headquarters.
While fresh paint is a great way to give a room a new look, we offer another option for people who'd like to do even more to transform their space — we install Venetian plaster in Fairfield County, CT, Westchester County, NY and the surrounding areas.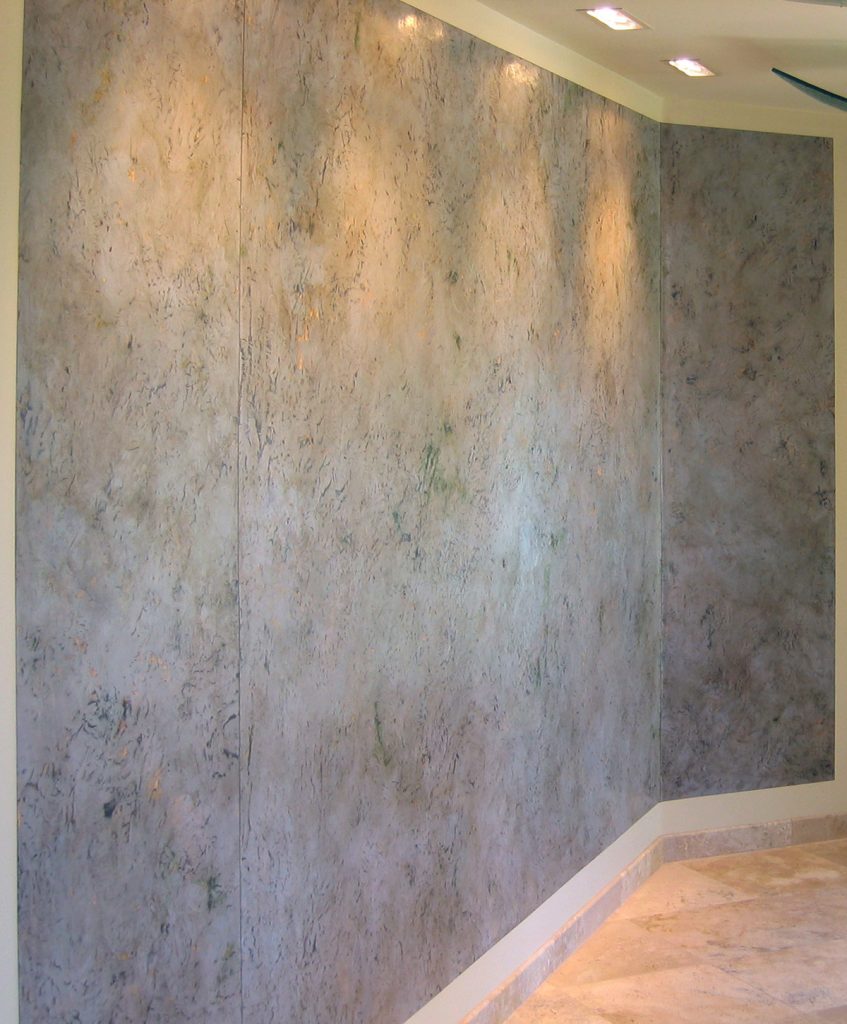 What Is Venetian Plaster?
Even though Venetian plaster has been around since Greco-Roman times, a lot of area residents and business owners don't know what it is. If they are familiar with Venetian plaster, they may associate it with the Tuscan décor trend that was popular in the 1990s. To fully appreciate the enduring versatility and aesthetic qualities of Venetian plaster, it's imperative to look beyond that design movement to understand Venetian plaster's nearly limitless potential and possibilities.
Despite the geographic reference in its name, Venetian plaster is actually a general term that refers to how the material is made. This means you can use the terms "Venetian plaster" and "lime plaster" interchangeably. Venetian or lime plaster refers to putty that's made by combining fired limestone with water. When applied to a wall, the putty is exposed to carbon dioxide. As that happens, it returns to its natural state as limestone.
How Venetian Plaster Differs from Other Plasters
Customers often ask us how the material differs from similar products. The primary difference between Venetian plaster and other kinds of plaster is that Venetian plaster doesn't have aggregates mixed in. The added aggregates in other plasters typically make them thicker than Venetian plaster.
Reasons to Choose Venetian Plaster
Venetian plaster can transform a residential or commercial space into a welcoming area that boasts both visual and textural appeal.
Here are some of the qualities that make Venetian plaster such a wonderful alternative to paint in so many applications:
Earthy, soft and iridescent appearance: Applied in layers, Venetian plaster has the appearance of depth, movement and iridescence. As a natural product, Venetian plaster shows off a captivating interplay of warmth, light and softness.
Matches any aesthetic: Whether your aesthetic is minimalist, classic, Southwestern or something else, you can pull it off with Venetian plaster.
Low-maintenance and long-lasting: Unlike the old days when a single scuff mark would require you to re-plaster an entire wall, today's Venetian plaster is low-maintenance and long-lasting. Blemishes are easily repaired in patches using damp cloths, a mild cleaning agent and a bit of light sanding. Venetian plaster needs so little maintenance that many people compare caring for a wall covered with it to maintaining a painted wall.
Nontoxic: Venetian plaster is nontoxic. As such, the material doesn't release any volatile organic compounds into the air.
Resistant to mold and mildew: One of the biggest draws of Venetian plaster is that it's breathable. This laudable quality makes the material resistant to both mold and mildew because moisture can escape from the plaster.
Get a Free Quote for Venetian Plaster for Your Home or Business
Now that you're familiar with Venetian plaster and all the reasons why it's such a sought-after material among homeowners and business owners, you're probably ready to install this material at your location. If that's the case, look to our family-owned and operated company to find talented experts who can apply Venetian plaster to your walls and breathe fresh life into your home or business.
We encourage you to contact ShorelinePainting & Drywall, Inc. to request a free, no-obligation quote for Venetian plaster. From the moment you reach out to us, you'll see that quality, expertise and integrity are the backbones of our business.