Your Source for Interior and Exterior Painting in Easton, CT
Painting your home may not be one of those projects you look forward to, but you'll probably have to do it sooner or later. You could spend a lot of time and effort taking on this demanding task yourself — and you still might not be happy with the final result, which is why you should look for a professional painter. If you're ready for a quality, eco-friendly painting job, contact the professional painters at Shoreline Painting & Drywall, Inc. We've been a trusted source for exterior and interior house painting in Easton, CT and all of Fairfield County for more than 35 years.
Expert Exterior Painters Can Increase Curb Appeal in Easton, CT
One thing's for sure: There's no way to hide a shoddy exterior paint job! In addition to your landscaping, the paint condition is one of the first things that passersby will notice. Whether you're thinking of putting your Easton, CT home on the market or planning to stay in it for the long haul, you'll want to maximize its curb appeal. Let our skilled and experienced exterior house painting professionals transform the look of the outside of your home, or trust a painter to freshen the interior of your home. We use only high-quality, environmentally friendly paints and coatings that not only look fantastic, but will also help protect your home against the elements. We can even assist you in selecting the ideal color for your home.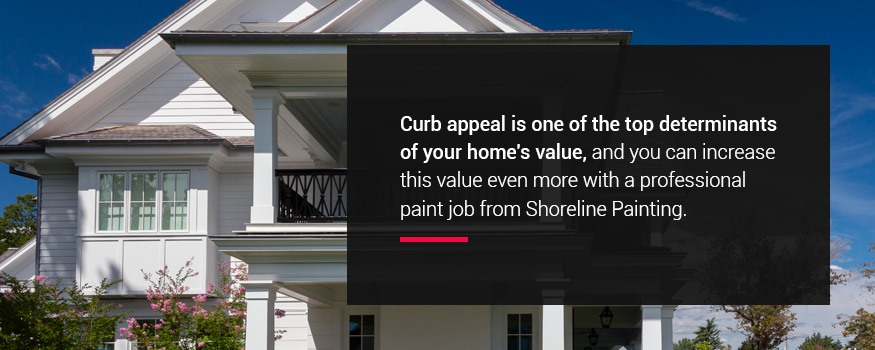 Make Your Easton, CT Home More Livable With Our Interior Painting Services
Dull, dingy, faded interior paint can make your home much less desirable to live in and may even prevent you from entertaining guests. The interior painters from Shoreline Painting will make the inside of your home a place that you and your family can enjoy again. You'll also want to show it off to your friends and neighbors. When it comes to interior painting of your Easton, CT home, nobody does it better than Shoreline!
While you don't want painters at your home forever, you don't want them to rush through the job, either. Our home painters follow our time-tested process that is a model of efficiency. This ensures we don't waste time or make amateur mistakes. Every painter on our organized and courteous team will make every effort to minimize disruptions to your family's normal lifestyle.
Easton, CT House Painters Homeowners Trust
House painting, like any major renovation project, can be stressful. You need to know you're working with a contractor who will keep you informed and get the job done on time and on budget. At Shoreline Painting, transparent communication is our number one priority. We believe that no matter how good a job we do, your experience with our company will be influenced by the amount of trust and confidence you have in our team.
We will provide open, honest answers to any questions you have before, during or after the painting process.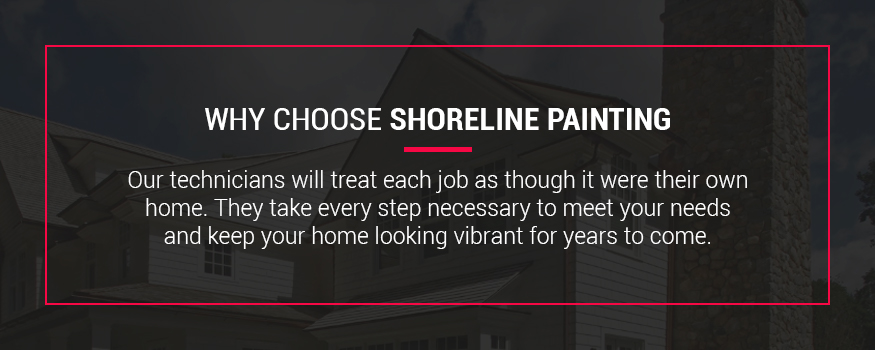 Fine Paints of Europe Master Certified Painter in Easton, Connecticut
Fine Paints of Europe is one of the world's premier paint brands — the company is highly selective in who it works with, and only a few house painters serving Easton, CT have attained Certified Painter status. This status speaks to our ability to faithfully represent the company and provide consistent work that meets their high standards.
Deep connections such as these signify the amount respect we have earned among our peers and within our industry. No matter what brand of paint we end up using on your home, our position as a Certified Painter is a measure of our professionalism and commitment to excellence.
We're a Family-Owned and Operated Company
Shoreline Painting and Drywall, Inc. is a fully bonded, licensed and insured painting contractor based in nearby Stamford, CT. As a family-owned and operated company, we understand the importance of building relationships with our customers. Our commitment to our core values of quality, expertise and integrity has helped us establish a long list of repeat customers over the years. In fact, most of our business comes from homeowners who are extremely happy with our previous work.
Contact Us for a Free Easton, CT Interior or Exterior House Painting Estimate Today!
If it's time to paint the interior or exterior of your Easton home, call Shoreline Painting at 203-302-1086 for a free estimate, or fill out and submit our convenient online contact form.
Home Painting Services in Easton, CT
Professional Expertise from Shoreline Painting
There's no better way to turn heads and boost home value than with a newly painted interior or exterior. If you're looking for professional painting services please contact us today.
Fairfield County Locations: