The Leading Painting Contractors in Stamford, CT
Painting your home can be a difficult, messy, time-consuming task. If you're like many homeowners, you simply don't have the time or inclination to take on such a daunting project which is why hiring a professional painter is a smart choice. The good news is that skilled and experienced home painters are located in your neighborhood.
Stamford, CT-based Shoreline Painting & Drywall, Inc. has been providing top quality interior and exterior painting services to residential property owners throughout Fairfield County for more than 35 years. We're a family-owned and operated company that brings quality, expertise and integrity to the interior and exterior painting process.
Transform the Exterior of Your Stamford, CT Home
When you take a look at your home from the outside, are you happy with what you see? A cracked, peeling, faded paint job is not just an eyesore – it can detract from the value of your property. When you work with our accomplished Stamford, CT exterior painters, they'll spruce up your home in no time at all.
As painting and coating experts, we can also help you choose the ideal eco-friendly paint or stain for your outdoor surfaces. Besides improving the appearance, our time-tested exterior house painting process can even protect your home against the harsh Connecticut weather throughout the year.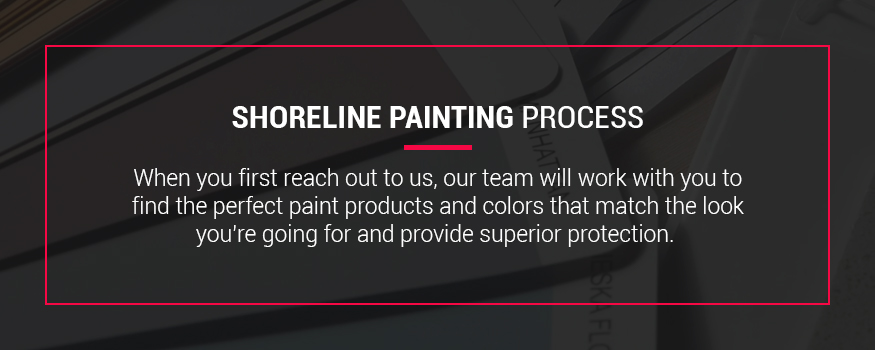 Your Best Source for Interior House Painting in Stamford, CT
Do want to upgrade the look of the inside of your home, but want to avoid the hassle and expense of a major renovation project? Call the experienced interior painters at Shoreline Painting for help. You can count on your Shoreline painter to provide a fast and efficient environmentally friendly paint job that will change your home's interior from drab and dreary to bright and cheery!
Our carefully developed and expertly executed interior painting process ensures high quality, consistent results, regardless of the size or scope of your project. You'll also appreciate our team's professionalism — we'll treat your property as if it's our own, and that includes a thorough cleanup at the end of each day.
Why Should You Choose Shoreline Painting?
Shoreline Painting is a fully bonded, licensed and insured contractor, and we're also a Fine Paints of Europe Master Certified Painter. This means we have been independently recommended for our quality and our service and have undergone further training to familiarize our team with the legendary company's extensive product lineup.
Whether or not you choose a Fine Paints of Europe product to paint your home, our status as a Master Certified Painter speaks to the exceptional value we deliver for everyone we work with.
Quality products and industry partnerships are only one part of what sets us apart from other home painters in Stamford, CT. We are committed to transparency in our pricing and our communication. We will provide a detailed estimate for every job and walk you through all the costs involved. We'll keep you informed as work progresses so that when you receive your final bill, there will be no unpleasant surprises.
We'll also perform a thorough cleanup after the job is done, ensuring there are no stains or other messes left behind. Whether we're working indoors or out, we will leave your property in better condition than it was when work began.
From start to finish, the Shoreline Painting name is one that stands for a superior experience for clients and great value for a job done right.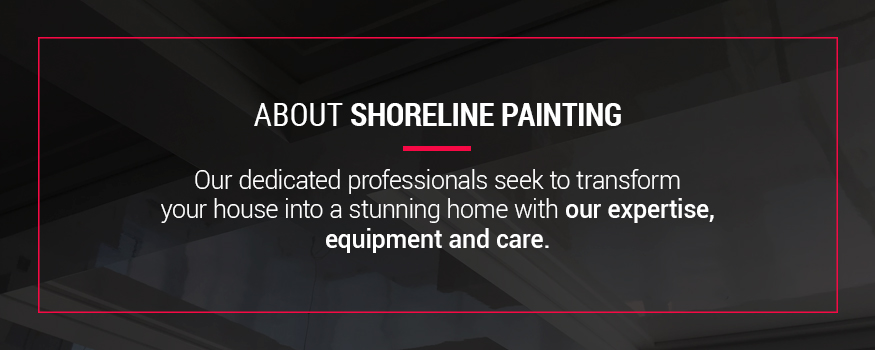 A Home Painter for Stamford's Most Demanding Clients
Our stellar reputation for performing high-quality work at affordable prices is well-known throughout Fairfield County. The fact that the majority of our business comes from repeat customers speaks to our ability to achieve total customer satisfaction.
When you work with us, you'll also have the peace of mind that comes with a company that's located right around the corner. And with more than 1,000 successfully completed projects to our credit, you can count on our unmatched experience.
Browse our extensive portfolio of interior and exterior painting projects to see what we can do!
Contact Us for a Free Estimate Today
Are you interested in having the professional painters from Shoreline Painting transform the inside or outside of your Stamford, CT home? Contact us for a free estimate today! Give us a call at 203-302-1086, or fill out and submit our online contact form.
Home Painting Services in Stamford, CT
Professional Expertise from Shoreline Painting
There's no better way to turn heads and boost home value than with a newly painted interior or exterior. If you're looking for professional painting services please contact us today.
Fairfield County Locations: