Superior Home Painters in Wilton, CT
Have you had a previous bad experience with a so-called "professional" painter who did poor work, took way too long to complete the job and made a mess of your home? Were you left with the unsettling feeling that you didn't get maximum value for your hard-earned money? Let Shoreline Painting & Drywall, Inc. change the way you think about Wilton, CT painters for the better. For more than 35 years, we've been providing superior interior and exterior house painting services to all of Fairfield County. You can trust your Shoreline Painting & Drywall, Inc. painter for hassle-free, high-quality craftsmanship.
Our Exterior Painters Can Restore Your Home's Curb Appeal
How is your exterior paint job holding up against those brutal Connecticut winters? Is your home looking a little more "weathered" than you'd like? Let Shoreline Painting restore that missing curb appeal and make your home the envy of the neighborhood. Our painter will help you choose the ideal environmentally friendly paint or stain based on factors such as color, mold/mildew resistance, UV ray protection and durability. You can also count on us for expert guidance when choosing the product that is most compatible with your exterior surface, whether it's stucco, cedar shakes, clapboard siding or brick.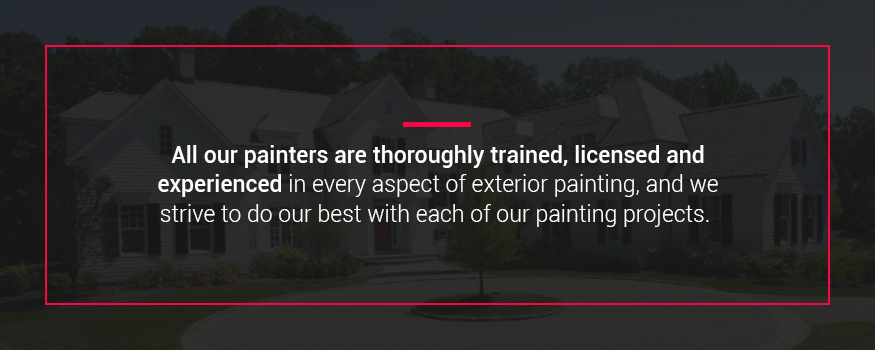 Wilton, CT Interior House Painting Services
It's amazing what some high-quality, eco-friendly interior painting can do for the inside of a home. You can trust our accomplished interior painters to provide you with the beautiful living space of your dreams. Not sure which paint color is best-suited for your home décor? We can help you make the most appropriate choice. And you'll appreciate the way our professional and conscientious team will go out of their way to minimize disruptions to your family's lifestyle. You'll also have access to an experienced site manager who is there to ensure your project runs smoothly and will immediately address your questions and concerns.
What Separates Us From Other Wilton, CT Painting Contractors
Many home painters in the area take a haphazard approach to painting a home — and it shows in the form of a poorly finished product. At Shoreline Painting, each of our painters implement a meticulous process that provides consistently excellent results. We view thorough preparation as a key to any successful interior or exterior painting project, and your painter will ensure this happens. Our process also ensures that all projects are completed with maximum efficiency.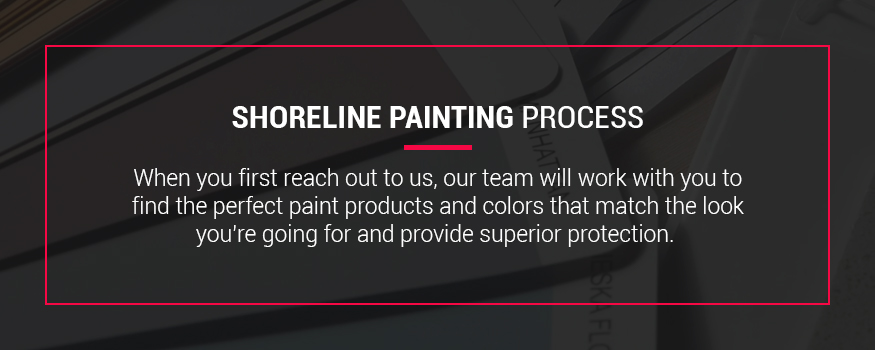 Certifications You Can Count On
These and other associations with forward-thinking manufacturers speak to our ongoing commitment to raising the bar for service and performance. Like all Fine Paints of Europe Master Certified Painters, we have a demonstrated history of providing quality house painting in Wilton, CT and beyond.
We've also undergone extensive training to stay current on the latest product offerings from both Fine Paints of Europe and other partners.
Transparency Is Our Priority
One of the biggest frustrations homeowners face when working with a contractor of any kind is simply getting a straight answer. Shoreline Painting is different. We ensure a senior team member is on-site for all work, giving you someone you can come to with any questions or concerns you have.
We believe in honesty and fair pricing, and feel that in the long run these values will serve us better as a company by earning the loyalty and repeat business of our customers.
Respect for Your Home and Your Budget
One way we treat you better is by treating your home with respect. We like to think of our customers in Wilton and beyond as our friends and neighbors. We'll arrive on time, leave your home clean and make every effort to get the job done with a minimal amount of disruption to your life.
Check Our Portfolio of Interior and Exterior Painting Projects
To get a better sense of what Shoreline Painting can do for your Wilton, CT home, take a look at our portfolio of completed projects. We'll also be happy to provide references from our legions of satisfied customers throughout Fairfield County. We're a fully licensed, bonded and insured painting contractor, and we're also a Fine Paints of Europe Master Certified Painter.
Contact Us for a Free House Painting Estimate Today!
Learn more about how Shoreline Painting can transform the interior or exterior of your Wilton, CT home. Contact us for a free estimate today! Call us at 203-302-1086, or fill out and submit our convenient online contact form.
Home Painting Services in Wilton, CT
Professional Expertise from Shoreline Painting
There's no better way to turn heads and boost home value than with a newly painted interior or exterior. If you're looking for professional painting services please contact us today.
Fairfield County Locations: