Professional Painters in Katonah, NY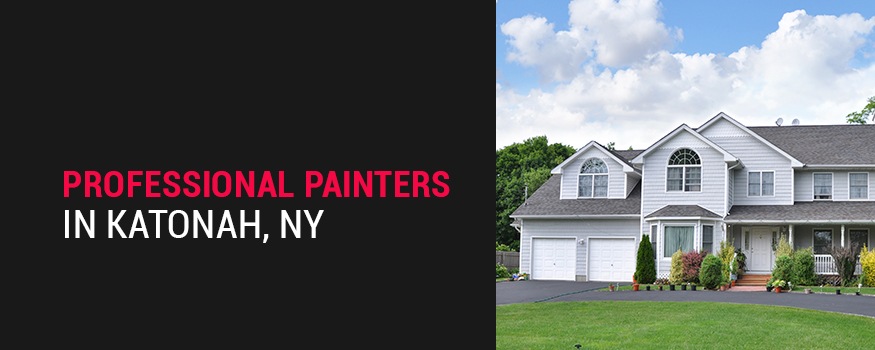 If any area of your home needs a fresh coat of paint, our team at Shoreline Painting can help. We specialize in house painting services in Katonah and other parts of Westchester and Fairfield County. Explore the process we use to ensure the best results for your exterior or interior painting project and the advantages of choosing us as your professional painter.
Our Painting and Designing Services
At Shoreline Painting, we provide various services to design your new construction or give your historic home a fresh appearance, including:
Along with our painting services, we also offer home maintenance, garage floor coating and drywall repair for residents in Westchester and Fairfield Counties.
The Benefits of Choosing Our Services
As a trusted painting contractor in Katonah, we have the experience and equipment needed to give your home a new look. Our team of capable professionals can save you time, money and energy so you can focus on other tasks.
Our customers choose to work with us because of our:
Attention to detail: Professionally painting the inside or outside of a house is more work than picking up a paintbrush and putting paint on the walls. At Shoreline Painting, we take care of the whole process from start to finish, including cleaning your home, preparing the walls and painting the surface and the trim around the doors and windows.
Excellent customer service: You can ask our previous customers how impressed they were with our service. The testimonials we provide on our website show our dedication to service and quality for our clients throughout New York and Connecticut. It's no wonder why the customers we've helped in the past call us back to work on another part of their house.
High-quality materials: We use high-quality, eco-friendly materials that enhance the visual appeal of your home. After working for decades in the painting industry, we've had time to test various types of paint, and we know that our products will last a long time and protect your home from the elements.
Unparalleled results: If you live in Westchester County, your neighbors may have quaint Cape Cods or high-class mansions. To fit in with the rest of the block, trust our team at Shoreline Painting to highlight your property's unique, intricate details. Given our years of experience with different house styles, we're confident we can enhance your living space's sophisticated elements. You can browse our portfolio to see the results of our previous projects.
What We Do and How We Do It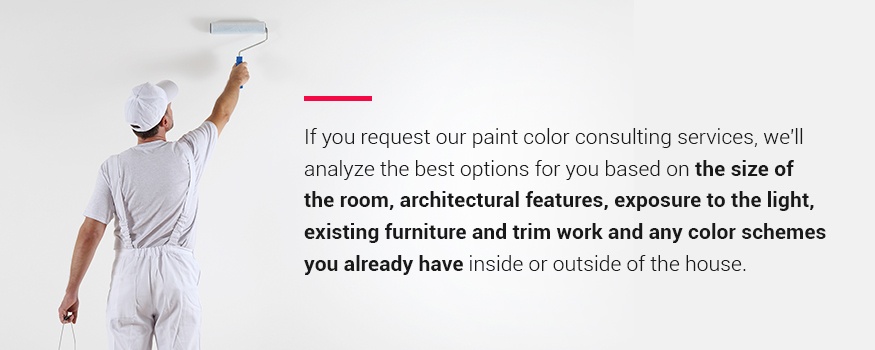 If you request our paint color consulting services, we'll analyze the best options for you based on the size of the room, architectural features, exposure to the light, existing furniture and trim work and any color schemes you already have inside or outside of the house. Then, we'll present the options to you so you can choose the ideal appearance for your exterior or interior walls.
After you've decided how you want your house updated, we take these steps to ensure your painting project is a success:
Provide a clean environment:We guarantee a clean environment for interior and exterior projects, whether you have landscaping or valuable furniture. Our painters place a protective paper on the floor, tape all windows, cover tile and stone surfaces, cover finished millwork and protect decorative hardware and plumbing fixtures to keep the area clean. Outside of the house, we also put drop cloths on your landscaping. After we finish each day, we clean up and remove all debris. In between coats, we remove dust from the whole area with denatured alcohol before adding finish coats.
Supervise the work site: Throughout the project, a job site supervisor, crew leader and general manager will be present to answer any questions you may have and to make sure the painters complete the project according to your preferences.
Inspect the walls: Before applying a coat of paint, we inspect and repair all imperfections, including spot priming, filling nail holes and sanding trouble areas. Weprime the walls and ceilings with one coat of primer, and we caulk any areas that need filling.
Apply the paint: Our professional painters will apply two finish coats of color to your home's walls and ceilings. We use Benjamin Moore Enamel Underbody on all cabinetry, millwork and trim.
Inspect and repair again: After applying the coats of paint, we fill all nail holes and joints in the casings, cabinetry, crowns, specialty trims, baseboards and wainscoting. We sand all wood with sandpaper and caulk all trims with Benjamin Moore Moorelastic Black Label. During our last run-through, we sand and correct any remaining imperfections.
About Shoreline Painting
Shoreline Painting is a painting company for Katonah and other cities in Fairfield and Westchester Counties. For more than 35 years, our exceptional team of experienced professionals has served coastal New York and Connecticut, gaining loyal customers. As a Fine Paints of Europe Certified Master Painter, we only use high-quality paint on all our projects.
We are fully bonded, licensed and insured, and we always put our customers' needs first. Whether you need a new look for the outside of your house or want to renovate your kitchen with refinished cabinetry, we'll help you come up with a plan that will transform your living space.
Contact Shoreline Painting for Exterior and Interior Painting
If you live in the coastal New York or Connecticut area and your house needs a new appearance, contact us today for a free estimate. You can fill out a form online or call 203-302-1086 for more information about any of our interior or exterior painting services.