October 10, 2023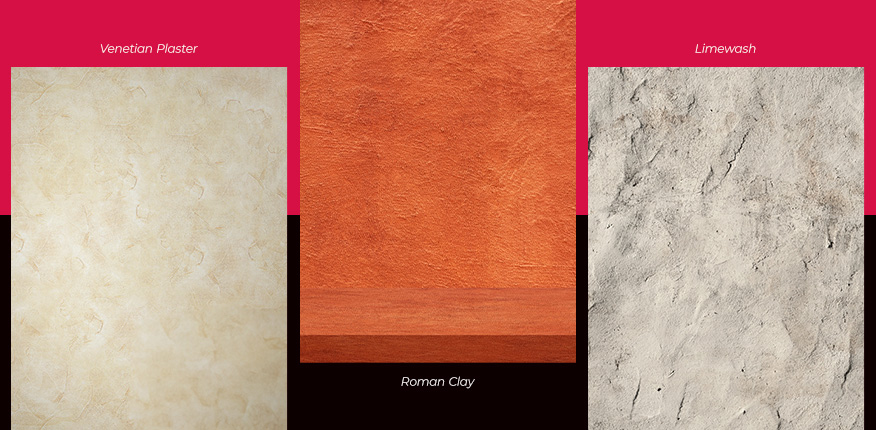 We've seen an upsurge in using limestone-based finishes such as Venetian plaster, Roman clay and limewash of late. While these are fantastic options for adding depth and variance to your walls, telling these popular finishes apart can be challenging. This guide on limewash vs. Venetian plaster vs. Roman clay should clear any confusion and equip you with the information you need to determine the best option for your walls.
What Are Venetian Plaster, Roman Clay and Limewash?
Before we dive into the differences between these trending finishes, let's define each in terms of composition and look for greater understanding:
Venetian plaster: Also known as lime plaster, this option is one of the oldest known wall finishes and comprises putty made from a mixture of water and fired limestone.
Roman clay: While Roman clay and Venetian plaster garner similar visual results, Roman clay is a thicker lime-based paint for more specific applications.
Limewash: Aged lime putty is diluted with water to form limewash.
Venetian Plaster vs. Roman Clay vs. Limewash
Although Roman clay, limewash and Venetian plaster all have a limestone base and produce similar-looking results, they differ in several ways, including the following:
How They Look and Feel
Venetian plaster: This plaster creates a stroke-like marbled appearance with either a matte or shiny finish.
Roman clay: Roman clay requires sealing and delivers a smoother finish with a slight sheen.
Limewash: After application and a protective matte sealer coat, it leaves a matte finish, exposing brush strokes with a slightly chalky look and feel.
How They Are Used
Venetian plaster: It's perfect for interior and exterior use on almost any surface and ideal for high-end applications.
Roman clay: You can only use Roman clay for your interior plaster walls or prepared drywall.
Limewash: Limewash can be applied to several surfaces, such as drywall, plaster and brick, indoors and outdoors, and is particularly useful for historical building restorations.
How They Are Applied
Venetian plaster: Venetian plaster is much thicker than paint, so apply it in layers with a trowel.
Roman clay: Applying this thick lime-based finish involves a sweeping motion using a trowel or putty knife.
Limewash: Using a large, long-bristled masonry paint brush, apply this thin, natural finish in multiple layers.
Get Your Venetian Plaster Installed by the Professionals
Venetian plaster is ideal for an upscale and natural finish that adds warmth and character to your interior and exterior walls, and hiring a professional team to carry out the application is essential. As a Fine Paints of Europe Master Certified Painter, Shoreline Painting has the expertise and skill to tailor the finest Venetian Plaster application services to your needs. For the best in Venetian Plaster applications, contact our team and receive your free, no-obligation quote.
Recent Posts