February 28, 2020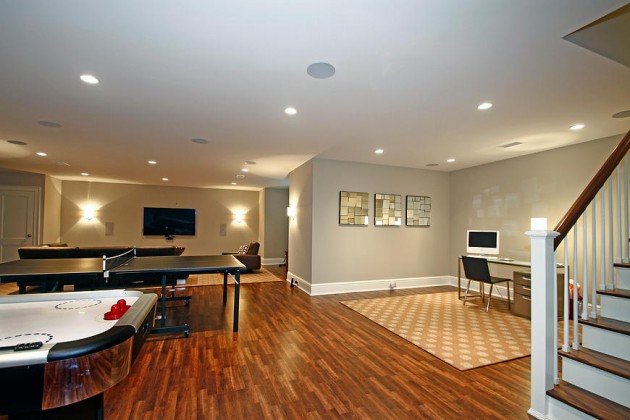 Have you ever decided on a paint color only to have it appear differently on your wall than it did before you purchased? If so, you're not alone. This phenomenon is a common one when it comes to painting interior walls with varying degrees of natural or artificial light. Some rooms in our homes get less natural light than others due to their positioning or number of windows and doors. Powder rooms, hallways and basements, for instance, usually have less natural light than other parts of a house.
No matter what interior room you decide to paint, considering the source and quality of light — or rather, the absence of light — in a given space is crucial to choosing colors for it.
How Sunlight Affects Colors
Both natural and artificial lighting can affect the way paint colors look on your walls. As the sun makes its way across the sky from dawn until dusk, it changes the amount of natural light streaming through the rooms in your house. For this reason, it's essential to consider natural light when you're selecting a color for your space. Changing seasons can also cause alterations to the amount of natural light in a room.
As the angle of the sun changes throughout the day, so will your room colors. For example:
East-facing rooms: These rooms are great for yellows, oranges and reds. East light is warm and yellow-hued before noon and turns bluer later.
West-facing rooms: Morning sunlight in these rooms can produce subtle shadows, but evening light tends to make any color look warm and pleasant.
North-facing rooms:Light in these spaces is bluish and cool. Bold colors are best used in north-facing rooms, as they usually show up more clearly than muted colors. On the other side of the spectrum, lighter colors in such a space tend to look subdued.
South-facing rooms: Since the sun pours into these rooms from a high position in the sky, lighter colors will glow while darker hues appear brighter.
How Artificial Lighting Affects Color
Artificial lighting can also play a role in how paint colors look in both commercial and residential spaces. Artificial lighting like light bulbs can be used to supplement natural light or replace it entirely. Types of artificial lighting are:
Fluorescent bulbs:These bulbs amplify blues and greens by generating cool, blue light. They also tend to mute warmer colors.
"Soft white" fluorescent bulbs: These bulbs generate a warm, yellow light that can have a fading effect on all paint colors.
Full-spectrum fluorescents:These bulbs most closely resemble natural sunlight.
Incandescent bulbs:The warm, yellow light of incandescent bulbs intensifies warm hues but dulls cooler ones.
Halogen bulbs:These bulbs produce brighter, white light that mimics sunlight and can make any room appear naturally brighter.
Why Does My Paint Color Look Different on the Wall?
Besides the effects of natural and artificial light on painted walls, other factors can cause paint colors to look different on specific surfaces, including:
Variations in monitors and printers
The color underneath
Undertones
Sheen
Porosity
Adjacent shades
Placement
What Color Paint Reflects Light the Best
In reality, all colors reflect light except for black. When you're looking for the best colors to use in low-light rooms, your best bet is going with shades that increase the sense of space.
Neutral white paint colors reflect the most light because any other color besides white must be absorbing at least some portion of the spectrum. Cooler paint colors — like pale shades of blue and gray — help walls recede and make rooms feel more light and spacious. Some of our favorite colors for rooms with little natural light are:
Pale yellow
Bright orange
Powder blue
Ocher
Chocolate brown
Lime green
Lavender
Soft gray
Pink
How to Choose a Paint Color Based on LRV
LRV, or light reflectance value, refers to the percentage of light a paint color reflects. Just like you, building and design professionals want to know how light and dark paint colors will look on the interior walls they're working with. To predict how light or dark a color will appear, these experts use its light reflectance value.
LRV is measured on a scale from zero percent, which refers to black, a color that absorbs all light and heat, to 100%, which is pure white. Pure white paint colors will reflect all light. Knowing a color's LRV helps coordinate interior room colors as well as aids schools and businesses in making energy-efficient decisions. For instance, a color with a higher LRV won't require as much air conditioning or lighting as a shade that warms quickly and soaks up light.
Pro tip: Colors with an LRV above 50 are lighter and will bounce back more light than they absorb. These shades help create a "daytime" look and add a feeling of expansion to a space. Colors with an LRV lower than 50 will soak up more light than they reflect.
Spruce up Your Home With a Fresh Interior Paint Job From Shoreline Painting
Shoreline Painting is a fully bonded, licensed and insured Fine Paints of Europe Master Certified Painter, which means we use only the finest painting tools and products available on the market today. For more than 35 years, Shoreline has provided both interior and exterior painting services for homes throughout Westchester County, NY, New York City and cities throughout Fairfield County, including Westport, Darien, Greenwich and New Canaan. Browse our portfolio of completed projects for examples of our superior artistry.
Contact us today for more information about our interior painting services or to request a free estimate.