May 18, 2022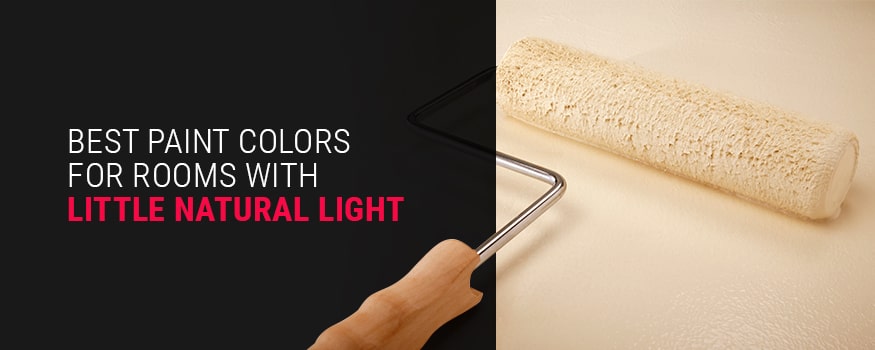 Have you ever decided on a paint color, only to have it show up differently on the wall in your home? This phenomenon is a common one when it comes to painting interior walls with varying degrees of natural or artificial light. Some rooms in our homes get less natural light than others due to their positioning, the number of windows and doors and the tone of the artificial lights. Powder rooms, hallways and basements, for instance, usually have less natural light than other parts of a house.
No matter what interior room you decide to paint, considering the source and quality of light — or rather, the absence of light — in a given space is crucial to choosing colors for it.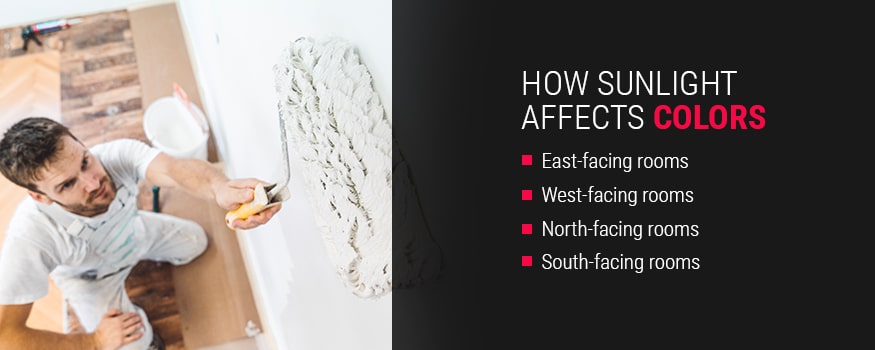 How Sunlight Affects Colors
Both natural and artificial lighting can affect the way paint colors look on your walls. As the sun makes its way across the sky from dawn until dusk, it changes the amount of natural light streaming through the rooms in your house. For this reason, it's essential to consider natural light when you're selecting a color for your space. Changing seasons can also cause alterations to the amount of natural light in a room.
As the angle of the sun changes throughout the day, so will your room colors. For example:
East-facing rooms: These rooms are great for yellows, oranges and reds. East light is warm and yellow-hued before noon and turns bluer later.
West-facing rooms: Morning sunlight in these rooms can produce subtle shadows, but evening light tends to make any color look warm and pleasant.
North-facing rooms: Light in these spaces is bluish and cool. Bold colors are best used in north-facing rooms, as they usually show up more clearly than muted colors. On the other side of the spectrum, lighter colors in such a space tend to look subdued.
South-facing rooms: Since the sun pours into these rooms from a high position in the sky, lighter colors will glow while darker hues appear brighter.
Natural sunlight balances the warm and cool ends of color, with southern light being the warmest and northern light being the coolest. It's always best to look at paint samples in natural light to feel the true color.
How Does Artificial Lighting Affect Colors?
Artificial lighting can also play a role in how paint colors look in both commercial and residential spaces. Artificial lighting like light bulbs can be used to supplement natural light or replace it entirely. Types of artificial lighting are:
Fluorescent: These bulbs amplify blues and greens by generating cool, blue light. They also tend to mute warmer colors.
Soft white fluorescent: These bulbs generate a warm, yellow light that can have a fading effect on all paint colors.
Full-spectrum fluorescents: These bulbs most closely resemble natural sunlight.
Incandescent: Incandescent bulbs will dull cool hues and make warm hues appear more intense due to their yellow and warm light.
Halogen: These bulbs produce brighter, white light that mimics sunlight and can make any room appear naturally brighter.
If your house utilizes different light sources, you may want to consider using different colors in each. The same color will look different under various forms of light.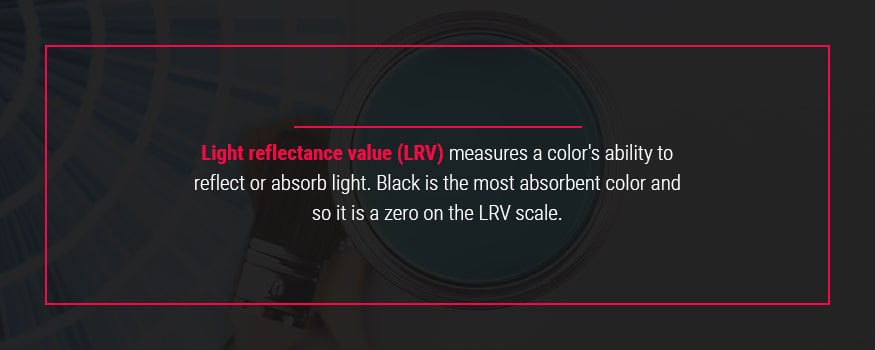 What Paint Color Reflects Light the Best?
Light reflectance value (LRV) measures a color's ability to reflect or absorb light. Black is the most absorbent color and so it is a zero on the LRV scale. Pure white, being the most reflective color, is at the other end of the scale at 100 because it doesn't absorb light or warmth. Colors that fall below 50 on the LRV scale will absorb more light than they reflect. Shades above 50 help create a daytime look and add a feeling of expansion to a space.
In reality, all colors reflect light except for black. When you're looking for the best colors to use in low-light rooms, your best bet is to go with shades that increase the sense of space.
White can be the best paint for indirect lighting because it is the most reflective. Every other color will absorb at least some of the spectrum, but neutrals will absorb the least amount of light. Some of our favorite colors for rooms with little natural light are:
Pastel yellow
Bright orange
Light blue
Lavender
Gray
Blush pink
Why Does My Paint Color Look Different on the Wall?
Besides the effects of natural and artificial light on painted walls, other factors can cause paint colors to look different on specific surfaces, including:
The color underneath: Unless your walls are being painted for the first time, a primer coat will be the first layer before the new color is applied in multiple coats. Otherwise, the first color may show through and impact the tone of the new paint.
Undertones: The undertones of paint will peek through depending on the other colors in the room. If you have blue trim and decide on a gray with a blue undertone for your walls, you can expect more of that blue to show through in the gray paint.
Sheen: Some finishes absorb light more than others, such as mattes, and look similar in most lighting. High glosses are very reflective, and their color will depend mainly on how much light is hitting them.
Porosity: Painting over porous surfaces can cause light colors to look streaky and allow dark colors to bleed through, but a quality primer can avoid this.
Adjacent shades: Colors that are right next to each other on the wheel are adjacent. They can have a calming effect, especially compared to colors on the opposite sides of the wheel, which make colors appear more intense.
Placement: Colors can make a room feel small and cozy or large and open. Some colors can make an already large room feel vast, or a cozy room feel cramped.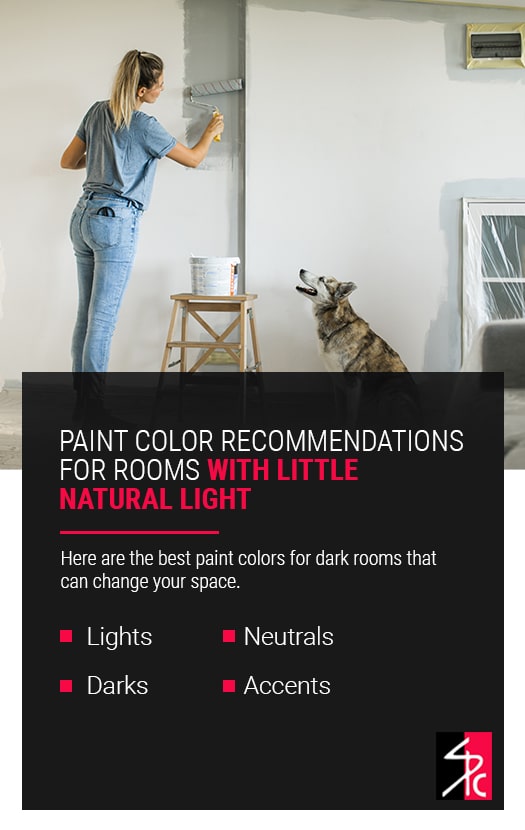 Paint Color Recommendations for Rooms With Little Natural Light
Finding the right paint colors for low-light rooms can be a challenge. Every color will say something about your home and lifestyle, and you want to make sure the colors you choose will accomplish the look and feel you want. Some colors make spaces appear larger by making them brighter, and others will embrace the coziness and tranquility of a dark room.
Here are the best paint colors for dark rooms that can change your space.
Lights
Light colors are great to utilize in a room with little natural light. Light paint colors for small dark rooms are a quick and straightforward way to make a space feel airy. If your goal is to make your low-light room feel brighter, light colors are a great way to go. Light colors are some of the best colors for a dark bedroom, but you can utilize them in many spaces.
Light and bright colors that are great for dark rooms include:
Light blues: Light blues are very serene colors that create a relaxing feeling. They can open up a room beautifully and are great for pairing with undertones in colors such as beige. Blues are beautiful in spaces where you want to promote relaxation, such as bedrooms and bathrooms. Blue colors for a dark living room can also be welcoming and relaxing for guests.
Pale yellow: Pale yellow is uplifting and welcoming. It is best in rooms where you want to experience energy and happiness. Kitchens and dining rooms are typically social spaces where people gather and want to feel welcome. Pale yellow is also gorgeous in bathrooms.
Sage green: Sage green represents growth and freshness. Despite its complex composition, sage promotes a tranquil, harmonizing feeling and is great in spaces where you want to feel relaxed, like the bedroom and living room. Greens are also great for hallways to expand your space.
Blush pink: Blush pink is a warm color that inspires hope and soothes harsh energy. It has a calming effect and is linked to innocence. The bedroom and office are excellent places for blush pink walls because of their soothing effect.
Lavender: Lavender is a youthful color that evokes a sense of serenity. It is associated with creativity and optimism. It's a beautiful color for bedrooms and bathrooms that can open up the space while promoting decadence.
Darks
Dark colors can make the corners in a room seem to blend together and open up a room. If you want to embrace the coziness of a dark room while expanding its look, dark colors may be the way to go. The best paint for dark rooms will make spaces feel cozy without feeling cramped, such as:
Black: Black is created by mixing blue and brown together. Depending on the concentration of each color, black tones can be warm or cool. You can use black to add sophistication to any room or as a beautiful accent that will ground the rest of the color scheme.
Dark blue: Dark blue can be intense and inspire clear thoughts and reflection. Blue has a calming effect and can be great in bedrooms, offices, bathrooms and other spaces where you like to reflect. Because blue has so many shades, it can be great for layering.
Dark red: Dark red can give your home a traditional and rich touch. Red tends to spark conversation and is excellent in social rooms such as the kitchen, living room and dining room. Reds are gorgeous when paired with earth tones and neutrals like cream, which can make a space feel inviting and comforting.
Plum: Plum is a dark red mixed with purple. Plum, compared to other shades of red, can add depth. In dining rooms and bedrooms, it can feel elegant and traditional. The blend of purple and red gives plum a sophisticated look that can radiate a sense of power.
A popular strategy for using dark colors in rooms with little natural light is to paint one wall a darker color and leave the other walls white. Called an accent wall, this use of dark paint can help brighten up a room by providing contrast to the lighter colors.
Neutrals
The best neutral paint for a dark room is one that will reflect light to brighten your space. Neutrals can be perfect accents for other colors, making them very versatile and able to fit into any room seamlessly. They can add warmth, and you can incorporate undertones and accents to create the mood and look that you want.
The best neutral paints to use include:
White and cream: White and cream may seem similar, but their tones are different. White is elegant and can create an open feel to any room. Cream is softer than white, and can create a timeless aesthetic. It has warm undertones that make a room feel cozy.
Beige: Beige is essentially white with a tasteful hint of brown. It's a beautiful color to implement subtle undertones to bring out different colors in your home. It is usually a warm color, but the undertones can affect its overall feel. Because of its versatility, beige can be an excellent color for any room.
Gray: Grays can be warm or cool and can create soft, open spaces. Gray is also excellent for pairing with other colors. The minimalist look that gray can accomplish can be great in any room, and cooler shades can act as a gorgeous accent wall.
Chocolate brown: Brown is often a warm color, but you may find some brown colors with cool undertones. Warm shades such as chocolate brown can make a room feel cozy. It is a traditional color that adds a touch of elegance.
Tan: Tans tend to have a green or yellow undertone and are soft. Tan is more subdued than beige and can sometimes cast gray hues. Tan can create a more grounded look and feel less rich than beige, making it a great neutral in any room.
Accents
There are no right or wrong ways to incorporate color into your home, and if you don't want a monochromic look, consider adding unique accents to your space.
Using a matte color for an accent wall will create a stable focal point that looks similar in most forms of lighting. Matte colors make a flat, even surface of color that attracts the eye when you walk into the room. In a living room, walls with a fireplace are excellent for matte walls. If you have a dining room or other space with columns or other eye-catching structural pieces, that would be a great place for a matte finish.
Meanwhile, using a high gloss paint for an accent wall creates a reflective surface that will allow the light your room receives to bounce around. Light-reflecting paint for dark rooms can make a space feel more breathable. Painting your trim in a high gloss that coordinates with the rest of your room can brighten it up and give an elegant sheen to any space.
Any accent you create should coordinate with the rest of your palette. Professionals at Shoreline Painting will be able to tell you what colors would best blend together and whether you should incorporate an accent wall with a specific finish.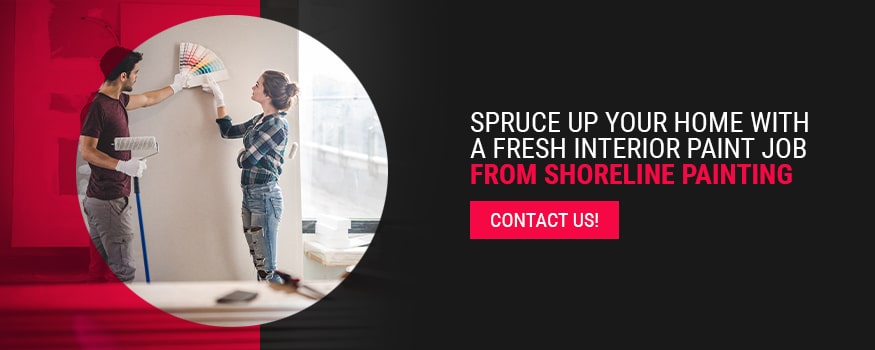 Spruce up Your Home With a Fresh Interior Paint Job From Shoreline Painting
Shoreline Painting is a fully bonded, licensed and insured Fine Paints of Europe Master Certified Painter, which means we use only the finest painting tools and products available on the market today. For more than 35 years, Shoreline has provided both interior and exterior painting services for homes throughout Westchester County, NY, New York City and cities throughout Fairfield County, including Westport, Darien, Greenwich and New Canaan. Browse our portfolio of completed projects for examples of our superior artistry.
Contact us today for more information about our interior painting services or to request a free estimate.
Recent Posts