May 29, 2018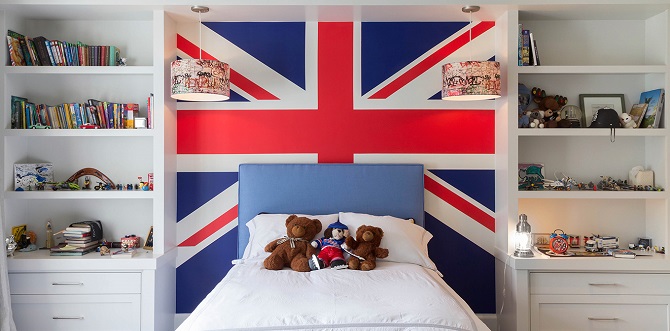 Adding an accent wall to your favorite room is a great way to give your home's design a lift without spending too much on new décor. But before buying new paint, it's best to understand the best accent wall colors and what walls will work best as an accent wall.
Tips for Choosing the Right Accent Wall
Not every wall in a room is the best choice for an accent wall — a good accent wall rule of thumb is choosing a wall that your eye is naturally drawn to. Walls with architectural elements or where a prominent piece of furniture is displayed are ideal as accent walls so you can highlight those design features.
Accent walls are ideally solid and not broken up with windows or doors. While it may seem like a great idea to highlight beautiful doors or a great view, the accent wall will actually distract from those elements. And by placing an accent color on a wall with a window, you'll actually find the light darkens the color and room during the day. If you've got a long, awkwardly shaped room, accent walls are a great solution to make the room seem less oblong — try painting the short wall at the end of the room to make the space seem smaller and more connected.
Understanding Color Basics
Now that you've chosen the perfect accent wall to paint, which color is best for the space? If you're unsure if you want a different color than the existing walls, a subtle accent wall solution is choosing a paint color two shades darker than what you currently have. If you're looking for a bolder pop of color, then understanding color basics will ensure you maintain harmony in your space. There are three color schemes to consider when painting — monochromatic, analogous and complementary.
Monochromatic: This scheme uses shades of the same color, which will create a lively and simply elegant design. Monochromatic colors create a visually interesting and coherent style.
Analogous: These colors are next to each other on the color wheel, like green and blue or orange and red. Like monochromatic schemes, analogous choices are a simple but add a bit more dynamism in the room by creating a focal pop.
Complementary: The most bold of the schemes, complementary colors are opposite each other on the color wheel — purple and yellow, red and green and blue and orange. These color combinations are energetic, and the most successful method to incorporate these contrasting colors is to pair warm and cool tones.
By keeping these color combinations in mind, you can successfully choose a color for your accent wall that compliments your existing furnishings and décor.
Best Accent Wall Colors
Consider your room's purpose before selecting a color — do you want to feel relaxed or have a lively space that stimulates thought or conversation? Browns, greens and neutrals are great for a relaxing and natural-feeling space, while bold colors like reds and yellows will insert a burst of energy in the room.
Another detail to consider before painting is how this wall will easily incorporate and create harmony throughout the other spaces in your home. There are seven colors in the paint spectrum, and most colors are composed using the other colors. An easy way to connect rooms is by carrying elements from one room to the next — choose a color blended with several colors you've already incorporated as an easy solution to achieve flow.
Why Trust a Professional Painter?
Why should you hire a professional painter when you can buy paint at your local hardware store? By hiring a professional, you'll experience the following perks:
Expertise
Professional tools and equipment
Presentation — no streaks or drips
Time saving
Spruce up Your Home With Shoreline Painting
If you're in the Fairfield County, CT area and looking to update your space, trust the experts at Shoreline Painting. We offer free project estimates and are proudly a Fine Paints of Europe Master Certified Painter. Complete our online form to schedule a consultation or give us a call today at 203-302-1086.
Recent Posts