September 27, 2019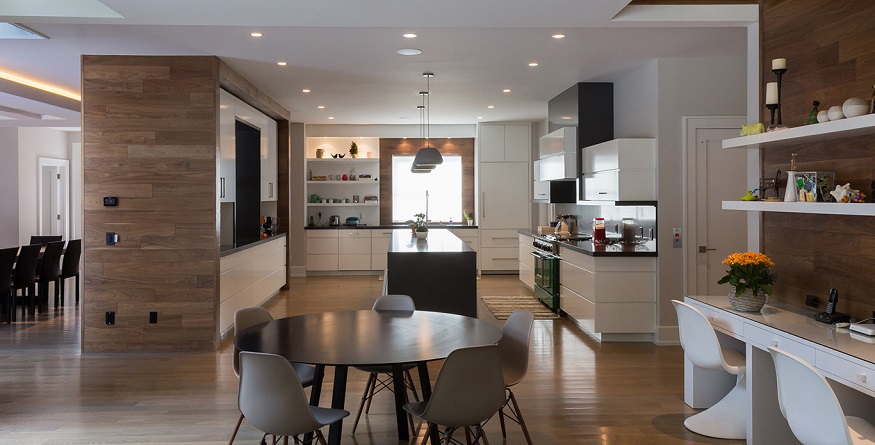 Open floor plans can be a wonderful way to make your home look more inviting and spacious. Instead of having a series of walls separating rooms like the living room, kitchen, and dining room, this style brings everyone together into one large open space. Your home will feel bigger and lighter, and the communal energy will flow much better.
Deciding how to choose your open floor plan paint colors, however, can be a little tricky without separated wall spaces. How can you create a sense of cohesion and color without coming on too strong?
We've compiled our list of top paint color combinations that will perfectly accent an open floor plan. Which one do you think suits your style the best?
Stick to a Color Palette
Some homeowners choose to stick with one color throughout every part of their open floor plan. Others decide to mix it up and paint different colors in each section according to the room and function. A mishmash of colors can bring some great energy and give each room its own feel, but if you go this route, we recommend sticking to one color palette.
Choose three to five colors for your open floor plan color scheme. One should be white or another very light color to serve as your base. One should be neutral. And then you may want to pick a few supporting colors to give that extra pop of personality. Supporting colors should be in the same color family or level of brightness to keep the whole house flowing cohesively together.
Choose an Accent Wall
If an entire color palette seems like too much going on in your home, consider picking a neutral or white color as your staple and then choosing one accent wall. This might be the wall behind your kitchen counters, one in the living room, or the hallway leading to the rest of the home. Make it whichever wall makes the most sense for your home layout and the one that makes you happiest to see it.
Because you don't have to stick to a cohesive color palette, you might find yourself with a little more flexibility when selecting your accent wall. Go bold, bright, and beautiful — or stick to a subtle off-shade neutral.
Keep It Tone-Friendly
If you're not committed to doing entirely differently colored walls, but you want a little more personality than one color all the way around, consider staying tonal. Choose your color and paint slightly different tones of this same color on the different walls of your space. This provides a little variety and subtle depth to the room while staying cohesive and complementary.
Stay Neutral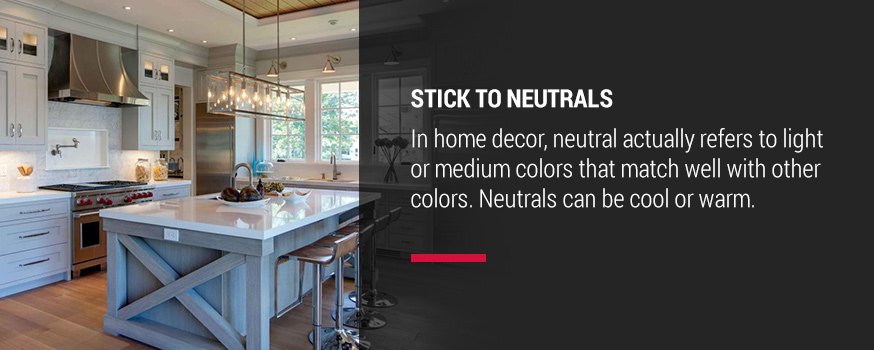 Neutral doesn't mean boring! Opting for a white or off-white paint as your base wall color gives you the option to have fun in other places. If you've got some bold statement furniture pieces, a signature brick wall, or pieces of displayed art, for example, you might want mellow walls to shift the attention. Neutral paint colors can also provide a subtle, elegant feel to your home and make the room seem larger than life. Neutral tones are a particularly great wall color for open concept kitchens.
Don't Limit Yourself to Walls
Of course, when it comes to painting, you've got more than just walls to consider. Whether you're sticking to a neutral color throughout, going for an accent pop, or layering subtle tones throughout the space, remember that you've got a bigger canvas to work with than you might imagine. You can think about painting archways, trim, cabinets, and even ceilings if you want to really tie your look together.
In a home with a subtle color scheme, these can be great places for a splash of color or texture. Or, if you opt for brighter colors, these can be natural spots for a unifying white or neutral. The sky's your limit!
Ready to Begin?
As you can see, there's a seemingly endless array of color combinations for open floor plans. If it's hard to pick, let us help. Deciding which color and style to choose can feel daunting. But at Shoreline Painting & Drywall, this eye for artistic detail is our specialty. We can paint your home's interior with expert care and give you the look you've been dreaming of. We also proudly offer professional color consulting services to residents of Fairfield County, CT, Westchester County, NY and surrounding areas.
Reach out to us for a quote and we'll help get you on your way to a perfectly painted home.
Recent Posts