June 30, 2021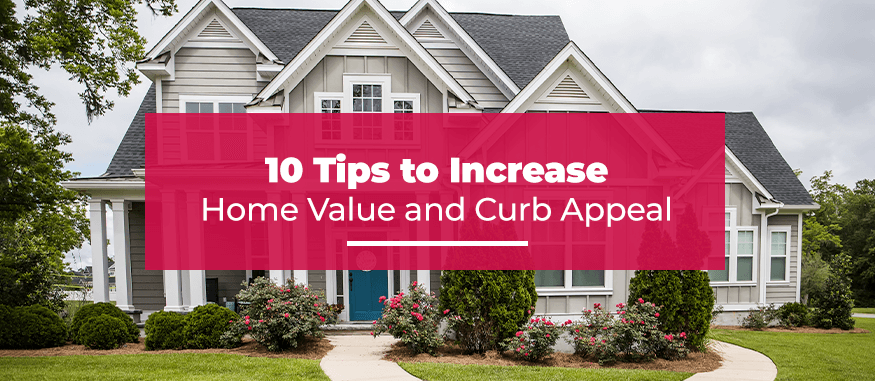 When it comes time to put your home on the market, you want to do all you can to maximize its curb appeal. Fortunately, there are many ways to increase home value with various interior and exterior projects. In this article, we'll share 10 of the best ways to increase curb appeal and garner more value for your home.
1. Clean Your Exterior
Before you have a professional paint the exterior of your home, you'll likely want to arrange for a thorough facade cleaning. Exterior cleaning can wash away the dirt, mildew and other grunge from your home's exterior. No matter whether your siding is wood, metal, vinyl, brick, stucco or fiber cement, a simple cleanup can make a noticeable difference in your home's curb appeal.
It is recommended you hire a professional to wash the exterior of your home, especially if your home is multiple stories. At Shoreline Painting, we provide exterior washing and cleaning in the spring and fall as part of our exterior maintenance services. We remove mold, dirt or mildew that may have accumulated and ensure your gutters are free of debris.
Cleaning your exterior can revive your home's appearance and serves as a helpful precursor to other home projects, like exterior painting.
2. Repair Your Roof
One aspect of your home that potential buyers immediately notice is your roof's condition. If your shingles are curled, faded or missing, they are not contributing their full potential value to your home. If nearby homes feature new or well-maintained roofs, an outdated roof may look shabby in comparison.
Even if your roofing materials are still in good condition, they may have accumulated dirt, lichens, algae and moss, which can make a roof look like it is in a state of disrepair. By having your roof professionally cleaned or repaired, you can make it look new again.
3. Add a New Coat of Paint
When asking real estate professionals and appraisers for advice on how to boost your curb appeal, common advice you're likely to hear is to give the home exterior a new coat of paint. Prospective buyers will notice it immediately, and an appraiser will value it. Having Shoreline Painting paint your entire home is a worthwhile investment that will transform the appearance of your home and boost its curb appeal.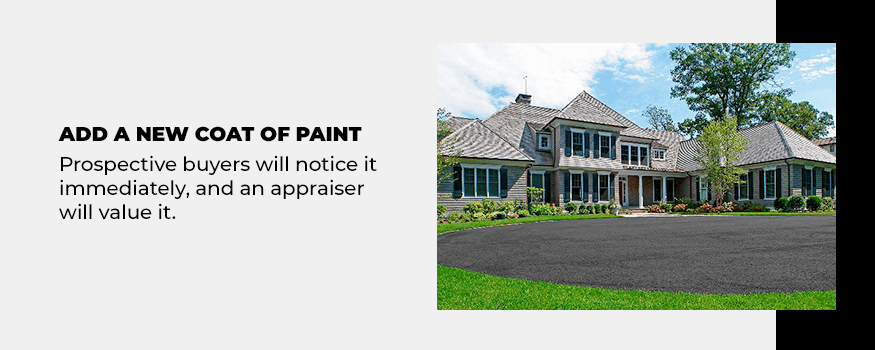 When deciding what color of paint to use for your exterior, the best choice is usually to stick with the paint color you already have. Our professionals can help color match your existing paint, or we can help you select a new color as part of our color consulting services. We help you think through whether you're ready to make a statement with your exterior color, or whether the current color matches your home perfectly and simply needs a new coat. Either way, we're your partners in boosting your curb appeal and home value through exterior paint.
4. Make Your Yard Neater
If you keep your lawn well-manicured — including pruning your shrubs and keeping your mulch fresh — you're sure to boost your home's curb appeal. For ideas on how to spruce up your yard, consider the following tips:
Remove overgrown bushes and replace them with colorful annuals and leafy plants.
Put reddish-brown bark mulch around your trees and bushes, which will give your yard a rich feel.
Pull out weeds and invasive vines.
Plant geraniums or other flowers in pots that you display.
Make the edge of your garden beds crisp.
Water and feed your grass with lawn food to green it up.
Cover bare spots in your grass with sod and seeds.
Remove crabgrass.
Mow your lawn regularly.
If you're planning to sell your property in the near future, the effort you put into your lawn now can pay off when it comes to the selling price of your home.
5. Install a Fence
Fences visually enhance your property, and appraisers will value them, given that they're in good condition. If you have a fence already, ensure it's in top condition and clean. If any gates are broken, replace them, and make sure to tighten any loose latches.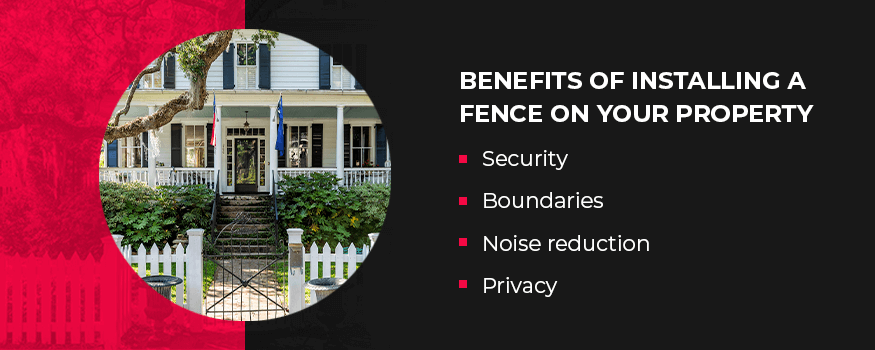 In addition to boosting your property's curb appeal, benefits of installing a fence on your property include:
Security: A strong fence can help prevent or deter intruders from gaining access to your property, thereby helping to protect your valuables and loved ones. Even if you have a security system installed, it's still a good idea to install a fence for the extra layer of defense.
Boundaries: If you have children and pets running around on your property, a fence can provide extra safety. As your kids and pets will not be able to go past the boundaries the fence sets, you won't have to worry about them wandering off. Similarly, it prevents stray animals in the neighborhood from wandering onto your property.
Noise reduction: A fence can be a great buffer against noise. If the area around your house is particularly noisy, building a fence can help shut this noise out.
Privacy: If you would like to comfortably relax in your home, take a soothing bath or lounge outside undisturbed, you'll want to ensure you're in a private environment. A fence can facilitate this privacy. A fence also provides a feeling of seclusion, which is often greatly appreciated in times when you have to stay home.
6. Stay on Top of Maintenance
Unattractive sights from the curb include things like missing bricks, hanging gutters and peeling paint. Neglecting maintenance can damage your home and also decrease the value of your home significantly.
To boost your home's curb appeal, we recommend the following maintenance chores:
Refasten any gutters that are sagging.
Repoint any bricks that have lost their mortar.
Replace any cracked windows.
Straighten your shutters.
Reseal cracked asphalt.
7. Upgrade Your Mailbox
Another way to make your home stand out is with an upscale mailbox. You may also want to consider adding features like address plaques and architectural house numbers. You can opt for a high-end die-cast aluminum mailbox or an attractive hand-painted option based on what matches your home's style and facade. If you're not planning to upgrade your mailbox, consider repainting your existing one and giving it new house numbers.
For an added touch of curb appeal, consider planting flowers and greenery around the base of your mailbox. This is a simple yet effective way to add eye-catching detail to what may be a somewhat uninteresting part of the facade.
8. Keep Sidewalks, Walkways and Hardscape Areas Clean
While most homeowners think about their home's landscaping, or "softscape," they may spend less time maintaining the hardscape areas, which include walkways and the driveway. A good pressure washer cleaning can remove all the grime and dirt from these areas, making them look fresh and new again. We at Shoreline Painting are happy to complete this task for you as part of our exterior maintenance services.
Another way to tend to these areas is to ensure any stepping stones, bricks or paver stones are securely in their place, so pedestrians have a safe footing when going to and from the house.
9. Refinish Your Cabinets
Kitchen cabinets have the ability to completely transform your kitchen's look and feel. Updating your cabinets doesn't always require a complete hardware overhaul. If the cabinets in your kitchen are in good shape, we are Shoreline Painting can refinish them to give your kitchen a new appearance.
By refinishing your cabinets, we can improve your kitchen's overall feel, make it appear bigger and boost your home's overall value. All kitchens require updates every once in a while. Some of the top benefits of refinishing your cabinets include:
It's economical: Replacing all the cabinets in your kitchen can be costly and take a month to complete. Refinishing your cabinets, on the other hand, can cost less than half as much as replacing them. Refinishing is a great idea if, for example, your cabinets are in a good condition structurally but the doors need to be improved. With the right color and our attention to detail, your painted cabinets can revitalize the look of your kitchen at a fraction of the cost of replacements.
It's easy and convenient: Replacing your cabinets completely can be extremely time-consuming, which means a long downtime. Just imagine how inconvenient it would be to go without using your kitchen for an entire month. By having us refinish your cabinets instead, you can avoid this. Refinishing options like repainting are much easier to implement. Our refinishing services can be completed in a matter of days, and the cabinet doors are then reinstalled. What's more — you'll be able to use your kitchen throughout this time.
Many options are available: When it comes to colors and finishes, you'll have no shortage of options when we're refinishing your cabinets. We can repaint your cabinets using a color that blends with the existing color scheme in your kitchen and your overall home decor, or you can opt for specific finishes such as glossing, glazing, antiquing and stressing. You don't need to stick with the colors and designs that your manufacturer provided — instead, take this opportunity to add your own personal finish and style. If you want to make everything unique, you can add new hardware and trim as well.
You can be eco-friendly: Many homeowners today are trying to lower their carbon footprint by reducing, reusing and recycling. Unless you're altering your kitchen's entire layout or your cabinets are in bad condition, it's best to keep your existing cabinets, as it avoids contributing to the large amount of accumulating hazardous waste. The majority of kitchen cabinets contain formaldehyde, a material that is hazardous if it ends up in a landfill. If your existing cabinets have reached the end of their useful life, consider giving them to a company that does recycling.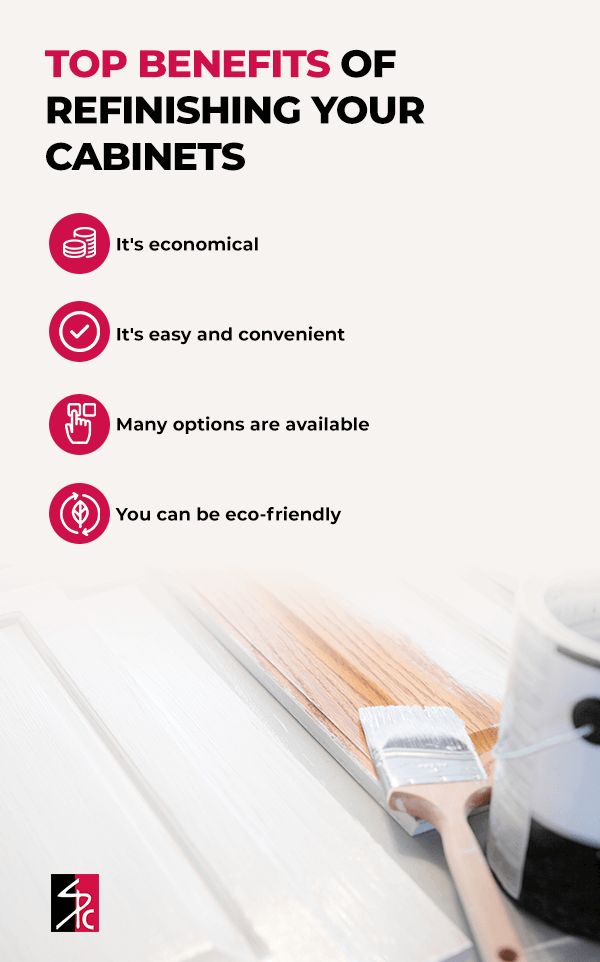 10. Epoxy Your Garage Floor
Is your garage floor dirty, stained and generally unsightly? If so, we at Shoreline Painting can revamp it with a durable coating of epoxy. Our professional garage floor epoxy coating can transform the look of your garage and provide an extremely durable, long-lasting surface. Though you'll certainly enjoy these benefits, potential buyers may also find this coating valuable, thereby improving your home value.
The many advantages of epoxy floors include:
Extreme durability: Garage floors coated with epoxy are notably durable and resilient, enabling them to stand up to high traffic and heavy machinery and equipment. The coating is also designed to withstand impacts and surface abrasions and is tough against chemicals. You'll never need to worry about damaging your floor if you drop something heavy.
Resistance to stains and moisture: Epoxy coatings are naturally resistant to moisture and stains, making them a wise choice for floors that regularly experience spills and leaks. Epoxy is also designed to be highly resistant to water and contaminants like deicing salts and petrochemicals. No matter what falls on the epoxy floor, you can easily wipe it up with some water and soap.
Ability to repair: If your floor is cracked, stained or otherwise damaged, you can use epoxy to repair it. Epoxy coatings are self-leveling, delivering a polished, even finish that covers up any damage or marks on the floor.
Unlimited design options: An epoxy coating works for both new and existing garage floors. The design options are virtually unlimited, allowing you to personalize your floor with any colors or patterns you like. If you're a business, coatings even allow you to add a professional-looking logo.
Shoreline Painting Is Here for All Your Interior and Exterior Painting Needs
When it comes to painting intricate surfaces such as cabinets, you'll want to hire our professionals to deliver the best results. For over three decades, we at Shoreline Painting have been providing superior exterior and interior painting services to homeowners of Fairfield County, Connecticut and Westchester County, New York.
We value expertise and integrity above all else, so you can rest assured that your job will be completed to the highest standards. Our professionals specialize in refinishing kitchen cabinets and painting interiors and exteriors to give a beautiful new look to your space.
If you're looking for top-notch, professional results on your painting project, reach out to us online or by calling 203-302-1086.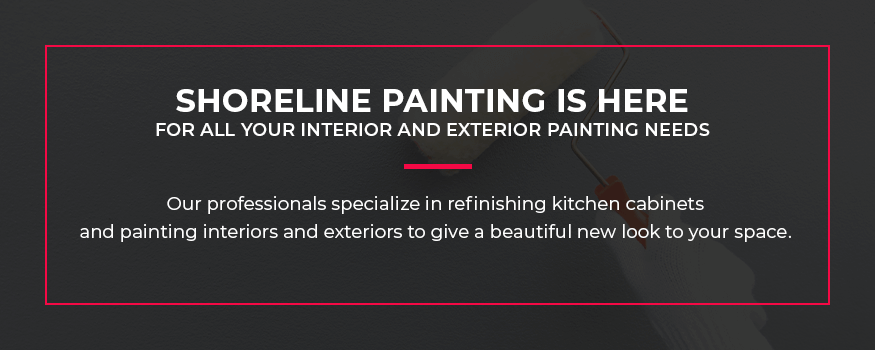 Recent Posts