December 5, 2014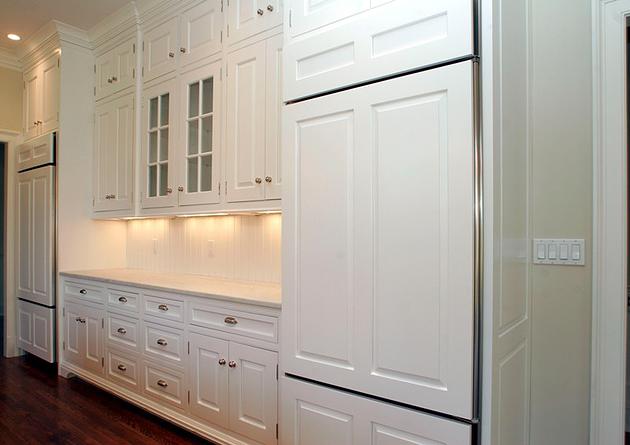 When you want to give your kitchen a fresh, new look, there are many ways you can go about updating the space. While a full kitchen remodel might sound nice, there are more cost-effective and less time-consuming options for upgrading. For instance, interior painting is often used in all areas of the home to provide that much-needed facelift. Why not take the paint a step further and apply a coat or two to your kitchen cabinets? Before you tear out those old kitchen cabinets, check out how painting can instantly take your kitchen from drab to fab.
Prep Your Cabinets
Before you put brush to wood, make sure the cabinets you plan to paint are fully prepped and primed. If painting contractors are helping with the project, they should inform you of the prepping process, but if not, keep in mind these important steps. First, wipe down and clean the cabinets to remove dust, grime and any other buildup that might mar the finish. Then, take the cabinet doors off their hinges in order to sand them before painting, ensuring a smooth and imperfection-free surface. The paint should be applied to the doors while they are laid flat, rather than attached.
Choosing the Paint Color
Just like with any other room in your home, the paint color you choose for your kitchen cabinets should reflect the mood you want to set in the space, as well as reflect your own personal style and taste. Your home painters should be able guide you in the paint-choosing process, offering input on which colors might work best with your existing design and décor. Generally, light colors will make the space look larger, even when painting just the cabinets, and dark shades will give the room a cozier feel.
Whitewashing
This method of painting is often seen in antique or nautical themed rooms, but that doesn't mean it can't work well in another type of space. With whitewashing, part of the wood can still be seen through the layer of paint, creating a distressed, vintage appearance. Because of its neutral tone and light hue, the whitewashing method of painting cabinets meshes well with existing design preferences and is easy to decorate around.
To speak with one of our professional interior painting contractors for more ideas and information on painting home cabinets or other interior painting services, please contact us. Shoreline Painting and Drywall has been making homes in the Stamford, Connecticut, area more beautiful for more than three decades.
Recent Posts