August 27, 2022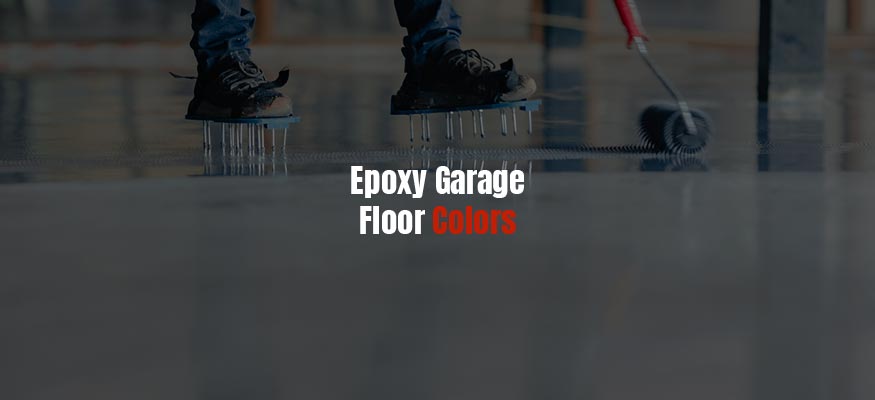 Epoxy floors are durable, elegant, and long-lasting, making them great options for anyone looking to find a reliable floor for their garage. Even if you've already decided on the type of floor you want, you still have more choices — like deciding what color to pick. This might be a little more involved than you initially thought, as there are a lot of factors to consider and endless colors to choose from. You might want to match your floor to the style of the rest of your home, for instance, or maybe you're looking for fresh ideas to change things up.
This article covers what epoxy flooring is, its advantages, and some color ideas that might spark your interest.
What Is Epoxy Flooring?
Epoxy flooring is a type of floor made from a coating of polymer resins and hardeners. When this mixture is applied to the floor, it chemically bonds to the floor itself, resulting in a solid, plastic material that is very durable. There is some confusion about the differences between epoxy flooring and epoxy coatings. In both cases, there is a bottom layer to which the epoxy is applied. Usually, if an epoxy floor is less than 2 millimeters thick, it's called an epoxy floor coating. Different types of epoxy flooring vary by how they're made, look and function.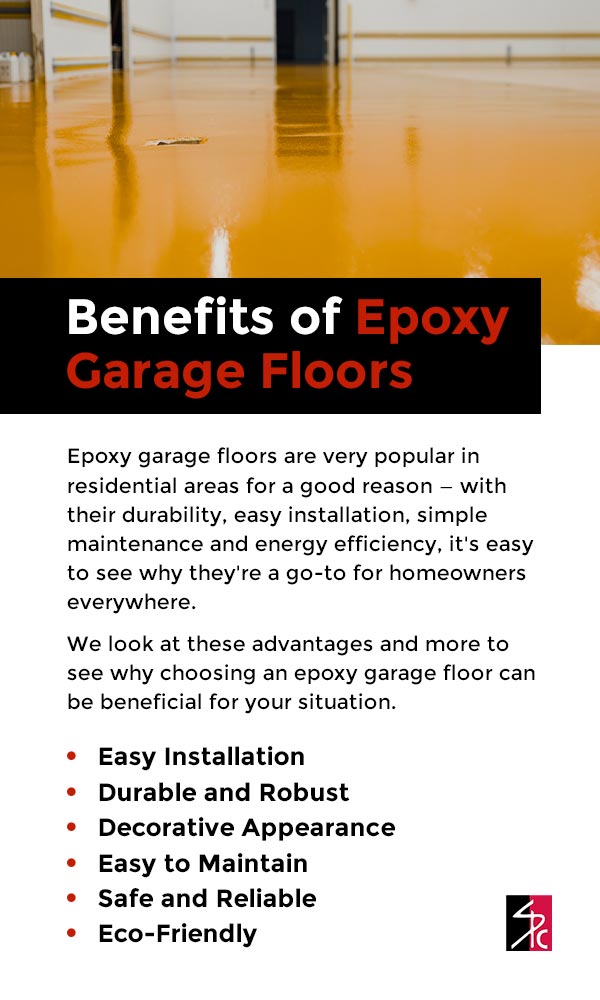 Benefits of Epoxy Garage Floors
Epoxy garage floors are very popular in residential areas for a good reason — with their durability, easy installation, simple maintenance and energy efficiency, it's easy to see why they're a go-to for homeowners everywhere. We look at these advantages and more to see why choosing an epoxy garage floor can be beneficial for your situation.
Easy Installation
Installation on any part of your home or building can be a hindrance. Sometimes, you need an option that's both high-quality and simple to integrate into your garage. An epoxy garage floor can give you just that. At Shoreline Painting, we can install your epoxy garage floor quickly and effectively so you can start enjoying all of its benefits as soon as possible.
Durable and Robust
One of the main reasons people opt to get epoxy garage floors is their outstanding durability. They can help defend against spills from gasoline, acids, bleach, gear oil and motor oil. You won't have to worry about the floor staining or getting damaged — even if a substance sits on the floor for a while, you can still easily clean it off without any lasting effects.
Epoxy garage floors can also withstand abrasion and heavy items due to their strength and hardness. They resist heavy impacts and shock and can support a massive amount of weight. If you're planning to include a lot of heavy machinery in their garage or turn your garage into a home gym, an epoxy garage floor will ensure you won't have to worry about any damage.
Decorative Appearance
You can also choose from various epoxy garage floor designs. Though you might think of epoxy floors as simply serving a functional purpose, many people make them into elegant designs with different colors and styles. You can go the more neutral route with gray or black or try something modern and elegant, like metallic silver and blue.
Aside from being extremely durable, epoxy garage floors are also just easy to look at — with their sleek appearance and various decorative styles, you can find something an option that you'll be happy to see every day. Shoreline Painting can help you determine the best look for your garage and install a fresh, stylish epoxy floor that you'll be satisfied with. Whatever you're looking to create, you can find something that suits your needs with garage floor epoxy colors.
Easy to Maintain
Epoxy garage floors are extremely easy to maintain. While other types of floors might require deep cleaning and hours of labor to get stains out, you can wash epoxy floors quickly and efficiently. In most cases, you can simply hose off the surface of the epoxy floor to get rid of dirt and spills. Because epoxy flooring is so easy to clean and maintain, you can focus on the real work you need to do instead of wasting time making the floor look neat.
Safe and Reliable
Many epoxy garage floors can be installed with an added texture to create a non-slip surface. This additional texture especially makes sense for people working with liquids — even with oil spills or gasoline leaks, you can still be confident the floor will be safe to walk on.
When you want a floor that will last a long time and that you can rely on to remain stable, then an epoxy garage floor is the perfect option for you. They're well-known for being extremely durable and resistant to spills. It's the perfect option for those who want a floor they can trust.
Eco-Friendly
Epoxy floors are one of the easiest to install, require fewer raw materials and create less waste. They also last a very long time, so you won't have to spend additional resources getting them replaced every few years.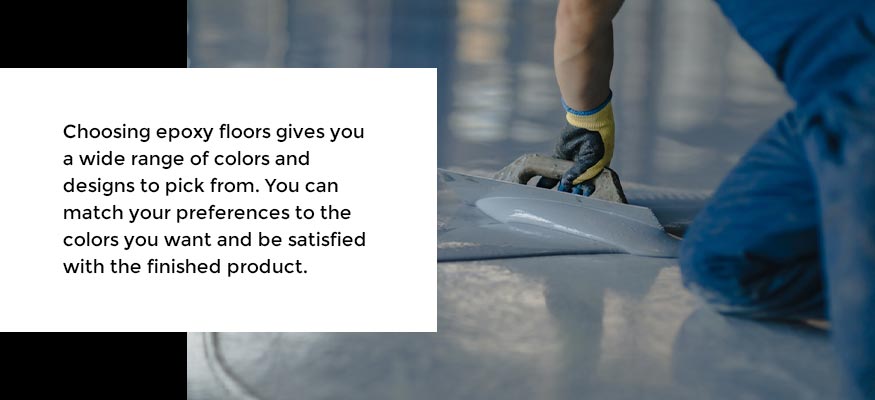 Color Ideas for Epoxy Garage Floors
Choosing epoxy floors gives you a wide range of colors and designs to pick from. You can match your preferences to the colors you want and be satisfied with the finished product. Here are some of the best epoxy flooring colors.
Gray
When you're having trouble deciding which epoxy floor coating colors will work for you, you can always opt for gray. Gray is a neutral color and blends in with its surroundings easily, so you won't have to worry about any clashing styles with what you already have in your home. If you're planning to spend a lot of time in your garage working, then gray is a solid choice to help you focus on the job at hand instead of being distracted by a complex design.
Black
For a bolder choice for your epoxy garage floor colors, consider black. Black is a good option for people expecting to have a lot of spills in their garage throughout the day. Instead of having to make it look sparkling clean and spend hours cleaning up, the dark color of your floor may be able to guard against imperfections. Marks and scratches will be well-hidden, and you can complete a project without worrying too much about keeping the space clean.
White
A white epoxy floor gives you visibility to see everything you need. If you're all about organization and efficiency, then having a white floor can ensure you don't lose those smaller tools and parts. You can easily find everything you're looking for and won't waste time looking for those items that have escaped your line of vision. You will likely have some more visible marks and dirt on your floor, though this may be an easy tradeoff for the visible nature of a white floor.
Speckled Gray and Black
Another very popular garage floor color is speckled gray and black. Like black, the speckled nature of this style will help cover any dirt, scratches and marks that may happen throughout the day. It's also one of the more involved epoxy floor designs for your garage. Your installer will lay the first layer, then speckle in the second color later. If you want floors that look more complex and decorative or will make cleaning a lot easier, consider speckled gray and black for your epoxy garage floors.
Gray With White Highlights
Sometimes, you'll be looking to match the style of your garage to the rest of your home. If you live in a more modern home, you may need to get creative to find ways to make your garage look like the rest of the house. Luckily, you have several options to make your epoxy garage floor look modern. One way to do this is to choose gray with white highlights. Simplistic and easy to attain, these colors create a wonderful appearance that's both elegant and understated.
Silver and Blue
Gray, black and white are safe colors for epoxy garage floors with a broad appeal. However, you could be looking for flooring a little more unusual and eye-catching. For a more creative design, try silver and blue. The metallic silver shine and the deep, solid blue color create something intriguing and fun to look at. This color scheme is a fantastic option for those who want to add an extra level of pop to their garage floor.
Brown
Garages are small, compact spaces that can provide a sense of security and peace. If you're looking to add to that sense of calm and tranquility, you might want to opt for a cozy color like brown. A shade of brown may help draw the rest of the garage together and create a space where you'll enjoy spending hours.
If you're still unsure about which color to choose for your epoxy garage floor, consult Shoreline Painting. With our years of experience and expertise, we can help you find the best color for your epoxy garage floor.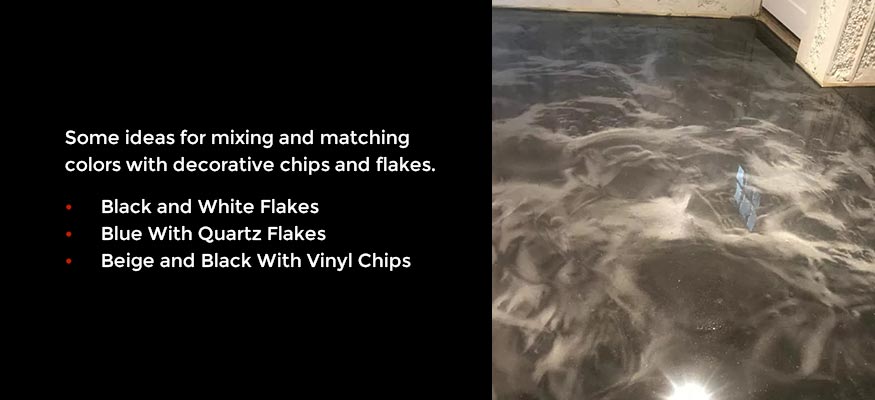 Decorative Vinyl Chips and Quartz Flakes for Epoxy Floors
Solid colors are great options for your epoxy garage floors. They can give the area a deep, bold look that is also resistant to spills and grime. However, you may be looking for floors that are a little different, with a bit more design and decorative elements. Epoxy decorative chips are perfect for this. They give your floors a more textured look and offer additional advantages like a slip-resistant surface and improved durability for wear and chemical spills. You can also choose from epoxy decorative flakes to add another element of creative design and aesthetics. Quartz flakes are a popular option that can give your epoxy floor an extra layer of elegance. With vinyl chips and quartz flakes, you have even more options. Here are some ideas for mixing and matching colors with decorative chips and flakes.
Black and White Flakes
You can still remain relatively neutral while also adding some decoration to your floors. Black and white flaked epoxy floors are a popular choice. They offer a unique, intriguing appearance while also adding more texture for safety.
Blue With Quartz Flakes
A blue shade can add a lot of calm to a space. You may be looking to add a little bit of something extra to that floor, though. White quartz flakes contrast with solid blue, creating an elegant appearance and something truly unique.
Beige and Black With Vinyl Chips
You can play with various colors and textures until you find a combination you like. You may want to try mixing beige and black, for instance, while also adding in vinyl chips. This color scheme can create a modern look that can blend in with the rest of your home.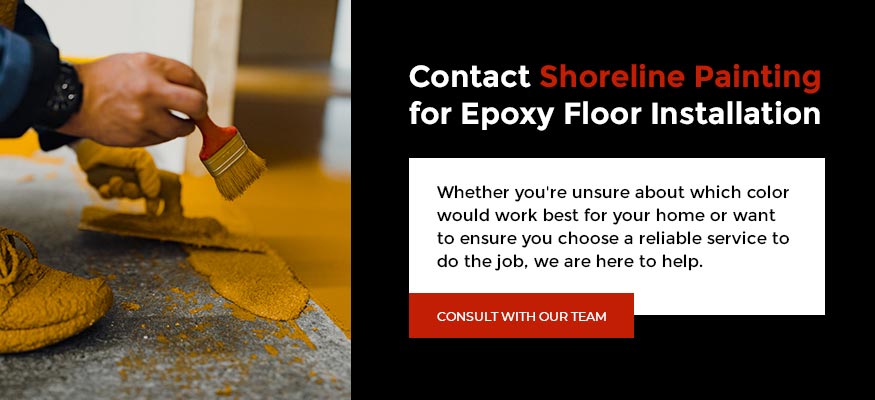 Contact Shoreline Painting for Epoxy Floor Installation
If you're still unsure about how to choose a color for your garage floor, then feel free to reach out to Shoreline Painting for some help. We're the No. 1 home painting experts in coastal New York and Connecticut, and we know what it takes to install a durable, reliable epoxy garage floor. We have the experience, quality and convenience you're looking for:
Experience: We've been working in the industry for over 35 years. Our team consists of professionals who will ensure you're getting exactly what you want throughout the entire process. With our years of expertise and knowledge of the painting industry, we can ensure that the job is done right.
Quality: At Shoreline Painting, we use only the highest-quality products for jobs. We have a rigorous painting process that emphasizes quality and commitment to excellence. We are also a Fine Paints of Europe Master Certified Painter, which showcases our knowledge of our craft.
Convenience: For large floor installations and painting, enlist the help of Shoreline Painting. We can take care of the prep work and installation so you can spend time on the more important parts of your life. With Shoreline Painting, you can be confident in the work being done and satisfied with the finished product.
Shoreline Painting is ready to install your new epoxy garage floor. Whether you're unsure about which color would work best for your home or want to ensure you choose a reliable service to do the job, we are here to help — contact us today!
Recent Posts