November 22, 2017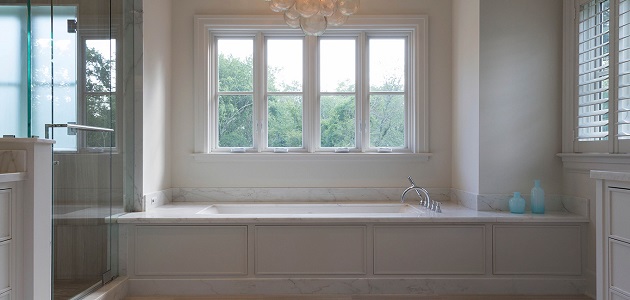 Having your bathroom painted can be fun and make the powder room feel fresh, new and clean. But if you're going to have your bathroom professionally painted, it's important you do it the right way. Preparation for bathroom painting isn't hard, and it can make a real difference. If you're looking for some solid bathroom painting techniques, read on.
1. Pre-Clean the Bathroom Walls
You may paint your bathroom because the walls have gotten scummy and dirty, but you can't just slap a coat of paint over it and call it a day. If you don't clean off that scum and grime, it will come off later and take your nice new paint job off with it. Make sure your painter has a clean surface to work with. A good bathroom wall-cleanser is a mixture of three teaspoons of laundry detergent diluted in a gallon of water.
2. Pre-Choose Your Bathroom Color
Before committing to a color, try it out. Get swatches of the colors you think you may be interested in to take home and tape them to your bathroom wall, one at a time, to get a feel for which color you might like to see on a more permanent basis. You don't want to wait until the painters start to realize you've picked the wrong color.
Choose lighter colors or white to promote a feeling of freshness and cleanliness. Darker colors tend to be too heavy for a bathroom environment, and they make an already-small room feel smaller.
3. Move Your Toilet and Other Things in the Bathroom
You'll actually get a better paint job if you temporarily remove the toilet tank rather than try to paint around it. Whether you move the toilet tank or not, take all other removable items out of the room, such as shampoo bottles, towels, etc., and cover the mirrors. Make sure your painters cover any little detailing you don't want painted over with painters' tape.
5. Make Sure Your Painter Uses the Right Paint
There's more to paint than just color. You are going to want high-quality paints designed to stand up to a bathroom environment. For example, bathroom paint is going to get wet. It's inevitable. Make sure your painters use mold-resistant, moisture-resistant paint.
5. Paint the Ceiling the Same Color As the Wall
One of the most important considerations when it comes to painting your bathroom is making sure the space feels big and open and not too dense and crowded after you're done painting. Having a uniform color from wall to ceiling gives the impression of more airiness and greater space. Again, you don't want a dark ceiling in the bathroom as it may make the room feel shorter. To make it feel even taller, you can try painting the walls with vertical stripes. If you want a wider feel, try horizontal stripes.
Call Shoreline Painting for a Perfectly Painted Bathroom Today
Now that you know these tips for painting your bathroom, it's time to get started. If your home is located in Fairfield County, CT, Westchester County, NY or New York City, call Shoreline Painting for a beautifully painted bathroom every time. As a Fine Paints of Europe Master Certified Painter, we pay meticulous attention to detail when painting your bathroom or any room in your home. We have a highly skilled team using eco-friendly materials and promise first-class workmanship.
We will leave you with a beautiful, flawless paint job that will last for years to come. Thirty-five years' worth of satisfied customers in New York and Connecticut can't be wrong. For a completely free estimate on a world-class bathroom paint job, call 203-302-1086 or contact us online today.
Recent Posts