November 30, 2020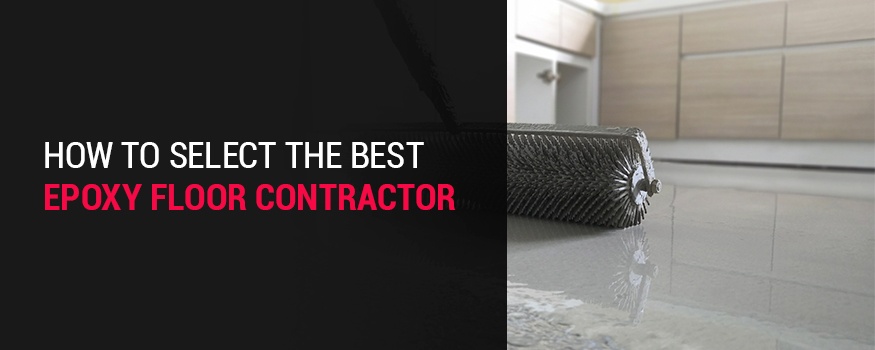 Are you looking to protect the floors in your home or garage? Epoxy floor coatings are a strong, seamless protective solution that can help keep your floor safe from scratches, abrasions, dents and scuffs, while also providing a glossy, attractive finish. The coating is made of durable epoxide resins and hardening agents that make it nearly impenetrable.
There are three types of epoxy floor coatings available today:
Water-based: Water-based epoxy is not as durable and long-lasting as solvent-based, which is harder and more protective.
Solvent-based: Because using solvent-based epoxy means dealing with hazardous solvents, it should be handled by a professional.
Solid-only: This type of epoxy flooring is the most durable option, as it's made up of solid epoxy. It is very challenging and dangerous to work, though, with and can only be installed by an experienced contractor.
Epoxy flooring is available in many different colors and looks. A few of the most popular options for residential projects include:
Self-leveling epoxy: Self-leveling epoxy creates a shiny, level surface on top of your existing floor that also protects against scratches and dents. It is available in several design colors and styles, making it a popular choice for residential and commercial projects.
Graveled epoxy: Graveled epoxy is a decorative style of flooring, with a smooth, graveled appearance that complements many homes and businesses.
Pre-tinted or metallic: Pre-tinted epoxy, also called "metallic" or "flaked" epoxy, is a resin that already has bits of speckled color or shine in the mixture for added style.
How to Choose the Best Epoxy Flooring Company
Epoxy flooring is a great asset in many homes and garages, but working with the right company is essential. Incorrect installation can be a significant setback and a waste of both your time and financial resources. A good epoxy floor coating service is one that has extensive experience in the residential sector, with quality and reviews to back it up. They should maintain open communication with you throughout each step of the process and have protocols in place to protect your property from any damage or disruption. Upon completion, your contractor should offer some type of ongoing support or warranty program to protect your investment.
Here's what you need to know before choosing your garage floor coating company.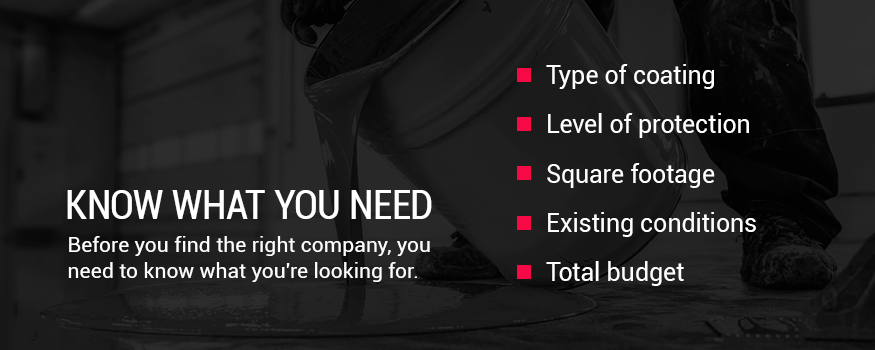 Know What You Need
Before you find the right company, you need to know what you're looking for. Make a list of your needs, including:
Type of coating: Consider whether you want self-leveling epoxy, graveled epoxy or another similar form of floor coating. If you're not sure which is best for your circumstance, your garage floor coating company will help you make the right choice based on existing conditions, budget and needs.
Level of protection: As you choose your flooring, consider the level of protection you need. Will you be installing the coating in an area that gets a lot of heavy traffic, like a garage or workshop? Or will it be in a lesser-used space, like the basement or hallway? This is also when you should list additional requirements or requests, like an anti-slip coating.
Square footage: Measure and record the amount of square footage you need your epoxy flooring contractor to cover during installation. Keep these numbers on-hand when you call to request a price estimate.
Existing conditions: Don't forget to note all existing conditions the contractor may need to know about, including the texture of your floor, whether there are coatings on it already, the moisture content of the area of installation and whether the flooring will be exposed to direct sunlight.
Total budget: Finally, make a budget for your project and use it to guide you through your search. Your budget should include the cost of materials, if applicable, as well as the contractor's fee, warranties and any added coatings or finishes.
Research Your Options
Start your search by getting recommendations from friends or neighbors or performing an online search for epoxy flooring contractors near you. As you begin researching available companies, look for ones who specialize in residential projects rather than solely commercial ones. Check their website to see a complete list of services and get a better idea of how the process will work. Compare prices, packages and support plans to find the one that best fits your needs and budget.
Always read reviews of a company before moving forward with them. While the company website is a good place to go for pictures of past projects, you should also seek reviews on third-party platforms for a full, clear overview of their work and reputation.
Seek Those With References
When selecting an epoxy floor company, look for those with references and examples of previous projects. When reaching out to those references, ask the following:
Were you satisfied with the final product?
How did the installation process go?
What do you think of the quality? Is your flooring still in-tact?
Did you run into any issues or road bumps along the way? How did the company handle it?
Did the company maintain communication throughout the process?
Is there any part of the installation or product you were dissatisfied with?
Check Licensing and Insurance
Always work with an epoxy floor coating service that is fully licensed and insured. Make sure their insurance includes protection against accidental property damage. You can verify the company's licensing by asking for their license number — if you're met with resistance, or they don't have the information, you may be better off seeking a different service.
Ask Questions
Once you've narrowed down your choices and chosen a garage floor epoxy company for your project, ask the following questions:
How long do you estimate the project will take?
How many years of experience do you and your team have?
What is your installation process like? What should I expect?
Will the installation interfere with my daily routine?
Do you use subcontractors or your own crew?
How is your crew trained? Do they have any certifications?
What type of equipment do you use?
Do you have experience working on similar projects?
What types of epoxy do you work with?
How can I maintain contact with you throughout the process?
What steps will you take to protect my property?
Are you and your crew fully licensed and insured?
Do you have references and samples?
What happens if something goes wrong with my flooring? Do you have warranties?
What ongoing services do you offer?
What do I need to do to prepare for installation?
The representatives at Shoreline Painting are happy to answer these questions — and more — so you know you're making the best choice for your home.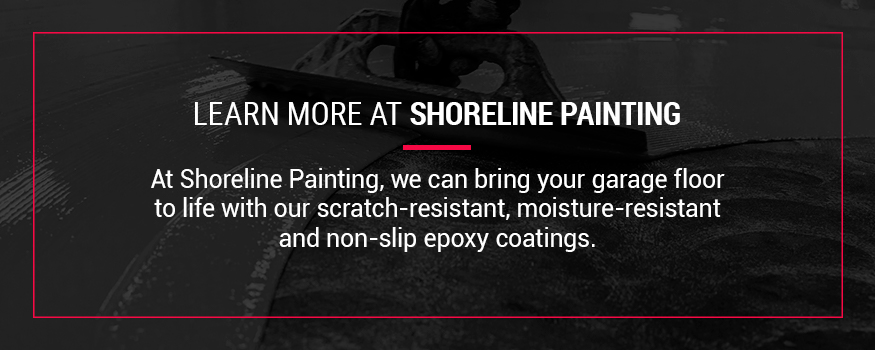 Learn More at Shoreline Painting
At Shoreline Painting, we can bring your garage floor to life with our scratch-resistant, moisture-resistant and non-slip epoxy coatings that look great and offer premium floor protection. You might know us from our painting and drywall services, and we bring the same customer dedication and quality to our epoxy flooring. Contact us online to learn more and request a free estimate today!
Recent Posts