April 22, 2015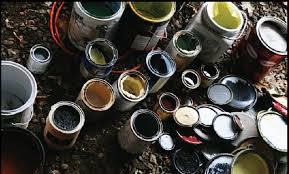 Did you know every year, millions of gallons of paint are thrown out? That is a lot of waste, and it can be hazardous if not disposed of properly. Oil-based paints in particular cannot be used after a long period of storage. For this reason, it's important to find out how to dispose of it before it becomes a hazard.
Paints Contain Hazardous Materials
Old paints are considered hazardous household waste. They contain toxic material and are flammable as well. When you hire a painting company in Fairfield County, it is a good idea to get a proper estimate of how much paint you're really going to need. This will help save you money and reduce the amount of paint you must dispose of later.
On the other hand, latex and water-based paint are not hazardous and can be re-used many times, even after long periods of storage, although, some latex paints contain mercury. This is why you should never just pour it in the drain or leave it out for regular trash pick-up. Disposing of paint the wrong way can contaminate the air, water and soil. Therefore, it is vital to find out how to dispose of your old paint without having a negative effect on the environment.
What Can You Do with Old Paint?
Here are a few ideas to help you make the most of any paint you purchase:
If you've stored your old paint the right way and it is still reusable, use it for touch-ups around the house.

If you cannot make use of your old paint, see if someone else can. A lot of painters will happily accept your left over paint.

Recycle your old paint. You can do so by contacting painting contractors in Fairfield County and the surrounding areas
How to Dispose of Paint
If none of the options above work for you and you have to dispose of paint, turn it into solid waste. If you have less than a quarter of the can left, let it dry in the sun. Make sure you place it where kids or animals can't get to it. If you have a larger quantity of paint, you can brush it on some newspaper and let it dry before you get rid of it. You can also pour your paint into a cardboard box and mix it with cat litter, sand or shredded paper to help the hardening process. Once the paint turns into a solid state, you can put it with your regular trash. Make sure you leave the lid open or label it as paint so your trash pickup personnel is aware.
If you need further assistance with getting rid of your paint, our staff at Shoreline Painting and Drywall servicing Connecticut can help. Contact us and we will be glad to answer all of your questions.
Recent Posts