April 29, 2019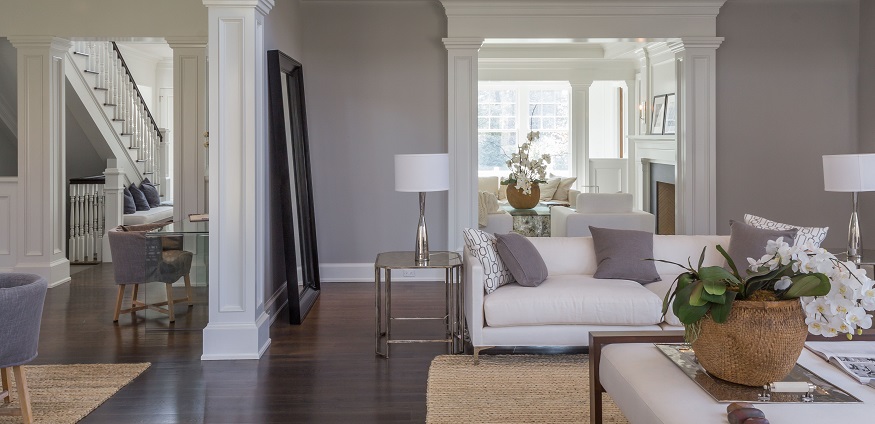 Choosing the right wall color for your living room can be difficult. You must take so many things into consideration to ensure you pick the right paint that will take the room to the next level. One of those considerations is matching your existing furniture to the paint you want.
You already have your furniture and don't want to change it just to match your new paint color. Follow these tips to pick the right paint to complement your existing furniture and give the room a bold new look.
The Best Furniture and Paint Color Combinations
When you choose your paint color, keep in mind that different colors are associated with different psychological benefits. Picking blue, for instance, will help you relax and lower your tension levels instantly thanks to its cool appearance. A red, by contrast, may excite you more and elevate your heart rate. Knowing your personality and the preferences of your family will help you determine which of these colors work best for you. Here are four shades to consider.
1. Blue Paint: Best for Gold, Off-White, Mustard and Green Furniture
You can find a range of blues to complement your brightly colored or off-white furniture. These colors blend well together because blue provides a placid background that the furniture can play off of. The furniture colors will catch your eye as the blue moves into the background.
If you have furniture with a great story behind it, such as a couch that's been an heirloom in your family for years or an accent chair that used to belong to someone famous, then blue makes an outstanding, passive background that allows the furniture to stand out.
2. Green Paint: Best for Gray, Brown, Pink and Red Furniture
Green is known as a color that soothes the eye. It promotes relaxation and peace, and it can offset the busyness of an aggressive pattern on a piece of furniture. It also blends well behind aggressive colors such as red and pink. While you probably don't have multiple pieces in those colors, even a small accent piece in red or pink can look out of place with another color on the wall. The green color also makes an ideal choice for bedrooms, where it can slow you down and calm you before bedtime.
3. Gray Paint: Best for Vivid Colors and Off-White
Gray is a neutral color, which means it will fit with just about any color of furniture. Bold reds, mild browns and whites of any shade blend perfectly with gray. We recommend gray for rooms with bright furniture colors as an excellent contrast.
4. Orange Paint: Best for Turquoise or Teal Furniture
If you enjoy bright colors, then orange walls may be your best bet. They nicely highlight bold shades such as teal and turquoise, giving them a strong palette to sit in front of. White furniture can also work in a room painted orange. Remember that the color orange can make people feel passionate, so keep your conversations in this room to low-key topics.
Contact Shoreline Painting for Your Next Interior Paint Job
Are you ready to paint your living room, dining room or bedroom? Enlisting a professional to do the job will give you better, more consistent results. Get in touch with Shoreline Painting today to learn more about our interior painting options and get a free quote for your home. We are a Fine Paints of Europe Master Certified Painter, and we work with our customers to gain their thorough satisfaction on every job. We also offer color professional color consulting services.
If you live in Fairfield County, CT, Westchester County, NY, or the surrounding areas, contact us today.
Recent Posts