July 29, 2019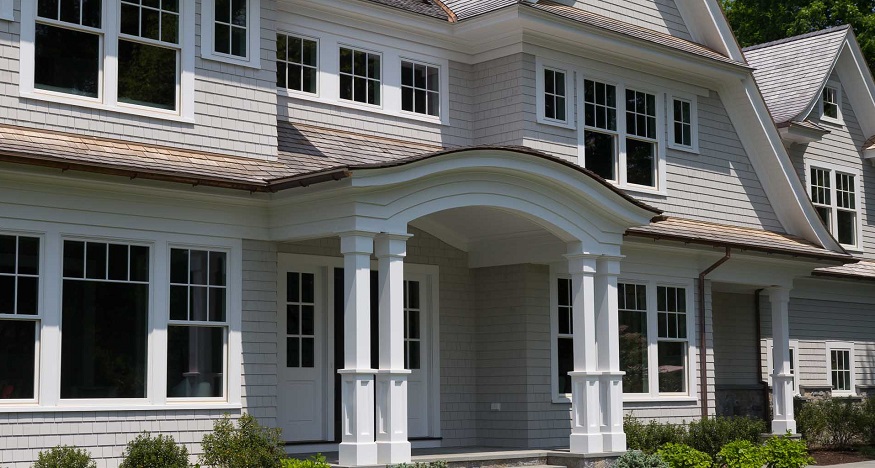 A fresh, vibrant house exterior can make a world of difference — new paint applications can modernize your facade, boost visual aesthetics and create an inviting appeal for visitors. But after a harsh, cold winter season, you may start to notice your home's exterior paint looking a bit grim and grimy. While it may seem intimidating or too time-consuming to attempt washing your entire home's exterior, by pulling out your garden hose, you can quickly and easily revitalize your exterior paint and extend its lifespan.
Best Ways to Wash Exterior Paint
Before you trek out to your local hardware store to rent a pressure washer for the day, first consider how dirty your home's exterior is — you may be able to save yourself some time and effort by using your garden hose for most of the cleaning.
It's best to start with the lightest, gentlest cleaning methods for light layers of dirt and grime to avoid damaging the existing paint surface. Homes with years of built-up dirt, debris and hard stains like rust, mold and mildew or white powdery residue may need the heavy-duty cleaning power of a power washer. Vinyl, wood siding or hybrid materials can best withstand the intense wash of the pressure washer, while brick, stucco or cedar or wood shingles are best to clean with a garden hose.
How to Wash Home Exteriors
Whether you're unwinding the garden hose or preparing for an intense wash with a pressure hose, reviving the bold, appealing look of your exterior paint is efficient and simple with the proper tools.
Start by setting up your equipment on a warm, dry afternoon to ensure the materials dry thoroughly and quickly to avoid mold and mildew growth. Make sure to cover nearby shrubs and plants, move furnishings and use plastic sheeting and tape to cover any vent openings, electrical outlets and light fixtures.
Once you've completely prepared the area and covered any items that could be damaged, keep these tips in mind to properly wash your home's exterior:
Hand-wash heavy stains: Look for heavy stains — like rust and mold or mildew growth — and clean them by hand with mild detergent, warm water and a scrub brush before using any cleaning tools. To get rid of mildew and other tough stains, mix a liter of oxygen bleach, one-eighth cup of soap and a gallon of water into a bucket and apply it to the stain with a scrub brush. If you have to use bleach, make sure you wear protection for your eyes and hands and work in a well-ventilated area.
Pretreat and wash exterior: If using a garden hose, visit your local hardware store and purchase a siding cleaning kit equipped with a nozzle attachment that screws onto the end of your hose. These often come with a compartment you can fill with a cleaning agent if you need stronger cleaning power. Squirt especially soiled areas of your home exterior with a cleaning agent or hydrogen peroxide. If your home is only lightly dirty, then spraying with the hose is the best way to wash exterior paint. When using a power washer, choose a nozzle with a 15-degree angle for better control and precision while spraying. Start by testing a small, unnoticed area of your home to make sure it doesn't cause any damage to the paint or materials. Angle the nozzle downward and work along with the natural features of your home's exterior in a sweeping motion. Avoid spraying into siding seams where water could become trapped, causing mold growth and damage.
Rinse off materials: If you used a cleanser, use your hose or washer to completely remove any remaining residue.
Spruce Up Your Home With a Fresh Exterior Paint Job From Shoreline Painting
When your exterior is beginning to look drab, dated or faded, reach out to the painting experts at Shoreline Painting. We happily provide exterior painting services for homes throughout Fairfield County, CT, Westchester Count, NY and surrounding communities.
We're proud to be a Fine Paints of Europe Certified Painter — a distinction that shows our dedication to using the finest painting tools and products available to provide our customers with the most attractive, quality finishes. To learn more about our exterior painting services, or to request a free exterior painting estimate, call us today at 203-302-1086 or complete our online contact form.
Recent Posts