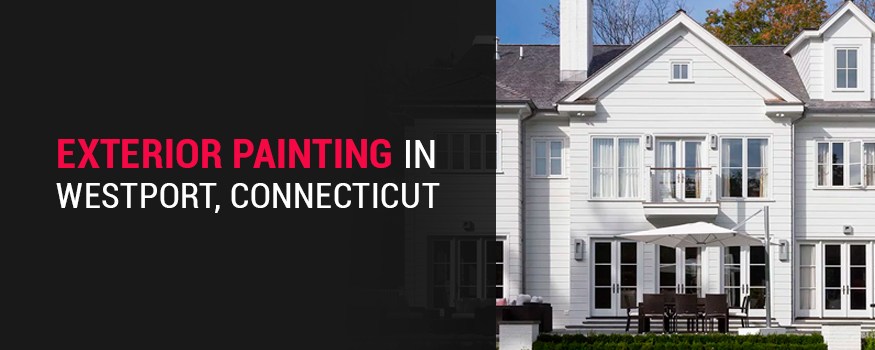 Exterior Painting Services in Westport, CT
Whether your old Victorian home's exterior is peeling and cracking or you're simply bored of the steel-blue that's been adorning the house for decades, exterior painting services in Westport, Connecticut, can give your home a fresh start. A new coat of paint can offer more than aesthetic improvements. It can protect your home from certain dangers like mold and mildew while increasing its curb appeal.
For these benefits and more, many homeowners turn to Shoreline Painting. We are an exterior painting company serving Westport, Connecticut, and the surrounding areas. Learn more about professional exterior painting services and how Shoreline Painting can help you get the job done right.
Why Should I Paint My Home's Exterior?
A change in paint is something that can dramatically alter the way you view your house. It can replace a deteriorating, peeling or faded paint job or help your home better match its surroundings. It could also be used as a way to boost your property value. Some of the reasons that people look to exterior painting services in Westport include the following: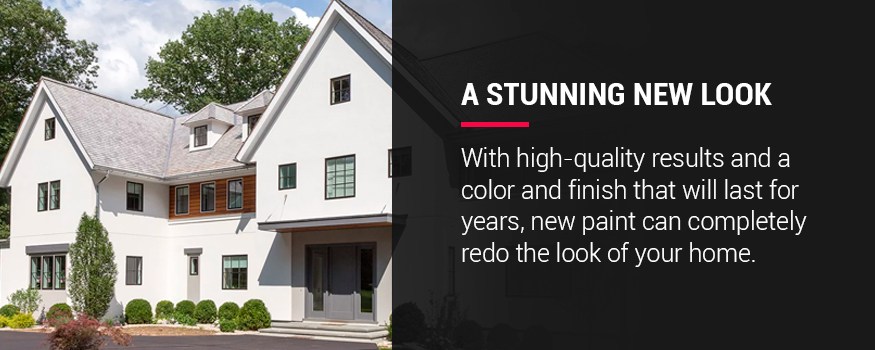 A stunning new look: With high-quality results and a color and finish that will last for years, new paint can completely redo the look of your home. Modern paint formulas stand up to ultraviolet (UV) rays and are resistant to fading, chalking and stains.
Long-lasting protection: A new coat of paint can protect your home from various agents better than an old, worn paint job. You can get paints that are more resistant to temperature changes and moisture, keeping mold off your house and the paint in good condition. You can also get paint that resists dirt, grime and UV rays. Depending on your home's unique environment, these may be particularly helpful factors.
Boost curb appeal: A house with peeling or faded paint isn't going to make anyone see "high value," and it could frustrate your homeowner's association (HOA). By repainting, you can improve the look, making it better match your landscaping efforts or your HOA's requests.
Your home is an essential part of your life and making it look good is significant. Whatever size, style or shape of house you have, new paint can play a big part in its improving its appearance.
Should I Hire a Professional?
While new paint offers a lot of benefits, working with an exterior painting contractor for your Westport home can make the process easier and faster and offer better results. For high-quality results, working with the pros is the best method.
Here are a few ways an exterior painting company can help.
Surface preparation: Painting a home exterior can involve extensive preparation, including sanding, mold and dirt removal and caulking certain areas. Without these steps, the new paint job could show the same problems or end up with a bumpy surface due to dirt and mold underneath it. These problems could also affect the paint's adhesion, making it harder for it to go on. Appropriate surface preparation is something a skilled professional can tackle quickly and carefully.
Paint knowledge: Depending on your house, paint selection might not be as simple as choosing a color. You might also need something that is mold- or UV-resistant, depending on its setting and your region. Exterior painting contractors can help you determine which paint is right for your home.
Materials: While you probably don't have the proper tools lying around, we have buckets, rollers, brushes, power washers and ladders galore. Working with a pro provides the tools that help get the job done faster and better.
Specialized experience: When odd architecture shows up, inexperienced painters can quickly run into trouble. Professionals can handle special features like dormers and pillars.
Paint care: For older homes that might have a decades-old paint job, lead is a significant concern. This component can quickly become dangerous for anyone not trained in lead care and disposal, but professionals have the tools and knowledge to take care of it quickly and efficiently.
Painting is a task best left to those who know what they're doing. Professional painters know how to execute every little detail, from the thickness of the coat to the sharpness of an edge, with great skill. An inexperienced painter can go wrong in various ways, but a professional knows how to avoid pitfalls and problems, providing a high-end result.
Even people who are confident about their painting skills often enlist the help of professionals due to convenience. They don't need to gather supplies, work on the house for several days or worry about messing it up. Instead, they can go about their normal day and continue to do the activities that are important to them. They can spend time with the family and go to work as normal, while an expert paint crew takes care of the hard stuff.
Working With Shoreline Painting
When you work with the experts at Shoreline Painting, you work with people who will treat your job with all the care and attention it deserves. Our painters work on each project as if it was their own home. They are all fully trained and licensed and have the experience to usher in a new era to your home or commercial building.
We'll take care of all the prep work, like sanding, priming, caulking and removing dirt or mildew. We can also help you make decisions about what paint to use. We offer a selection of paints that include:
Mold and mildew resistance
Durability
UV radiation resistance
Another factor that Shoreline considers is its environmental impact. Many exterior paints carry high levels of volatile organic compounds (VOCs), which pollute the ozone layer. We have environmentally friendly, recycled paint options, which helps to reduce how much VOC-filled paint ends up in our waste system. We can reduce what ends up in the environment and save on the energy costs for producing all new paint. We try to do our part to keep Westport clean.
Professional Exterior Painting Contractors in Westport, Connecticut
If it's time for your home to get a new look, we've got you covered. Westport was ranked as the best small city in Connecticut, and we want to keep it that way. We've even been named a Master Certified Painter by The Fine Paints of Europe.
Our exterior painting services in Westport, Connecticut, and the surrounding areas have earned us many satisfied clients. We'd be happy to refer you to some of our past customers. To get more information about our exterior painting services, reach out to us today!
Exterior Home Painting in Westport, CT
Professional Expertise from Shoreline Painting
There's no better way to turn heads and boost home value than with a newly painted exterior. If you're looking for professional exterior painting services please contact us today.