January 19, 2023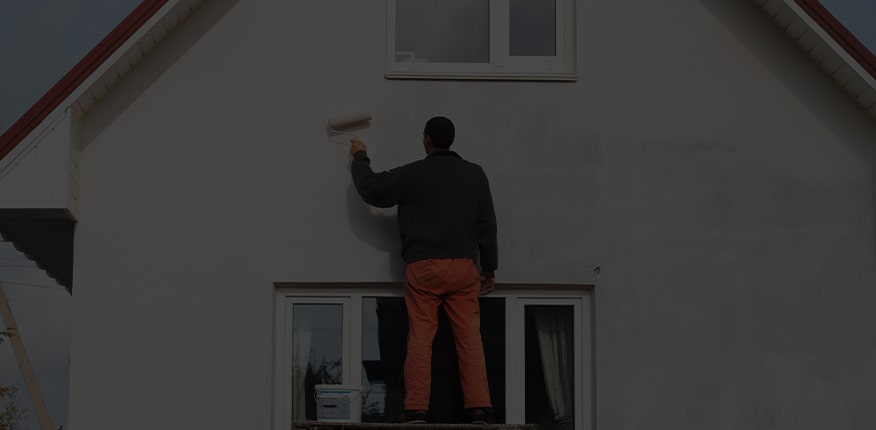 Exterior paint empowers homeowners to add a personal touch to their homes that reflect their style and personality. However, it is vital to use high-quality paint for your home's exterior that can withstand the elements and resist damaging factors such as mildew, moisture or fungus. Quality exterior paint can make a long-lasting, significant impact on your home.
Discover the difference between interior and exterior paint and how to find the best one for your project.
Difference Between Exterior and Interior Paint
Each paint type has different properties and manufacturing processes that prepare them for particular uses. Interior paint allows cleaning and can resist staining, while the exterior paint of your home is formulated to fight off fading and mildew. Although every paint type uses a combination of pigments, solvents, resin and additives, different types come with additional capabilities.
Solvents are the component that allows the paint to be wet, evaporating as the paint dries. Pigments give the paint color, and additives and resin are the driving components for creating different chemical formulas for each paint type. Additives provide abilities like mildew resistance, while resin binds the paint to walls or exterior surfaces.
The primary difference between interior and exterior paints is the resin. Although interior paint can experience wear and tear over time, exterior paint must stand against the elements. Your home's exterior will experience moisture and temperature changes that can result in fading, mildew, chipping and peeling. The resin in exterior paint must be softer to withstand these conditions. In contrast, interior paint resin is much more rigid because it won't regularly experience extreme rises and drops in temperature or excessive moisture.
Exterior Paint Characteristics
The composition of each paint type provides different qualities. Exterior paint characteristics include:
Protection against weather conditions like snow, rain, high temperatures and UV radiation.
Resistance against fungal growth, mildew and fading.
More flexibility results in less expansion or contraction, leading to fewer cracks and letting it respond well to extreme temperatures and moisture.
Flattened effect because the paint can absorb some moisture, prevent wet bubbles and let water escape.
Reliance on sunlight to cure.
Paint durability lets it last much longer without needing a new coat.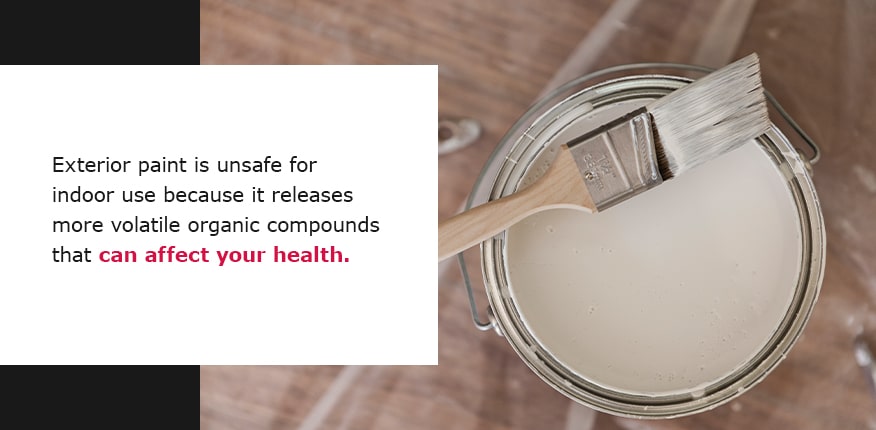 Interior Paint Characteristics
Exterior paint is unsafe for indoor use because it releases more volatile organic compounds that can affect your health. Meanwhile, interior paint is safe for your walls and ceilings, and you can get creative with the colors that reflect your style and brighten rooms that see little natural light. Interior paint characteristics include:
Decorative or aesthetic qualities
Dampness prevention
Ease of washability, cleaning and upkeep
Ability to withstand abrasion
Delicacy compared to outdoor paint
Lack of fade-resistant properties
Stain resistance
Lack of volatile organic compounds, making them safe for indoor use
Why Is Quality Exterior Paint Important?
Nothing transforms a home quite like a fresh coat of paint, but finding high-quality paint can be the difference between an easily maintainable look and a costly project you have to keep revisiting. Paint quality matters because it protects your home and investment while boosting your house's overall curb appeal.
Exterior paint serves as a protective layer against animals, pests, debris and other things that can penetrate walls and invade architecture. Quality exterior paint will prolong the integrity of your exterior walls and prevent cracks and holes that can create structural issues. For instance, exterior paint can prevent rotting, helping your home to stand securely and preventing small animals or critters from burrowing within your walls.
Additionally, paint quality can add to your home's curb appeal. Potential buyers will make assumptions about your house as soon as they see it. Cracking, chipping or faded paint could turn many potential homeowners to other options. Fresh, clean exterior paint speaks to your home's character and your ability to care for it. Even the oldest houses can become much more appealing with an updated coat of paint.
High-quality paint is also more cost-efficient over time than low-quality options, as it lasts much longer. Low-quality exterior paint can become costly as you need to put more effort into maintaining your home and hire professionals for frequent touchups. Your house will also lack the additional protective coating it needs to prevent premature wear and damage, adding to potential costs in the future.
How to Check Paint Quality
The perfect paint finish for your home should be high-quality in a color and finish you love. Exterior paint's primary function should be to protect your home, but a high-quality formula will also have properties to make your home stand out and achieve long-lasting color.
Review these items to determine the quality of exterior paint:
Check the volume of solids: The volume of solids refers to binders and pigments. Paints with a high volume of solids are of better quality. Paints with a high percentage of solvents, like water, result in thin coats with much less durability. Thinner paint typically requires multiple coats, increasing the initial and ongoing cost.
Choose formulas with more titanium dioxide: For more even coverage, look for paint with a titanium dioxide range between 20% and 25%, so you can use fewer coats to accomplish the look. This pigment has excellent hiding qualities and is highly reflective of UV rays. Higher quality paints have a higher concentration of titanium dioxide, and it's well worth the investment.
Avoid vinyl acrylic: Lower-quality paints feature vinyl acrylic, which doesn't hold up as well as 100% acrylic paint.
Hire a professional: Hiring a professional color consultant from Shoreline Painting will empower you to find the best paint for your home and ensure you utilize a high-quality exterior paint that lasts. As a Fine Paints of Europe Master Certified Painter, our professionals are well versed in selecting and applying the highest quality paints while bringing your vision to life.
Shoreline Painting offers a variety of interior and exterior paints that are made to last. One popular option, high gloss Hollondac paint, features quality resin and rich pigments that offer long-lasting tints. The depth of these colors is breathtaking, and you'll be able to enjoy them for years while trusting them to protect the integrity of your home.
Quality Exterior Paint From Shoreline Painting
Shoreline Painting proudly serves Westchester County, Fairfield County and The Hamptons. We've made strides in the industry for over 35 years, and we continue offering high-quality professional painting services that enhance your home and transform your spaces.
Our exterior team is the best in the business, and our professional and knowledgeable team is always available to help you find the best fit for your home so you can feel comfortable and confident knowing you're going to get exactly what you pay for.
We understand the importance of high-quality exterior paint and the importance of balancing long-lasting protection with creating a reflection of your taste and style. Contact us today to get a consultation for your home, and let us help you find the high-quality paint your home deserves.
Recent Posts