October 25, 2021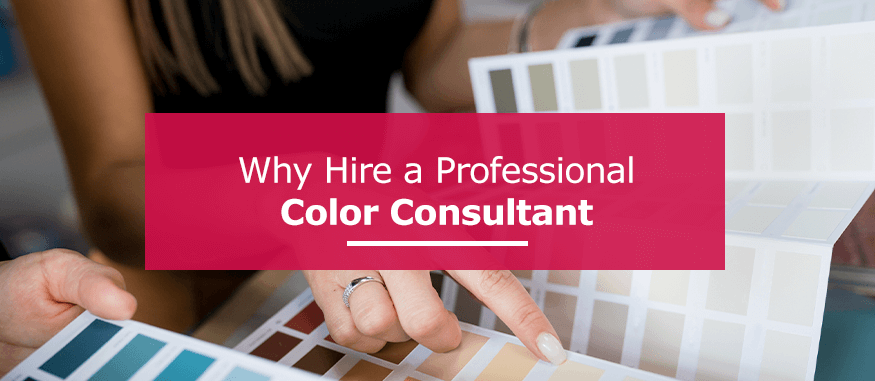 Homeowners who decide to upgrade their homes with home improvement projects commonly opt for a fresh paint job for their home's interior. Hiring painting professionals from Shoreline Painting to transform your home is easy, but deciding on a color scheme is another story.
How do you select the perfect paint colors for your home? Colors can make a big difference in the feel of your interior. You may have a general idea of the style you want but need help executing it or want advice on colors that will look the best in your home. You can gain helpful insight into painting trends and top color choices by hiring a paint color consultant.
Learn how hiring a color consultant for your upcoming home improvement project will make the process easy and make your home look great.
What Is a Color Consultant?
Color consultants can help transform your home into the most livable and beautiful space. These professionals use color psychology to determine what paint colors will encourage the right feelings and what colors the homeowners will appreciate the most. They understand how colors combine and create certain visual effects in rooms. Our painting consultants will work to achieve your home goals while providing advice on painting trends and colors that are popular in the area.
Painting consultants will also keep a homeowner's demographic, color design theories and other statistics in mind to help narrow down a cohesive selection of colors that will look excellent in the home. Our color consultants at Shoreline Painting also provide a detailed color palette for your paint selection along with examples of furnishings and fabrics to pair with the updated color scheme. Hiring a Shoreline Painting professional consultant for paint color advice is one of the best ways to create a cohesive style and feel in your home.
Shoreline Painting can provide homeowners with color consultants that will improve the painting process and help make their visions come to life. Homeowners will appreciate the expert knowledge and smooth painting and styling process that a paint color consultant will provide.

Why Should You Work With a Paint Color Consultant?
Discover the benefits of hiring a color consultant and how professional advice from Shoreline Painting can save you valuable time and money.
Color Consultants Save You Time
One of the factors that homeowners must consider when working on home projects is their time. Spending too much time on a painting project can push back additional improvement projects and other personal obligations in your life. When you hire a paint consultant for your home paint project, you'll save time that you can put toward other important tasks or your personal life.
Selecting the right paint color takes up a significant amount of time. Standing in the paint aisle of the store browsing through hundreds of paint swatches or clicking through color palettes online can begin to consume your time. With help from a Shoreline paint color consultant, you'll spend less time looking at paint colors and more time deciding on new furniture pieces, updating appliances and other home projects.
Having the right color choices from the beginning is a helpful step in your home interior project. The consultant will quickly have color palettes ready for you to view and consider your personal style, trend and other factors that will help ensure you'll enjoy the color choices they select for your home.
Setting aside time for home projects is a big decision, and finding methods to make projects efficient is essential for homeowners with busy schedules or who want to relax inside a comfortable, freshly painted home. It's also helpful to have a detailed plan before painting begins to ensure every aspect is thought out and perfect before our professionals start painting. You'll have the exact paint colors you want, a plan for each room, paint for ceilings and baseboards and details for every inch of your interior space.
Your professional painting consultant from Shoreline Painting will help prevent any color mistakes and save you time from having to reconsider paint colors or have our professionals repaint rooms inside your home.
Color Consultants Save You Money
When you're investing in a quality painting project, you want your money to be put to good use. When you're hiring professional painters from Shoreline Painting and using the help of a knowledgeable painting consultant, your money is invested in quality resources and professional help. Having a color consultant assist in your painting project can help save you money throughout the painting process, which is helpful when you want to put money toward other home improvement projects.
When you're working on selecting colors on your own, you'll spend money on seemingly little things that will add up in the long run. Purchases like paint samples, fabric swatches, paintbrushes, primers and other products that can help people choose a color can quickly add up. Buying numerous paint samples to see how they look in certain rooms is not the best option when you're considering your money.
Your consultant will provide expert paint color advice that will save you from making mistakes during the painting process. You'll buy paint samples of the best color options for your home and increase your chances of getting all of your options right the first time.
Another important area you'll save money in when you hire a paint consultant is the furniture you purchase. Many homeowners complement their newly painted rooms with upgraded furniture. Purchasing furniture that matches one paint color but switching to new ones after realizing the colors don't go can be costly. Your Shoreline paint consultant will ensure your interior paint color coordination is spot on and give you details on fabric colors and other decor that will pair nicely with your newly painted rooms.
Color Consultants Have Trend Knowledge
Some trends last a long time, while others come and go in a heartbeat. Many try to keep up with trends, but leaving that to the professionals is much easier.
A professional color consultant from Shoreline will be your window into the world of interior design and color trends. They'll have the knowledge you need to select in-trend paint colors that also mesh with your style and vision for the inside of your home. Your consultant will provide you with all of the hot colors in home design and include ones you like into your color palette.
Hiring a Shoreline consultant who is knowledgeable on paint color trends is beneficial for many reasons:
Using popular colors when you're ready to sell: Upgrading your home with colors that are on-trend can help attract a larger pool of potential buyers and possibly add value to your home.
Selecting timeless options: Shoreline professionals will choose colors and paints that will stand the test of time in your home. They'll suggest classic colors that are popular now and are likely to be for years to come.
Getting in on local trends: Working with Shoreline Painting and the color consultants on our team will give you the advantage of local insight on color trends. Our professionals will know all of the ins and outs of what paint colors people in your area are using and what colors are beginning to grow in popularity around you.
Even if the colors in trend aren't your favorite, it's always helpful to learn more about paint colors and possibly include them in other ways, like accents in your rooms or in decorations around your home. Your color consultant will do all of the research for you on color trends and colors that match your style.
Benefits of Color Expertise
Choosing the right color for your home is simple when you work with Shoreline Painting & Drywall. You'll eliminate the stress of finding colors for each room in your home and figuring out whether the color scheme flows. A color consultant will be exactly what you need during your home painting project.
Our painting consultants will provide a level of expertise like no other painting professional. They'll provide you with exceptional benefits that will enhance the look of your home, improve the mood in each room and help boost the resale value if you decide to place the house on the market.
Learn about the benefits of hiring a color consultant and how they use their expertise and knowledge to help.

Consider the Mood of a Room
The color you paint a room can have a powerful impact on a person's mood. You can transform the mood of your entire home with the color scheme you select with your color consultant.
Your Shoreline color consultant will understand how color and psychology work together to evoke certain feelings in people. Even shades of one color can bring up different emotions.
Check out some of the feelings professionals can evoke with certain colors in your home:
Cheerful: Colors that are happy and passionate include orange, yellow and red. These colors pop and work best in areas like the kitchen or the dining room. It's important to select shades of these colors that are the perfect level of brightness or a beautiful pastel shade. These colors can give you energy and brighten up your day.
Elegant: Colors that can boost productivity or add a sense of luxury to your home include deep purples and rich blues. Blues are perfect for home offices to encourage efficiency, or purples make an excellent accent wall or entryway feel elegant and inviting.
Welcoming: If you want to create an uplifting or inviting feeling in your home, choose colors like light blues, pastel pinks, soft greens and other light colors that welcome you and your guests into your home. These colors will be perfect in living areas, bathrooms and bedrooms, creating a space that allows you to relax or feel happy in your home.
Cozy: Create a warm and comfortable space in your home by incorporating browns, creams and deep greens that will evoke calm and comforting feelings. It's easy to discover colors that match this feeling by sticking with earthy tones. Have our professionals use these colors in bedrooms, living areas and entryways to keep your space comfortable for your family and guests.
Inviting: Professionals can create an inviting environment with neutral colors in your home. Neutrals like grays and whites are timeless, allowing homeowners to create spaces that are contemporary and sophisticated. You can add various types of decor to transform these rooms as you please.
Evaluate Natural and Artificial Light
Lighting is an influential factor in a home, especially when it comes to paint colors. Our paint color consultants will know how to test paint colors in various lighting scenarios to ensure it's the right color for that room.
Some of the lighting a professional will consider includes:
Natural light will show a paint colors truest color.
Fluorescent light will shine blue tones onto the color.
Incandescent light will enhance yellow or warm tones in the paint color.
Your color consultant from Shoreline Painting will understand how certain paint colors will absorb light and help you navigate paint color choices throughout your home.

Work With Your Style
Even though you're not sure what colors you want, you'll still have preferences and the final say of what paint colors are in your house. Your painting consultant will work closely with you throughout the entire process to ensure every color choice is perfect.
Your Shoreline consultant will show you an array of colors, some you might not even have thought about. They'll help pair colors you love with colors that work best in certain rooms to create the perfect color scheme in your house.
They'll consider your favorite paint colors, style, existing home furniture or decor and provide you with the best color options. You'll be a part of the process from start to finish, ensuring your home will look just how you want it.
Consider Your Home as a Whole
Even though rooms are separated with walls, it's still important that the colors in your home mesh well together and look like one cohesive place. Your painting consultant will help explain what colors look nice together and how you can incorporate various shades, intensities and hues in your home. Natural color transitions throughout your home will help make the space look put together and welcoming.
Get the Right Color With Shoreline Painting & Drywall Professional Color Consultants
Working with a Shoreline Painting & Drywall color consultant will help make your next professional painting experience productive and enjoyable. You'll learn more about the process of selecting paint colors and find the best color for each room in your home.
We strive to complete every project with integrity, pride and first-class workmanship. We are a Fine Paints of Europe Master Certified Painter and are ready to transform your home into the elegant space you deserve. Contact us today to learn more about our painting services.

Recent Posts