August 21, 2017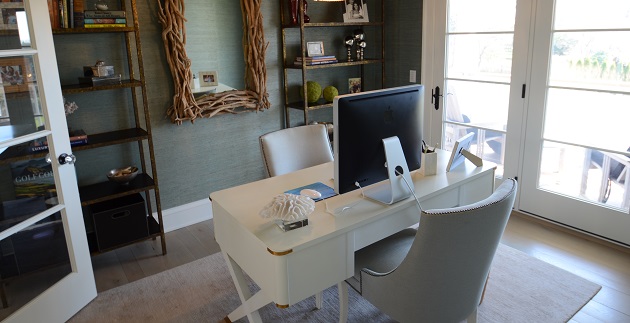 Space is at a premium these days. Finding ways to maximize limited storage has produced some interesting solutions. We think back to our college dormitory days, using plastic risers to create room for our belongings underneath our beds, or squeezing everything we own into our tiny urban apartments.
Along with our desire to optimize storage space, many of us are also interested in how to use visuals to turn around the look of a room. If you're wondering how you can make a small room appear larger, there are a few different methods you can utilize, inspired by our friends in the world of interior design.
What Can I Do to Make a Small Room Look Bigger?
You can use paint in a variety of ways to alter perceptions of a room's size and dimensions. It's an easy way for how to make a small room look bigger.
Apply light shades to ceilings and floors. This will keep light from being absorbed and focus attention upwards, creating the impression that the room has a higher ceiling than it actually does.
Paint one wall a different color. Accent walls can have the effect of making the differently colored wall appear to have greater depth than its counterparts.
Integrating strong accent colors in strategically chosen areas can be used to draw attention away from the dimensions of your room and create the impression of depth. They can also help foster a lively feel — if you plan on hosting parties in or around this room, using bold accent colors can be a way to stimulate your guests' senses and spark up conversation.
Making a Small Space Feel Larger Using Interior Design
In addition to using paint to alter peoples' impression of the size of your room, there are a few interior design tips you can take advantage of that will help create this effect.
Move furniture away from your walls. This can help create the impression that your room has greater space by virtue of there being enough capacity to not have to shove things up against your walls.
Take advantage of hidden storage opportunities in your furniture. A hollowed-out ottoman with a removable lid is a great tool, as is a table with drawers and shelves.
Use mirrors to your advantage. Mirrors are highly effective at altering visual perception, so placing them in areas that create the impression of larger space is a popular trick employed by many in the interior design world.
Opt for furniture with exposed "legs." This will open up the space underneath your couches and tables, encouraging your guests to look around and perceive that there is plenty of room to be explored.
Call Shoreline Painting
Do you have a small room you'd like to expand with a sharp new paint job? At Shoreline Painting, a Stamford-based painting contractor, we're happy to share our interior design tips on how to make tiny rooms seem bigger. If your Westchester County, NY or Fairfield County, CT home has a room that could use a new look, contact us today for a free estimate.
We're a family-owned company that has been accredited by the Better Business Bureau, received Angie's List's Super Service Award in 2016 and is a Master Certified Painter of Fine Paints of Europe. Our team of expert technicians and caring customer service staff will work with you to figure out and execute a unique design plan.
Recent Posts