June 4, 2014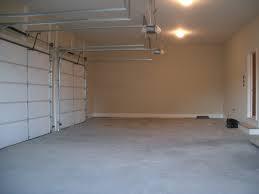 When you're putting your home on the market, one of the main places you should get in order is the garage. It's one of the most overlooked rooms in the house. Seventy-eight percent of homebuyers purchase a house with a garage, according to the National Association of Realtors. Your garage needs to look as cared for as the other rooms in the house. Cleaning out your garage and hiring home painters will give your garage the facelift it needs.
1. Unclutter Your Garage
You want to make your garage as clutter-free and inviting as the rest of your home. First, you should get rid of all the unnecessary clutter. Dispose of any items you don't use. This would also be the perfect time to hold a garage sale. Even if you don't need the money, you can donate proceeds to a charity of your choice.
Still have extra stuff lying around? Rent a storage unit for anything you don't immediately need. Storage units may be expensive, but they will be worth the investment when you receive market value for your home. Your garage will look better, and you'll have less clutter in your home.
2. Clean Your Garage Floors
Pay extra attention to your garage floor. Remove oil and grease stains with a solution of TSP or paint thinner. Visit your local hardware store to find out what you can use on your particular garage flooring.
Make sure the stain is fully saturated with the solution. Pour an absorbent material, such as kitty litter, baking soda, sawdust, or rock salt, on the area and allow it to sit overnight. Sweep up the mixture and then pour dishwasher detergent or concrete cleaning solution onto the floor. Allow it to sit for an hour and rinse it off with hot water.
For set-in stains, consider hiring home painters to paint and seal your floor. You can also fill in cracks with a concrete sealer. Your garage will not only look cleaner, it will also look larger and brighter.
3. Pay Attention to the Details
Good lighting is important when it comes to the garage. Purchase fluorescent light fixtures you can easily and inexpensively hang from the ceiling. The extra light will brighten up the space and make it look larger. A new coat of paint on the garage walls can freshen and lighten up the space, as well. And don't forget the garage door. Hiring a painting company to add a fresh coat of paint will save time and the hassle of doing it yourself. It will also make a huge difference in the look inside the garage and in your curb appeal.
These tips will help make your home more attractive to potential buyers. There are some individuals who place as much value on the garage as the other rooms of the house. In addition to the paint, make sure the inside of your garage is clean, well lit, organized, and in good condition.
Shoreline Painting & Drywall in Stamford, CT, can give your garage a much-needed makeover. Our painting company will transform your garage into an asset home buyers will appreciate. We are fully bonded, licensed, and insured. Contact us for an estimate or for more information.
Recent Posts