July 10, 2014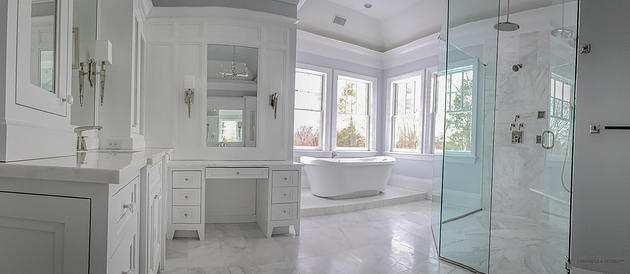 The bathroom is one of the most used rooms in the home, but it is often one of the most neglected when you think of interior painting. Whether you are completely remodeling your home or you are hiring home painters to transform the look of this room, it is important to choose interior painting contractors with the right experience. This room requires special attention to ensure your new paint job looks great and withstands the harsh conditions.
Choose Mildew-Resistant Paint
Moisture is common in bathrooms because of steamy hot showers and baths. Unfortunately, this means the walls in this room are more susceptible to mold and mildew. Experienced home painters understand this issue and use quality paints with mildew-resistant qualities so you can be sure your room is safe from mold and mildew issues.
Select the Right Colors
Choosing colors for your bathroom is also important. Depending on the size of your bathroom, dark colors aren't often the ideal choice because they can make the room look smaller. Instead, consider choosing lighter colors and shades to give your bathroom a light, airy look that creates the illusion of more space. The smaller your bathroom, the more important it is to carefully consider the right colors.
Take the Appropriate Steps
Painting your bathroom can be a difficult process, just like any other project around your home. Hiring interior painting contractors to get the job done right will ensure the paint lasts as long as possible. Washing the walls before applying paint is essential to remove any styling products or other residue. It is also important to protect any areas you don't want to paint. The right home painters will take the appropriate steps to create the beautiful bathroom you've always wanted.
Interior painting contractors can provide the beautiful bathrooms their clients want for their homes. Choosing the right interior paints and colors will ensure this room in your home provides the comfort and style you expect. Without the help of the professionals, it can be difficult to achieve just the right look, making it essential to hand this important task over to someone with the right level of experience.
If you are looking for assistance with your bathroom painting project, contact us. Our Connecticut home painters are ready to tackle any project, large or small.
Recent Posts