June 26, 2020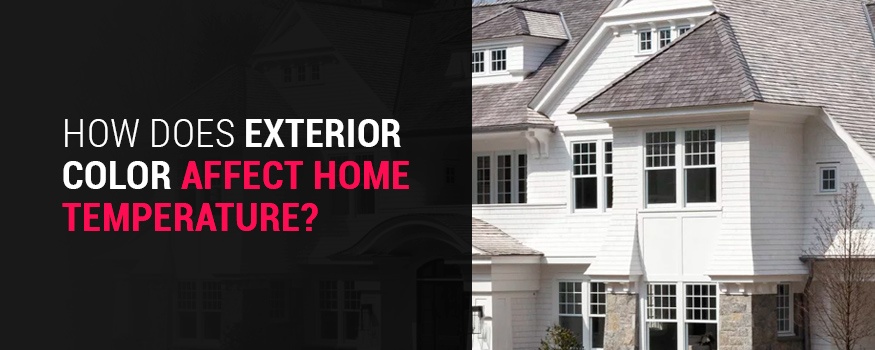 The color of your home's exterior influences a lot more than the look of your house. The outside of your house either absorbs or reflects heat, making the inside hotter or cooler. That means the color you select for the outside of your home affects the temperature inside, for better or worse.
If you're planning on revamping the outside of your home with exterior painting services from Shoreline Painting, you'll first want to know how exterior color affects home temperature. Make the right choice for your family, your home's style and your energy costs with help from this guide.
How Much Does Paint Color Affect House Temperature?
The exterior color of your home may have more of an impact on the temperature inside than you think. There is no set percentage or amount of this effect, though, because paint color isn't the only consideration when it comes to your home's interior temperature. How much the exterior of your home impacts the temperature inside will depend on a handful of factors, including:
The roof color and whether it's also light or dark
How much of your home is light or dark
The amount, size and quality of windows you have
How much sunlight or shade your house is in
Your indoor heating and cooling solutions
The material throughout your home's exterior
So does the color of your house affect the temperature inside? Yes, but it isn't the only factor. Changing the color of your home's exterior, however, is a great place to start if you want to keep your home cooler or warmer. You just have to know which color to choose.
Does Dark Paint Make a House Hotter?
Whether you want to go for a trendy navy blue or dramatic black exterior, you'll first want to know — does a professional painting your house a dark color make it hotter? According to the National Renewable Energy Laboratory (NREL), dark and dull colors on a home's exterior absorb anywhere between 70 to 90% of the sun's energy. Once your home absorbs that energy, it transfers most of it as heat inside via conduction. So, yes, dark paint makes a house warmer while brighter and lighter colors will reflect more energy for less of an impact on the interior temperature.
What Color Should I Choose for My Home's Exterior?
When it comes to choosing the exterior color of your home, you'll have to set priorities and consider what you want from your exterior color. Many homeowners consider factors like these to prioritize as they pick colors for their homes:
Interior temperature: You're most likely prioritizing this aspect of a new exterior color. But you have to consider whether you want your home to be hotter or cooler based on the exterior color. That decision could depend on the climate where you live and other various qualities of your home.
Existing features: If you're working with Shoreline Painting to change the colors of exterior walls, you may wish to leave brick and stonework their existing colors. You'll then have to select a color that complements the existing features of your home for a seamless adjustment to your style.
Other changes: Perhaps you're making other exterior changes to your home. New roofing and a new roof color will influence the temperature in your home and what colors you can select for your exterior walls. At Shoreline, we can change stucco and siding exterior walls with paint and your brick, as well, for a total transformation. Whatever you choose to change, you'll want your accents and exterior walls to complement each other, so make those decisions at the same time.
Your style: While the exterior color of your home does influence the temperature inside, you don't have to compromise with a color you don't enjoy. You should love looking at your newly painted house as you come home, so you shouldn't pick a color based only on how it impacts temperature. Choose something that fits your tastes so you're happy with the result. Make different changes to benefit the temperature inside your home and don't compromise on style.
Your neighbor's style: If your home is close to others on your block, you may not want to choose a color that clashes with your neighbors' homes. Feel free to select a unique color if that suits your tastes — it's your home, after all — but try to pick a color that coordinates with the houses in your area. You'll get a beautiful new color that stands out without looking out of place on your street.
With those considerations in mind, dive into selecting a color to refresh the outside of your home. Certain colors are more versatile, popular and functional than others, especially if you're considering the color's impact on the interior temperature.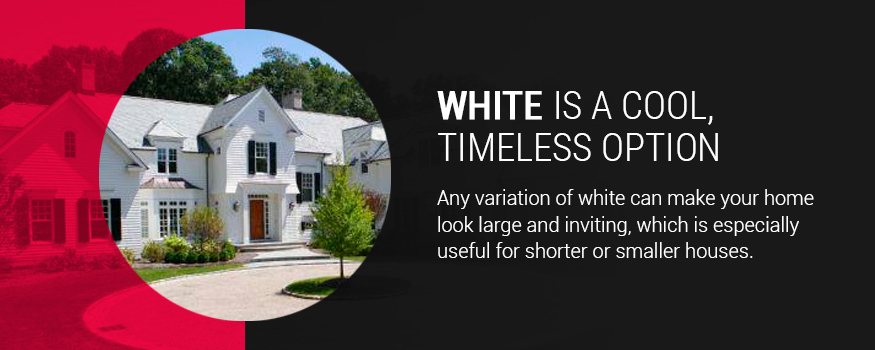 White Is a Cool, Timeless Option
For exterior paint to keep your house cool, white is a popular choice. It brightens the look of your home and reflects light, and therefore heat, from the sun. If you have excessive cooling costs during warmer seasons, a white house may be the solution.
White is a common color for home exteriors because it's so versatile. It suits modern styles, classic homes and everything in between. You can also get variations of white, from cream tones to cool hues, that provide a subtle, unique twist to the traditional, standard white. Antique white, in particular, is a recent popular color for homes. Any variation of white can make your home look large and inviting, which is especially useful for shorter or smaller houses.
If you feel that white is a bit too basic for your home or your style, choose fun or unique accents for the rest of your home's exterior. Unique brick or stonework or pops of color on your home's accents will infuse your house's exterior with your style without much of an impact on the interior temperature. Go for a white house with colorful accents in areas like:
Shutters
Doors
Door frames
Window frames
Porches
Railings
Dormers
Black Is Bold but Heats Things Up
A black house will stand out, and that's exactly what some homeowners want. If you want to be the most dramatic yet sophisticated house on the block, you may gravitate towards black for your home's exterior, but know that color could heat your home, depending on various factors of your exterior.
If you live in a cooler climate, like that of coastal Connecticut and New York, you may not mind having an exterior color that keeps your house warm. That could have a positive impact on heating costs during the cold seasons, especially if they last longer than warm seasons.
Homeowners may also avoid choosing black, navy blue or other dark colors because they're known to fade with sun exposure. That means that over time, the sun would impact the appearance of your home, requiring touch-ups. But at Shoreline, we keep UV radiation resistance in mind as we select the paint for your home's exterior and use high-quality, durable products that last for years to come. With Shoreline, you can choose a contemporary, sophisticated dark color for your exterior without worrying about fading and dulling.
Black and other dark colors are also known to highlight imperfections in a home's exterior. With an exterior paint job from Shoreline, we'll make sure to fix any imperfections and create a smooth surface for your home's new paint color, so you get satisfying results even if you choose a darker color.
Does Gray Absorb Heat?
Colors absorb heat because of how they absorb light. Black will absorb more light from the sun, which means absorbing more heat, while white reflects more light, meaning it absorbs less energy and heat from the sun. So what about gray? That depends on how light or dark, dull or bright of a gray you select for your home's exterior.
Lighter, brighter grays will reflect more light and heat than a darker, duller gray, meaning gray is a viable option for either impact on the interior temperature. Gray may be a good compromise between a refreshing white and a bold black for your home's exterior, and it comes in plenty of shades and hues to suit your style.
From warm-toned grays to cooler, bluer ones, your options if you go gray are sure to suit your home and recent trends. Charcoal gray is a trending home color that's on the darker side, while pale gray is also popular and adds a lighter pop of color to your home.
What Other Colors Can I Choose for My Home's Exterior?
Maybe a basic color doesn't suit your tastes or your home's style. Use the ideas of brighter and lighter colors to reflect heat or darker, duller colors to absorb it and translate those to a color for your home's exterior. Consider those qualities in these trending home exterior colors:
Beige is another versatile popular color, much like white, though it does provide some color. Its lighter variations give a warm color to your home but keep it cool on the inside.
Yellow is a vibrant and quaint alternative to beige. In pale options, you get a subtle take on the popular color in a shade that will keep the interior of your home on the cool side.
Blue creates a calm feeling for your home. The cool color keeps your house cool in its lighter variations, but navy blue is a dramatic option that helps heat your house.
Red can add drama, but choose a muted shade for a cooler house and a trending color. Berry shades are also fun and popular, and you can select a paler variety for a unique home exterior that keeps the interior cool.
Green in an earthy, olive tone makes your home feel natural. Olive is often a darker shade, meaning it could heat your home, but not as much as a black exterior. Choose a pale olive for a cooling option.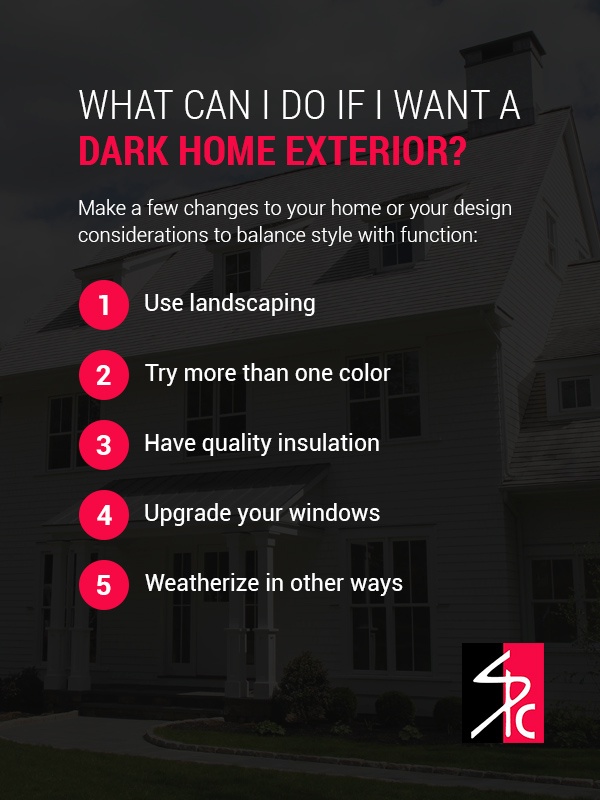 What Can I Do If I Want a Dark Home Exterior?
A dark house will stand out on your block or in your neighborhood, so you may want a dark exterior. If you want the dramatic look but have concerns about how much paint color affects house temperature, make a few changes to your home or your design considerations to balance style with function:
Use landscaping: If you have ample yard space around your home, use landscaping to help provide shade. The NREL explains that shade can reduce the temperature inside your home by up to 20°F, which helps offset the heat from a dark exterior. Tall, full trees can help block the sun's light from heating your house, but don't add too much landscaping. You'll want to balance your landscaping with how much of your home's beautiful exterior you can see for the best curb appeal.
Try more than one color: Choose black as an accent color to tie in the bold look and balance it with lighter colors that can help keep your home cool. Black can make a statement for shutters, stonework and different accents on your home's exterior, and you can choose complementary, lighter colors elsewhere that will keep your home cool.
Have quality insulation: Insulating your home helps keep the heat out in the summer and the cold out in the winter. The attic, in particular, can heat your home in the warmer seasons, so start there with proper insulation to get the dark exterior you've been dreaming of.
Upgrade your windows: According to the NREL, about 40% of the heat that builds up in your home comes through your windows. That'll vary based on the amount, placement and size of your windows, but upgrading to newer windows can help insulate your home better. You can also use reflective coatings on your existing windows to help bounce away light and heat.
Weatherize in other ways: The NREL explains that caulking and other measures seal and protect your home to maintain the right interior temperature. At Shoreline, we're sure to caulk areas along the exterior of your home that need to be filled or re-caulked, giving you more protection and weatherization.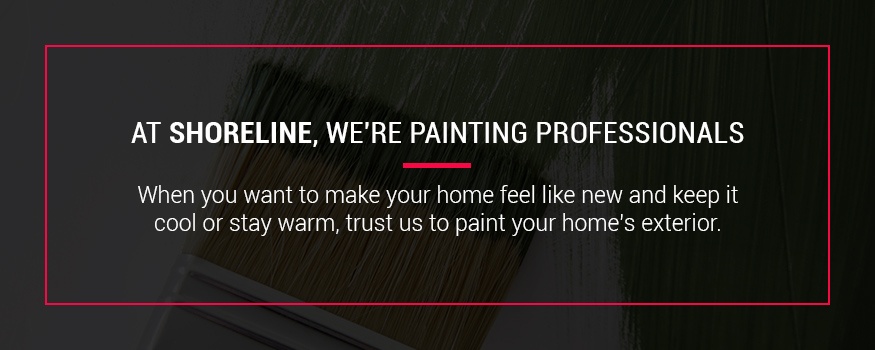 Contact Shoreline Painting to Transform Your Home's Exterior
At Shoreline, we're painting professionals. We've been around since 1975, transforming houses into dream homes for residents throughout Westchester and Fairfield counties in Connecticut and New York. When you want to make your home feel like new and keep it cool or stay warm, trust us to paint your home's exterior.
Contact us today for a color consultation and a free estimate. Learn about our exterior painting services and how our experts at Shoreline Painting can transform your house's exterior and create your dream home!
Recent Posts