October 22, 2019

Jump to:
Hardwood flooring is an excellent choice for your home. It brings warmth and texture to living rooms, dining rooms, bedrooms and family rooms, and it's easy to care for after installation. Hardwood doesn't trap dirt and dust like carpeting, which makes it a healthier option if you or anyone in your home is living with airborne allergies. You should find wall colors that complement hardwood before you commit to having it installed, so the overall effect brings out the beauty in your new flooring.
When to Choose Your Wall Color
If you are planning to redecorate a room, when should you head to your local home improvement retailer and look at the thousands of paint swatches? Playing with colors is a fun pastime, so it's tempting to start at the hardware store and look for a color to build the room around. Taking this approach, however, is limiting your options. There are thousands of paint colors available to you — many more color options than flooring, fabric or accessories options if you are looking for something to match or contrast in the room. Benjamin Moore's white paint collection has 152 shades for customers to choose from, and all of them contain undertones of other colors.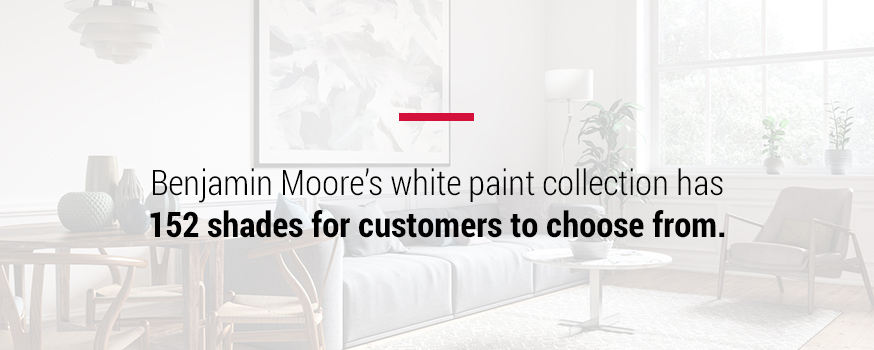 A much better option than beginning with the paint color is to build the room from the bottom up. Choose the flooring first, then the furniture, followed by window treatments. Next, you can look at wall colors. By this point, you will have flooring samples, as well as fabric from your furniture and your window coverings if you are using drapes or cloth blinds. You will be able to choose a wall color to match or contrast with the tones you selected for the rest of your room much more easily.
Wall Colors That Work Well With Light Hardwood
Light hardwood floors are a popular choice. They don't show every spec of dirt, which many people appreciate. If you have concerns about a dark-colored floor making your room appear too somber, you can keep the floor light in tone to make the atmosphere bright. It also means you have plenty of options in choosing a color for your walls. Here are a few tips:
Keep It Light and Neutral. Keep your walls and trim light and neutral in tone. For maximum effect, paint the wall and trim the same color. Paint the trim in either a semi-gloss or a high-gloss finish so that it will stand up to the punishment that occurs in corners and areas near door jams.
Paint It Off White. White looks clean and neat on painted walls. If a stark white looks too clinical for your taste, tone it down a bit with an off-white shade. These colors are softer than plain white, but they still work very well with the light hardwoods to keep the entire look of the room clean and bright.
Go With Gray. If off-white is too light for your taste, keep in mind that gray is also a neutral color. Choose the exact shade for your room carefully. Gray can have a number of undertones, and you'll want to make sure to choose the one that's right for your space. For example, you can find a paint in a true gray with no undertones at all. Some gray paints have blue, pink, mauve or even green undertones to them. And different undertone shades will bring out a completely different vibe — a cooler gray with blue or green influences will create a peaceful atmosphere. Warm, yellow undertones alongside light hardwood floors will create an inviting space.
Contrast With a Saturated Tone. Your light hardwoods go swimmingly with soft neutrals, but they also serve as the perfect companion to saturated, bold hues. First, figure out the undertones of your flooring – does it have a warmer color? Or does it seem cooler, bluish or gray? Once you know, pair it with a color from the opposite side of the temperature spectrum. For instance, light gray hardwoods would look stunning next to a burnt orange wall.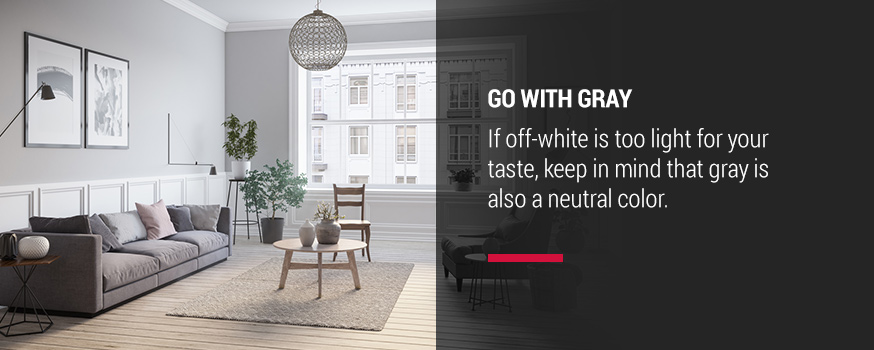 To determine a gray's undertone, compare it to the back of a color chip. When you look at the shade against something white, you can see the undertone more clearly than if look at the color itself.
Choose a Tone That Complements the Wood's Undertones. Take some time to examine your hardwood carefully to determine its undertones. If you prefer color on your walls without necessarily creating a bold effect, consider choosing a paint in the same color family as the undertones of your hardwood.
To determine your hardwood's undertones, place a few pieces of it together to get an idea of what the wood will look like once it's installed. Is it warm and golden? Cool, gray or ashy? The answer will help you decide on a wall color.
For cool undertones, paint the walls in blue or green tones. Choose your wall shades carefully to avoid yellow undertones. If you find it challenging to choose a cool green or blue color, take a piece of your floor to a paint retailer and ask a salesperson for help finding the right shade.
For warm undertones, opt for yellow tones. Consider a palette that includes soft creams as well. You'll likely want to avoid too much tan because it won't do anything to bring out your floor's undertones, and it could appear a bit cold.
How to Choose Wall Colors for Cherry Hardwood
Cherry hardwood is stunning. It's rich and inviting. Ensure the color you choose for the walls is equally as beautiful. Here are a few tips for choosing walls to complement cherry hardwood floor:
Keep It Simple With White. A crisp, clean white will create a gorgeous contrast between the white paint and the dark color on the floor.
Go Green for a Beautiful Contrast. Green is the contrasting color to red, so it's the natural choice to complement the rich tone of the cherry hardwood floor. There are a number of green tones that would look attractive in a room with cherry hardwood, including sage and a true olive. In sage's case, for instance, its softness lets the cherry hardwood shine and be the focal point of your room. Be careful when selecting your paint color — you do not want to venture into green shades with a yellow undertone. You could try a darker green if you prefer a more vibrant, but less contrasting, look.
Choose a Cool Blue Shade for a Peaceful Space. Blue is a popular color for walls in modern homes, and you can certainly pair it with a cherry hardwood floor. Robin's egg blue and similar shades complement a cherry hardwood floor very well, and they create a peaceful and inviting space. Once again, light colors provide the perfect contrast for cherry, and they let the red-hued planks stand out. Consider this combination for a bedroom, dining room or family room. Or, you could go for a darker blue, which would provide just enough of a contrast against your future hardwoods.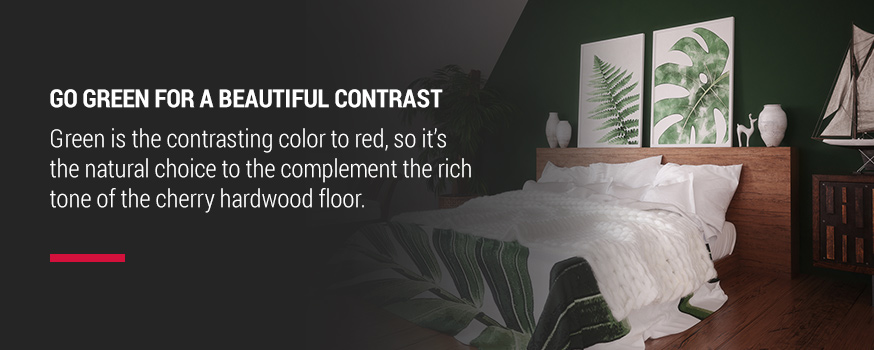 Consider cool blue shades for a living room as well, especially if your goal is to make your home a retreat where you and your family can unwind at the end of the day. A cool color on the walls offers a definite calming influence.
Warm a Space With Red or Terra Cotta Walls. You don't have to stick with a cool color to decorate your walls when working with cherry hardwood floors. Warm colors will also work nicely, so don't be afraid of painting your walls a red or terra cotta color. If you're concerned that this style may be too intense for your taste, consider painting one wall in the brighter shade as an accent wall and the other three walls in the room a different color. Gray or light tan are neutrals that will work with your darker colors, and the contrast will make darker walls stand out. Use the accent wall to show off a focal point in the room, such as a fireplace, chair or a wall of artwork.
Colors to Consider With Dark Hardwood Floors
Dark hardwood floors are an excellent choice if you are looking to decorate a large room or your home has an open concept or an open floor plan. Once dark flooring is installed, it tends to make a space look smaller and cozier.
Before installing dark hardwood in your home, consider the sources of light in the space. Does the room or area get plenty of natural light? If not, do you have overhead lights in place? If there is not a lot of natural light, make sure there is sufficient lighting in the space from overhead lights and lamps, otherwise the dark hardwood will appear too dark.
Here are a few tips to choosing walls to complement dark hardwood floors:
Look at the Undertones in the Stain. When choosing paint colors for dark hardwood, you will want to consider the undertones in the stain used to finish the floor. If your floor is black or almost black in color, you have a very elegant foundation from which to work when picking out your wall paint color.
Treat Your Floor Color as a Neutral. You can decide whether you want your wall color to be pale. You may not want to go as light as a white or an off white on your walls, but a light cream color would look sophisticated in a living room, dining room or bedroom. You could even opt for dark beige color to keep a classic look in a room with a dark floor. In general, though, you'll find that the lighter the walls, the better — they tend to look fresher and more modern than darker neutrals. Regardless of the color you choose, paint the ceiling and trim white for a crisp finish.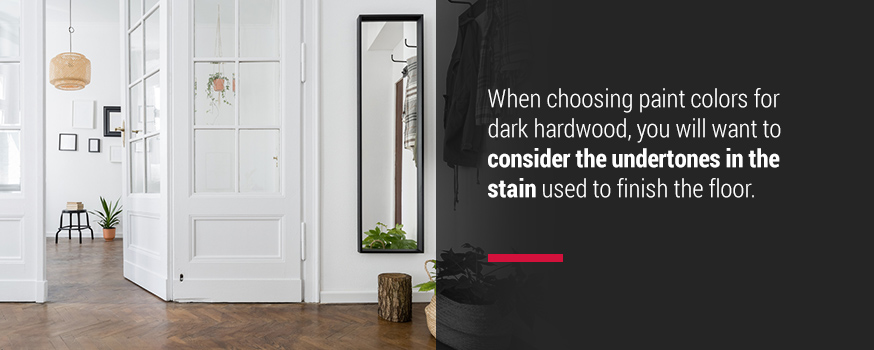 If you prefer more color on the walls, you have a number of options. Black is a neutral, so you can pair virtually any color with it. Consider cool blues and greens for wall colors, being mindful of the size of the space. A dark shade on the wall with a dark floor tends to close in the space.
Consider Gray. To introduce a different undertone to your room, consider gray walls. Grays can have a number of different undertones, even though it is considered a neutral. It will look beautiful next to a black or almost black floor. Depending on the shade you choose, you can introduce a subtle tone of green, blue, mauve or pink or silver into the room. You also have the option of painting your walls a true gray color that doesn't have an undertone of any other shade.
Branch out into greige: It's a little bit of gray and a little bit of beige, and all of that works alongside your dark hardwood floors. If you're looking to select a wall color you can paint in every room in which you lay your new flooring, you might want to put greige on the shortlist. It creates the perfect backdrop for a slew of different styles, and having a single color in every room will tie everything together perfectly.
Be a bit blue: If you've skimmed through the cherry hardwood-related section, you know why a light blue would complement an even darker stain. A crisp, cheerful blue would contrast nicely against your hardwoods, and both design elements would pop next to one another. Of course, it wouldn't be too much of a contrast — blues and their gentle undertones always usher in a soothing, calm feeling.
Select a subtle green: A green with a gray or blue undertone would look gorgeous next to your dark hardwoods. The combination of hues would create an ideal balance between light and dark. As such, you shouldn't go for something darker in the green family — a heavily saturated green would look too dark and potentially even blend in with your chosen hardwood stain.
The Best Wall Colors for Oak Floors
Oak hardwood floors are a beautiful choice in flooring. They give you a number of options when it comes to wall colors. You should consider whether you have white or red oak before making your selection for paint color. Here are a few thoughts to consider:
Wall Colors for Red Oak. With its warm tone, you can pair a red oak hardwood floor with colors like yellow or apricot to create a warm effect in your room. Be bold and paint your walls red to turn up the heat to the max. Blue is also a great choice for red oak hardwood floors. You can consider pastels, aquamarines and darker shades as well.
Wall Colors for White Oak. White oak flooring can look bleached out, depending on its finish. You can paint your walls a rich charcoal color or match the floor color to create a classy, formal look in a living room or dining room. This color of flooring also looks good with pastel-colored walls with a hint of color, such as a gentle mauve or a baby blue. Choose your favorite shade to give the room some interest.
For either option, earthy works: Many people select oak because it has such rich, all-natural color. You can complement the rustic feel of any variety of oak with an equally earthy paint color. Everything from a gray to a lush green to even a red would bring out the grains and gorgeousness in your oak planks.
Light-colored flooring can also be used to experiment with a rich color in whatever shade you prefer, such as navy, cinnamon, plum, or forest green. The light-colored flooring will help to keep the space from looking too dark.
Another option is to paint the walls and trim white in a living room or bedroom. The walls can be used to display colorful artwork or paintings. Add more color with your choice in furniture and bedding, so the environment doesn't appear stark, but rather crisp and clean.
Get an Estimate on Painting Your Home Today
Are you thinking of installing new hardwood flooring in your home or re-staining your existing floors? If you live in either New York or Connecticut, call Shoreline Painting to get an estimate on giving your walls a new look.
Recent Posts