November 7, 2021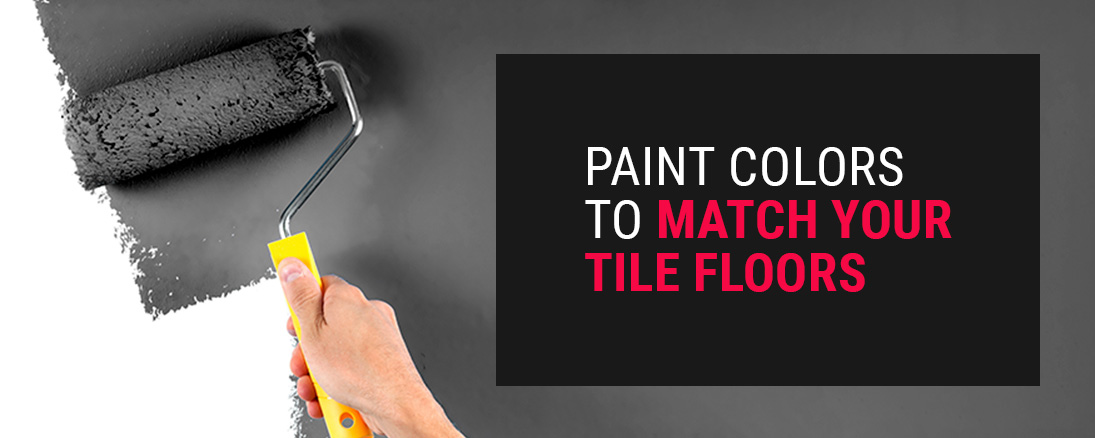 Choosing the right color palette to complement tile flooring can be tricky. Wall and floor combinations are actually one of the most debated factors of home design. That is because the color you choose can either make or break the entire feel of a room.
If you want beautiful paint colors to help your tile floors stand out, Shoreline Painting & Drywall can help! We'll work with you to select the right wall and floor tile color combination to bring out the absolute best of any room in your home.
When to Choose Your Wall Color
You may be tempted to choose the first color that you find visually appealing. However, selecting the best wall colors to match decorative tile floors takes a little bit more time and consideration. It should also not be the first step you take when giving your home an interior makeover.
Generally speaking, rooms should be designed from the bottom up, making the flooring the first thing to consider. Professionals like Shoreline Painting tend to think about the various colors and shades that help make up the overall design of floor tiles and use that as a starting point for the rest of the space. That way, they can pinpoint the colors and tones you want the entire room to carry, which will guide them along the way to finding the ideal paint colors for you.
While it's a good idea to consider color trends, just because a hue is popular doesn't mean it's automatically a good fit for your room. Since there are many wall paint color and floor tile combinations, it can seem like a daunting task to ensure you select the right one. Fortunately, the professional color consultants at Shoreline Painting have tried-and-true guidelines to navigate this process, so you'll feel confident in your final paint decisions.
Factors for Choosing Paint Colors
Many factors come into play when studying your flooring tiles in an effort to find the perfect paint for your walls or cabinets. Our experts understand how specific tile and room characteristics must be taken into consideration to choose the best paint colors for a room you'll be proud to show off. Learn about some of the important details we keep an eye out for when we begin the process of finding complementary paint colors.
Location
Think about the space where we will add the new color. For bathroom wall paint colors, it's important to take fixtures into consideration in addition to the floor tiles, such as the toilet, sink and cabinet hardware. What kind of ambiance would you like the room to have? Beige tiles paired with soft blues or greens can make a bathroom feel fresh and relaxing, while darker colors provide sophistication and drama when paired with all-white fixtures.
Samples
Tile samples are handy when comparing potential paint colors. Samples save a lot of time and energy because you can immediately determine whether the colors make sense compared to your flooring tiles or if they are way off the mark.
Utilizing paint samples to compare with the tile floors in the to-be-painted room is a crucial evaluation step due to differences in lighting. While a color may look nice by itself, it could appear completely different under the lighting of the room awaiting a fresh coat of paint.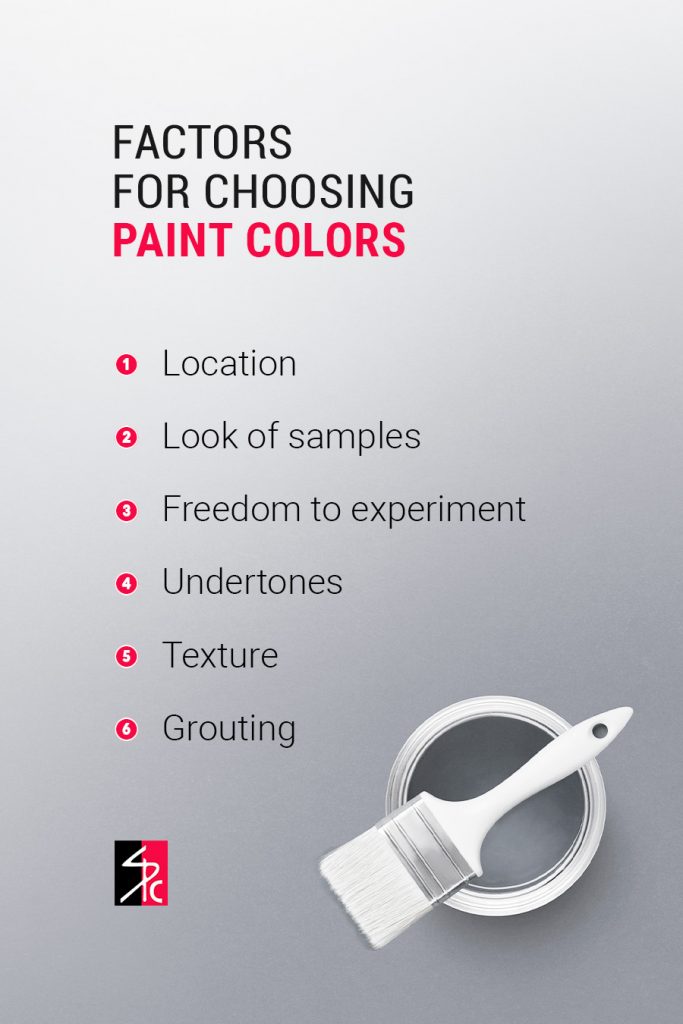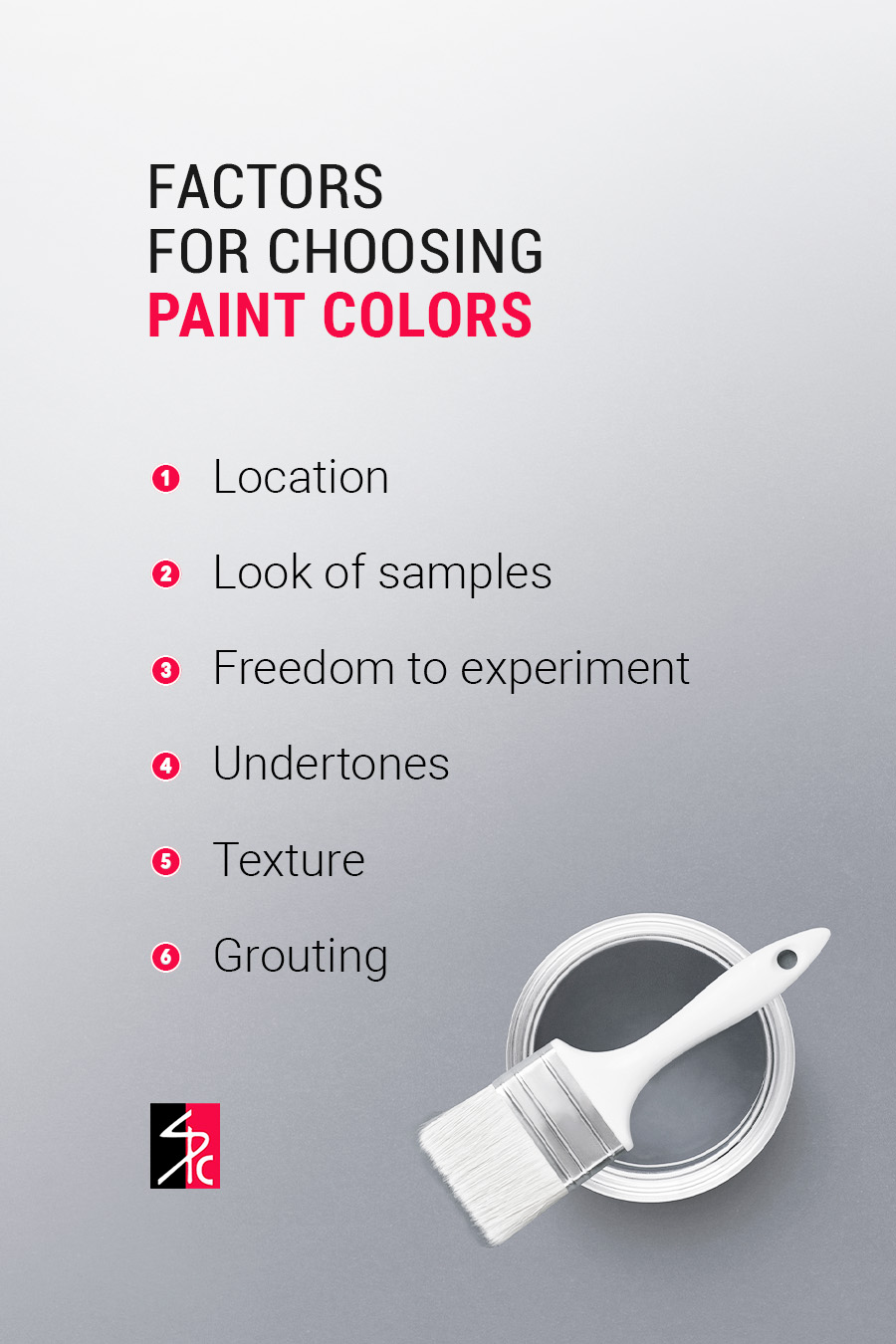 Experiment
There is no written rule saying that kitchen paint colors have to be a certain way. That is one of the best parts about selecting paint colors. You have the freedom to express yourself inside your home, and a luxurious paint treatment is a beautiful reflection of your personality and tastes.
Adding pops of color can help floor tiles stand out in the best way possible and make a space much more visually appealing. Don't be afraid to consider colors that you may not have thought of before and see how they match up to your floor tiles — that's why we're here to walk you through the paint selection process. You may be surprised at what you find.
Undertones
Determining the undertones of your flooring tiles is an important part of the wall color selection process. Tiles that have cool undertones look best with blue or green tones, and we take caution to avoid yellow undertones, as they will clash.
Flooring that has warm undertones looks best with soft neutrals and hues with yellow tones. We may advise you to avoid colors that read as too tan because they can make a room feel drab and dreary instead of warm and inviting.
Texture
Textured flooring tiles look better with some colors, while other non-textured tiles may not. Floor tiles made of natural stone tend to look their best when paired with neutral colors or those that will bring out the natural tones of the stone, such as pairing blues or greens with slate. Beige or white tiles with a sleek, high-gloss finish look fantastic against darker, more dramatic backdrops.
Grouting
Some people tend to focus so much on the flooring tiles that they forget about an important component: the grout. Grouting should not be ignored when it comes to finding the best wall and floor color combinations.
Depending on the space and other factors, sometimes the best approach is less about the tile color and more about finding a wall color that matches or complements the grout. This paint selection strategy is particularly helpful if your space has more than one kind of tile but the same kind of grout throughout.
If you still feel overwhelmed, fret not! Professional color consulting with Shoreline Painting is the best way to navigate these details to ensure your end result is the perfect paint color for your home.
Best Wall Colors for Light Tile Floors
Light floor tiles can be set off beautifully depending on the surrounding colors. Some feel that light tiles look their best when complemented with light walls, as it helps to give the illusion of the space being bigger than it really is. White walls look stunning and elegant against light-colored floors, and off-white and cream colors are also favorable.
Rooms with deep colors wrapping around light-colored tile flooring tend to feel smaller and cozier. Rich, dark tones also bring the feeling of drama thanks to the contrast between light and dark, which many people find visually appealing. Interested in a moody, sophisticated space? Pair a light gray tile floor with on-trend black walls for a high-contrast, timeless look.
For a happy medium between light and breezy and deep and moody, there are other options that can add a touch of color without going over the top. Light floor tiles often pair well with greys, beige, taupe and other neutrals. Dark brown and yellow walls should be avoided to prevent color clashing with your floors.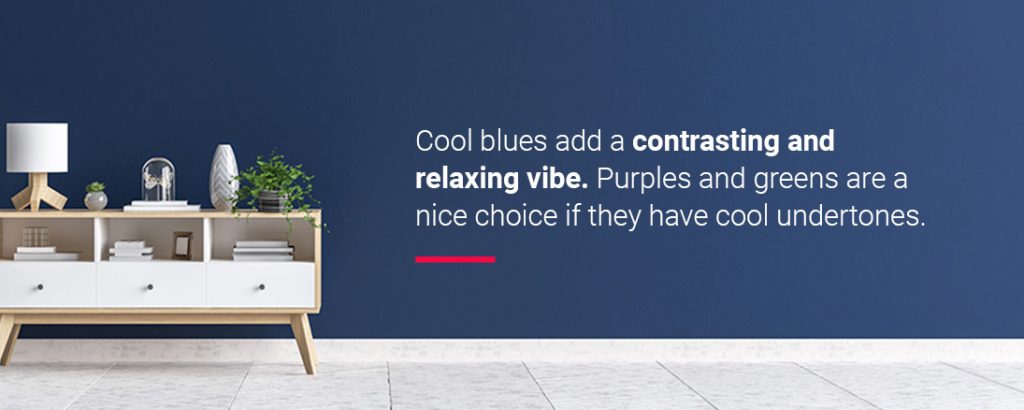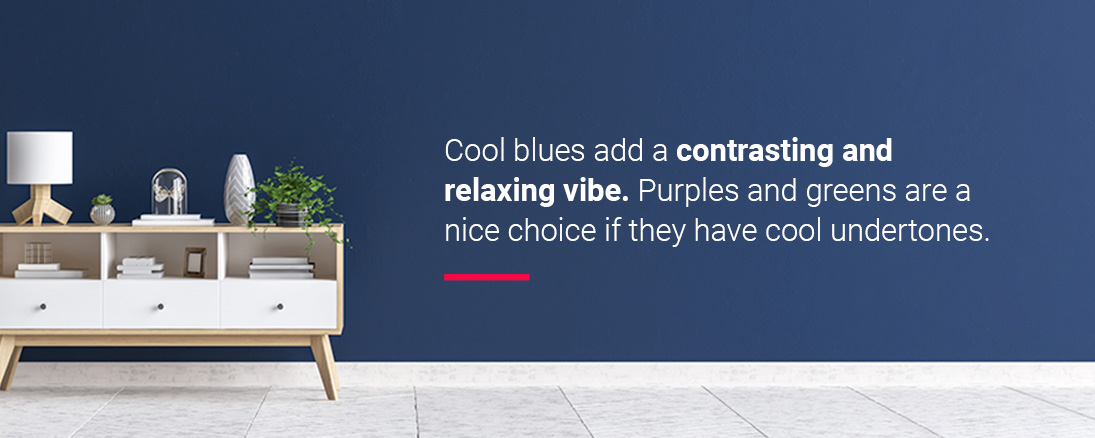 Gray Tile Floors Paint Color Options
Gray tile floors are becoming increasingly more common in homes of all styles. Selecting the right wall color can be a bit tricky depending on the undertones of your gray tiles.
For walls that will make your cool gray floor tiles stand out, our professionals may suggest a cool-toned color palette. Cool blues add a contrasting and relaxing vibe. Purples and greens are a nice choice if they have cool undertones. Keep it muted with lavender or a soft sage, or elevate the elegance with a deep eggplant or emerald hue. White paint can also make the gray floor tiles pop in their own unique, modern way while adding dimension.
If your gray tiles have a warmer undertone, using beige and brown tones on the walls amplifies the warmth. This combination will give off a cozy feeling, making it perfect for bedrooms or living rooms. Not afraid of bold hues? Make a statement with fiery reds, yellows or oranges.
It's a good idea to avoid matching wall and floor tiles, as it can create a dimensionless vibe. While some people appreciate a monochromatic look, others may not feel as excited about the dreariness that it can have in a room. Our Shoreline Painting color consultants will assist you with selecting the ideal wall color to make your gray floor tiles sing.
Perfect Paint Colors for Dark Tile Floors
Dark-colored floor tiles leave your space open to many wall color options. Using the right paint can elevate a room with feelings of chic sophistication. We have discovered that, when choosing a paint color surrounding a dark floor, it's best to select a color at least three shades lighter than the flooring to help keep the walls and floors from running together.
That being said, if you desire a room with superior contrast, light and airy wall colors amp the contrast and break up the darkness of the flooring tiles. If your dark flooring has cool undertones, we can select complementary colors. If the dark tiles have warm undertones, keeping the wall colors warm creates a cohesive feeling in the space.
It's always fun to experiment with matching or complementary colors. For instance, a yellow-undertone floor looks great with a purple-painted wall. Floors with red undertones look beautiful and rustic against variations of green. The sky is the limit when it comes to color options that work well with dark tile floors.
Best Wall Colors for Beige Tile Floors
Our professionals have found that one of the easiest ways to determine a compatible wall paint color based on your beige floor tile is to study the tiles and see if there are any other colors involved. Marbled or speckled floor tiles can often provide guidance. We can select a lovely color from those details and run with it.
One timeless neutral look is to match a beige floor with beige walls. While it may seem like this could turn out to be a dull route to take, selecting a beige that has a lighter or darker shade than the one on your floor can make a big difference. Also, white walls against a beige floor can make a bathroom or kitchen seem crisp and clean while helping the space feel exceptionally large.
For a burst of color, select red. Beige combined with deep red will provide a kitchen with rustic vibes, while brighter reds can offer a modern-glam feel. Natural red, such as the color of red brick, can add urban appeal without being too bold.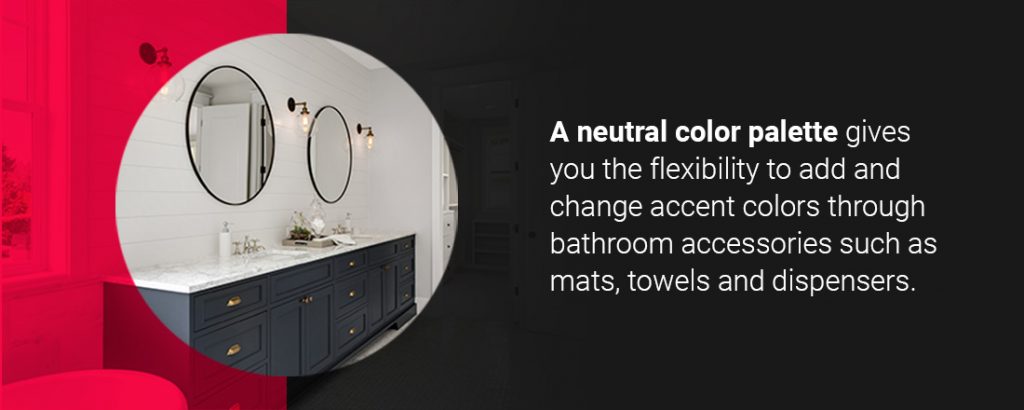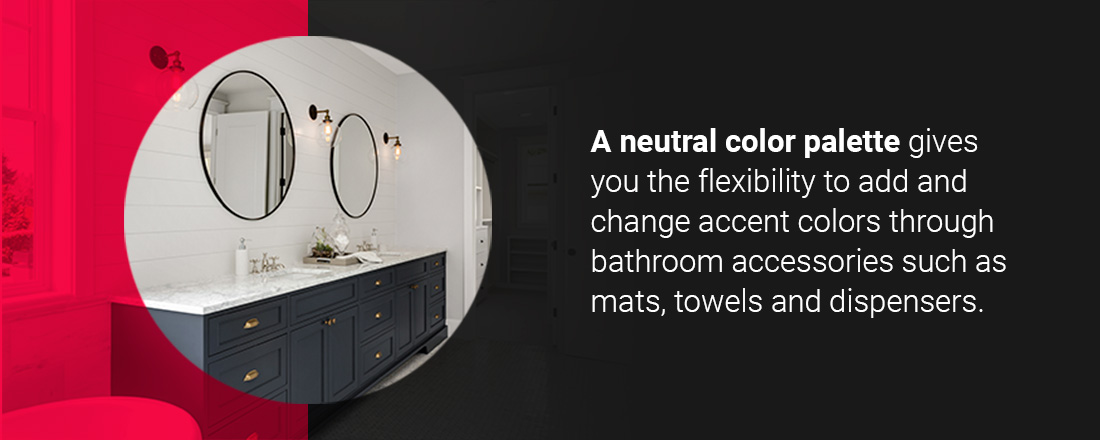 Selecting Bathroom Paint Colors
Choosing the right color palette for your bathroom can feel like a challenging task, especially when you are trying to work with the color of your floor tiles and the kind of lighting your bathroom has to offer. With our expertise, choosing the best bathroom colors becomes an enjoyable experience.
Neutral colors work well on bathroom walls, especially if your bathroom floor or fixtures are off-white. A neutral color palette gives you the flexibility to add and change different accent colors through bathroom accessories such as mats, towels, dispensers and more.
You may think that neutral means it has to be white or beige. However, there are many other colors to choose from that are still considered neutral. If creams and off-whites are not your preference, blues and grays may be more to your liking. Bold tones add a splash of color. Keep an eye on the undertones of your tile flooring. Paint with the same undertone as the tiles will help bring the entire room together.
Choosing Paint Colors for Kitchen Walls
Kitchens have come a long way over the decades in terms of color and style. That is why, no matter your floor tile, the color options for the walls are endless. Since a kitchen upgrade increases home value more than any other space in your house, it's crucial to get the colors right for the best return on investment.
For a bold look, a coat of rich emerald green looks luscious against light flooring tiles. If you have dark flooring, you can brighten the kitchen with light blue colors. A beautiful shade of yellow envelops all who enter your kitchen with a feeling of happiness and calm. You can also never go wrong with an all-white kitchen, especially if you have sleek white floor tiling. And remember to view both your walls and cabinets as blank canvases — professionally refinished cabinets can transform the space's entire look.
When it comes to the kitchen, balance is key — neutral colors with bright colors, dark against light, and warm undertones with cool undertones. This is why an expert evaluation of your flooring tiles is a valuable tool to select the best wall color and finish for your space.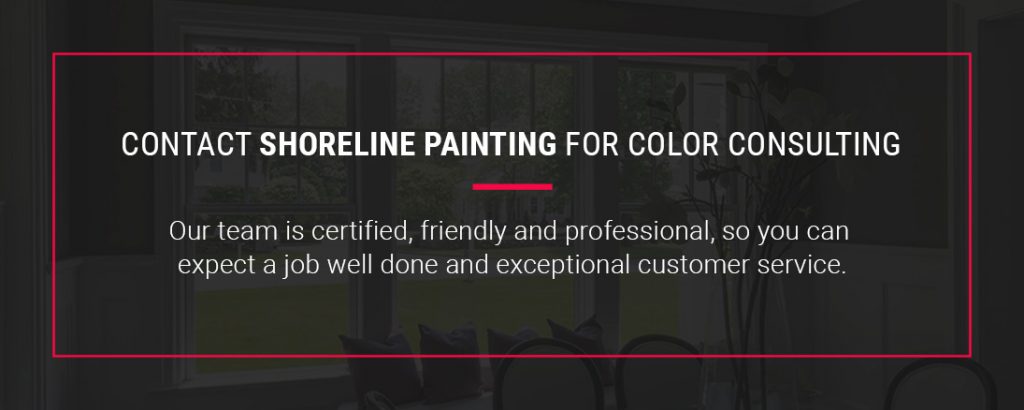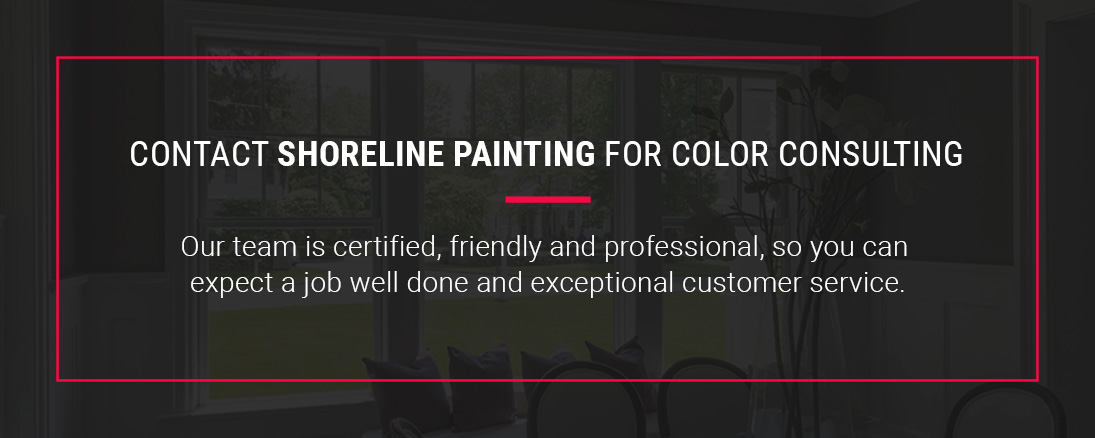 Contact Shoreline Painting for Color Consulting
For 35 years and counting, Shoreline Painting & Drywall, Inc. has been providing our customers with superior painting services. We offer professional paint color consultations to take the guesswork out of finding the perfect paints for your home design. Our team is certified, friendly and professional, so you can expect a job well done and exceptional customer service. If you are ready to give your home interior a makeover, contact us today.
Recent Posts