November 28, 2014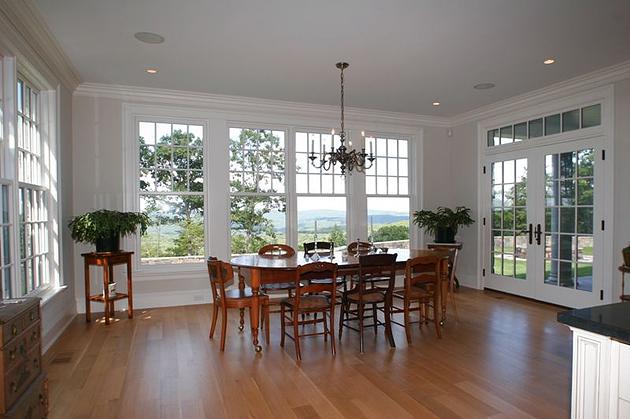 The dining room is one of the most important rooms in a home. It provides a meeting place for friends and family to share food and good conversation. It can also be one of the most difficult rooms to decorate in terms of creating the perfect atmosphere. The colors, dinnerware, furnishings and surroundings must all come together to create a space that is conducive for stimulating both appetite and camaraderie. Here are a few interior painting tips to consider before calling a painting contractor.
Choosing the Right Colors
Sometimes the most difficult decisions are the most basic, like picking design colors. If you are not sure what colors you want to use for interior painting in the dining room, try looking around. Your dinnerware, chair upholstery, artwork or tableware are often the best sources of inspiration. Try to pull a compatible color from one of these designs. Choosing colors that are already in some of the basic features of the dining room can help create a cohesive and comfortable feel.
Always Opt for Warm Colors
The dining room is a place where family, friends and guests should be able to relax. Some cooler colors like greens and blues are typically associated with a relaxed feel but are not considered appetizing hues when it comes to interior painting. When choosing dining room design colors opt for warmer shades like orange or yellow, which can be more stimulating or energizing. You may also incorporate some darker hues like chocolate or black to help provide an intimate feel. Darker colors are also beneficial for creating contrasts with other dining elements like glassware and dinnerware.
Choose Your Colors in the Dining Room
It's not a good idea to choose the color for your dining room while standing in the paint aisle. It's much better to make some selections and take swatches back to the actual room you are going to have painted. There are many elements that can influence colors and the effect they will have. Furnishings and light can cause certain colors to appear differently than expected once on the walls. By bringing the color choices to the dining room, you can get a better idea of how the color is going to react in the actual setting.
The Devil Is in the Details
The design elements in the dining room have a huge influence on the atmosphere. If you want to create a calm space, try having your home painters use minimal contrast between the colors used on walls and trim. A dramatic effect can be achieved by using lighter walls and contrasting moldings. To achieve roominess, choose paint for the ceiling that is somewhat lighter than the wall color.
To speak with one of our professional home painter in Connecticut for more ideas and information on painting dining rooms, please contact us.
Recent Posts