March 28, 2023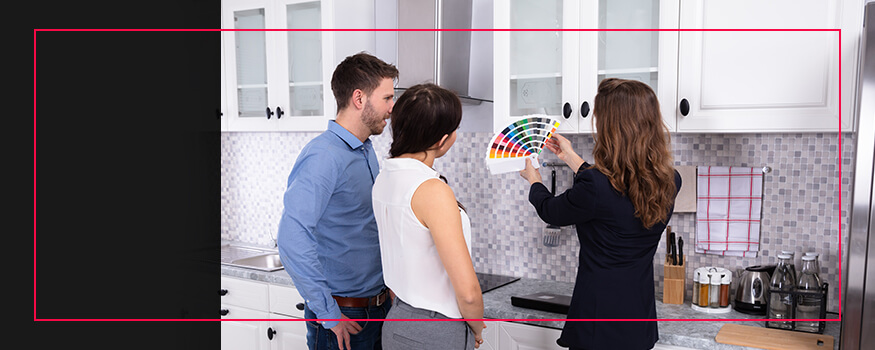 Kitchens are more than just somewhere to make meals — they're the heart of a home, where families can come together to share food and company. With all that you do in your kitchen, you want the colors and designs to reflect your personality and make spending time there a joy!
Painting your kitchen is a simple and effective way to breathe new life into your home, and you have many options to choose from. Light, warm colors can open up the space, while bold colors add flair and drama. You can also create different looks by complementing or contrasting your kitchen's tile flooring or other features.
How to Choose Colors for Your Kitchen Paint Refresh
It's essential to take your time choosing the colors you want for your kitchen refresh. Paint colors will look considerably different in the store or on your phone than in your kitchen. Use paint samples in different parts of your kitchen to test how the colors will look in different areas.
You'll also want to pay attention to how your samples look at different times of the day. The type of light and how it moves through your kitchen can significantly impact how colors appear. Light and shadows can change a color's intensity and brightness. Artificial lights can even fade or highlight certain tones and hues, changing how paint colors look and complement each other.
Kitchen Color Schemes
Feel free to experiment when choosing the colors for your kitchen. Warm, neutral colors can make your kitchen feel cozy and inviting, while cool and bold colors are ideal for adding definition and personality. Here are a few ideas for how you can refresh your kitchen with paint:
Keep It Simple
Using white in your kitchen can make it feel bigger and brighter, but avoid sticking to all-white — too much white can make your kitchen feel like a laboratory.
Adding accent colors can provide depth and character to the clean, crisp feel of a white kitchen. Pale yellow, blue and green can add personality, while neutral colors like creams, browns and grays can give depth.
Warm Colors
Warm colors are a popular choice for kitchens. Colors like red, orange, yellow and brown can help make your kitchen feel warm, cozy and inviting:
Red: Consider using red to spice up your kitchen with a touch of flair and drama.
Orange: Orange can have a calming effect on people and terracotta tones can help give your kitchen a warm, Tuscan feel.
Yellow: A few yellow accents can help brighten your kitchen. Paired with gray and light blue, it can give your kitchen a soft country feel. Yellow is also great for making small spaces feel bigger.
Brown: If you prefer neutral colors, use shades of brown with creamy accents.
Trending Colors
Gray, blue and green are becoming increasingly popular colors in many kitchens:
Gray: While it may seem like a drab choice, gray is a versatile color with an extensive range of shades. Gray pairs well with many other colors and provides a balance of warmth and neutrality that can help give kitchens depth.
Blue: Light blues can help create a crisp, clean, airy kitchen, while darker blues provide a bold and powerful feel. Use blue sparingly and add neutral accent colors to prevent it from overpowering your kitchen.
Green: Using green in your kitchen can give it a timeless and luxurious feel. A wide range of shades makes green an attractive option for many kitchens. Ensure you balance your green carefully with other colors and accents to avoid your kitchen feeling too intense or monotonous.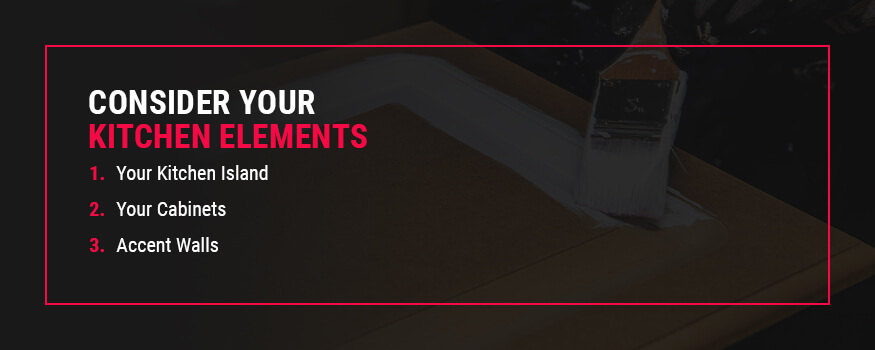 Consider Your Kitchen Elements
As you choose your color scheme, you'll want to consider how you can use it to create the look you want. Browse these painting ideas for kitchens for inspiration on your own refresh!
1. Your Kitchen Island
Kitchen islands are a great way to add dimension and character. They can be a perfect way to provide a color shift in your kitchen and offer an element that can pull your color scheme together. Decide whether you want your island to match your cabinets or offer contrast:
Match: Matching the color of your island and cabinets creates a sense of symmetry and connection in your kitchen. Using matching colors and styles on your island and throughout your kitchen can help make your design feel more complete.
Contrast: You can leverage your kitchen island's unique positioning and turn it into a focal point. Darker, bold colors can add depth, definition and contrast if you've used cool or neutral tones on your cabinets.
2. Your Cabinets
Painting your cabinets can transform your kitchen. Careful color choices can make your kitchen feel bigger and brighter or add a sense of drama and definition. Remember to hire our professional painters at Shoreline Painting for a neat and seamless cabinet finish.
Some of the most popular painting styles for cabinets include two-tone colors, color washing and color blocking:
Two-tone cabinets: This style uses a darker color for lower cabinets and either white or pale, warm colors for higher cabinets. Two-tone cabinets can have a better visual impact than single-tone kitchens. Using a darker color on the lower cabinets helps draw the eye down, creating a grounding effect. A light color identical or similar to the walls and ceiling help upper cabinets blend in, making your kitchen feel brighter and more spacious.
Color-washing: Want a bold and unique kitchen? Try color-washing. Painting your kitchen cabinets and walls the same color allows the cabinets to "melt" into the wall, making kitchens feel bigger. Color-washing can also give classic kitchens a modern feel.
Color-blocking: Color-blocking, a technique that began in fashion, uses blocks of strong, vibrant colors to create a bold and striking look. Color-blocking can highlight different kitchen elements, like a free-standing cabinet or island. Using contrasting colors for cabinets and walls is an easy and effective way to achieve color-blocking. When using solid tones, it's essential to break the colors into sections using paler neutral colors. Too much color can be overwhelming, especially in small or tightly packed areas.
3. Accent Walls
Accent walls are a simple yet effective way of brightening your kitchen. Use vibrant colors or eye-catching patterns to draw attention to architectural details and focal points like built-in shelves. Bold colors and patterns give your kitchen flair, definition and personality. Choose an accent color that stands out while still complementing your scheme.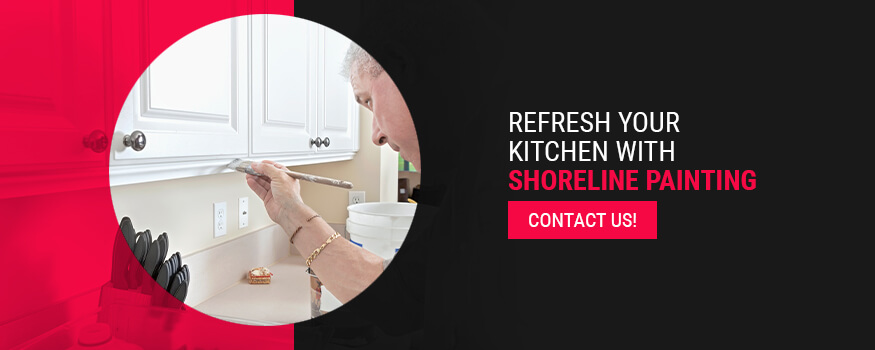 Refresh Your Kitchen With Shoreline Painting
At Shoreline Painting, we have over 35 years of experience providing luxurious professional painting services for families across Connecticut. As a Fine Paints of Europe Certified Master Painter, we pride ourselves on quality painting. What does this mean for you? You can choose from the nearly unlimited Fine Paints shades to give your kitchen the beautiful, rich color it deserves. Our team of certified painters will bring your painted kitchen ideas to life and ensure quality finishes.
Contact us today to request a consultation on your kitchen refresh!
Recent Posts