December 28, 2022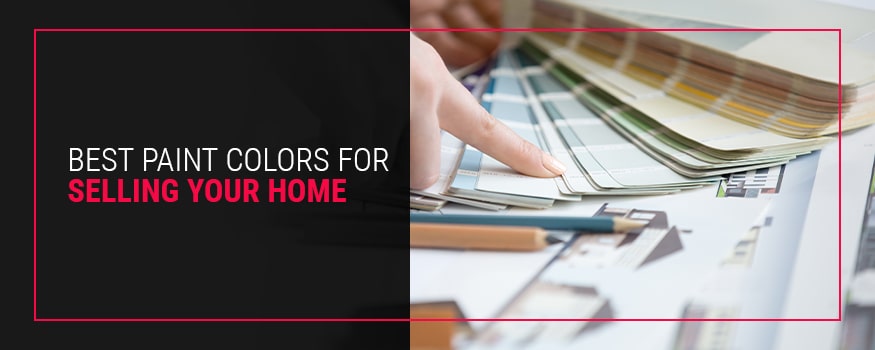 Repainting your home — both inside and out — before you put it on the market can help your house appeal to more buyers and give you a return on your investment. However, knowing what colors to choose can take a bit of consideration and research. Here's everything you need to know about the best colors for flipping a house or selling your own home.
How Much Does House Color Matter?
When it comes to selling your house, does house color really matter? Yes, the color of your home is very important, as it can affect your home's value and curb appeal. Investing in a professional paint job is a valuable way to update outdated colors and give your home a newer, cleaner look. Choosing the wrong colors can dissuade potential buyers, so it's crucial to understand which paint colors can make the most positive impact.
Considerations for Exterior Paint Colors
The first thing buyers will see when they approach your home is its exterior paint color. Most buyers are interested in warmth and neutrality in a home's appearance. Ultimately, you want them to picture themselves living there, not wondering why the seller chose such a unique color.
Take some time to consider the style of your home and its size and location. Some colors work best on certain architectural styles or in various parts of the country. For example, a farmhouse style wouldn't normally feature loud, eccentric colors, and coastal palettes work best for homes near the ocean.
You'll also want to consider the trim, shutters and other architectural features of the home. Here, you may be tempted to go with a bold, unique color, but this can clash with the rest of the house and turn buyers away. If you're a fan of color, the front door is the safest place to add in some personality. Navy blue is a popular choice, followed by meadow green and bright reds and yellows. The front door is a great place to have a little fun with your color choices.
Do some research into similar homes in your neighborhood that have recently sold to see how their external colors look. Additionally, note the undertones of any stone or brickwork and your trees and landscaping. The colors you choose shouldn't clash with your home's surrounding elements, so you can maintain cohesion and appeal.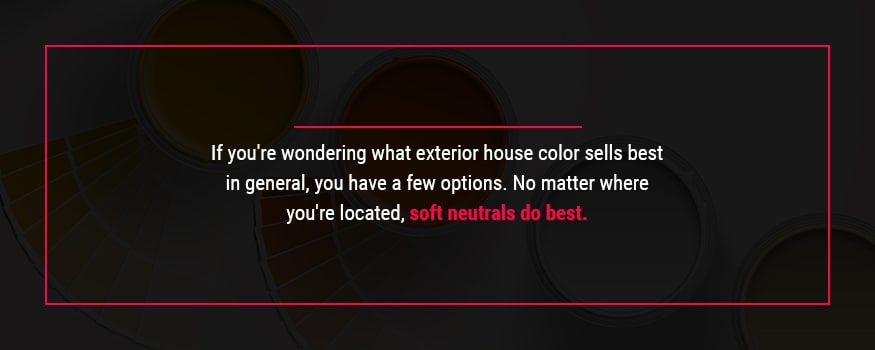 Best Exterior Paint Colors
If you're wondering what exterior house color sells best in general, you have a few options. No matter where you're located, soft neutrals do best. This category includes popular exterior house colors like creams, beiges, grays and earthy light browns. Additionally, white is one of the best house colors for resale, as it gives a fresh appearance to just about any type of home. If you want to add a little more color, most shades of blue and lighter yellows are preferred.
Just as there are favorite house colors among buyers, there are some that don't fare as well. While it's an up-and-coming, trendy color, black looks foreboding and isn't popular enough to use for most homeowners. Other colors to avoid include anything bold, such as pinks, purples or bright greens, which are some of the colors that are hardest to sell.
Considerations for Interior Paint Colors
In general, the best interior paint colors for selling your home are also neutrals, especially white and creams. These colors are easy to decorate with, no matter your decor style or personality, making it easier for potential buyers to envision the room as more of a blank canvas.
If you're trying to figure out the best color to paint walls when selling a house, know that it can depend on the function of the room. Most people prefer neutral shades for spaces like the dining room and living room. In comparison, kids' bedrooms, bathrooms and the basement may offer a more unique color array.
Additionally, think about any trim, woodwork, doors, fireplaces and built-ins. Choose coordinating shades for these extra features to keep a neutral palette. If you have built-in aspects of a room that aren't painted, such as window blinds or a brick fireplace, take a cue from the undertones in these items when you choose your wall and trim colors.
To play it safe, most sellers repaint every room in one or two similar neutral colors, offering a clean slate so buyers can envision themselves in the home.
Best Interior Paint Colors
Here's our room-by-room guide for the best interior paint colors:
Common areas: Living rooms, hallways and other common areas do best with whites and very light colors, though soft shades of green and gray are also becoming increasingly popular for these rooms.
Kitchens: Generally, the kitchen should be painted the same color as the common areas to create cohesion. Choosing a neutral shade can help you better feature cabinetry and countertops, both of which you can paint to create accents if you wish.
Bathrooms: The best bathroom colors for resale are a bit more varied. Bathrooms are their own spaces you can close off from the rest of the home, so you can play around with color in these rooms if you prefer.
Home offices: White is best for home office areas, allowing for a clean, professional look.
Bedrooms: Personal style tends to show up more in bedrooms, as many people like to coordinate with their bedding or get a little more creative with decor. Depending on the style of your home, a pop of color might work well in the bedrooms.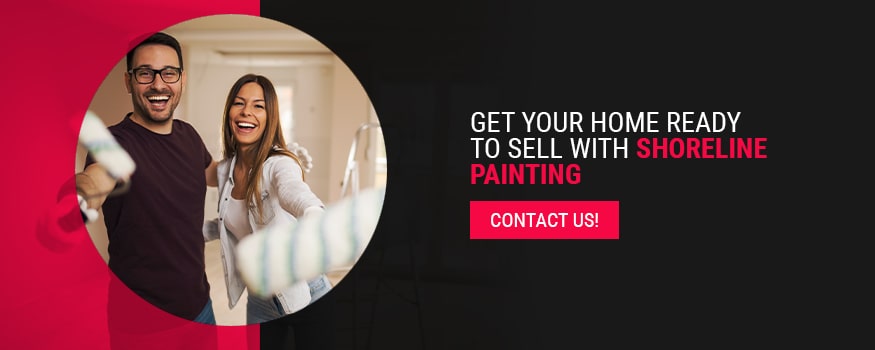 Get Your Home Ready to Sell With Shoreline Painting
Refreshing your home inside and out with a new paint job can give it a pristine look that's sure to impress potential buyers. The qualified painting team at Shoreline Painting has the expertise to make your home look new and ready to sell. For decades, we've worked in Connecticut and New York to provide premier exterior and interior painting services to homeowners like you.
As a Fine Paints of Europe Master Certified Painter, we're here to help you find the best colors for your home and provide professional painting services that truly transform your space. Contact us today to get started on your painting project.
Recent Posts