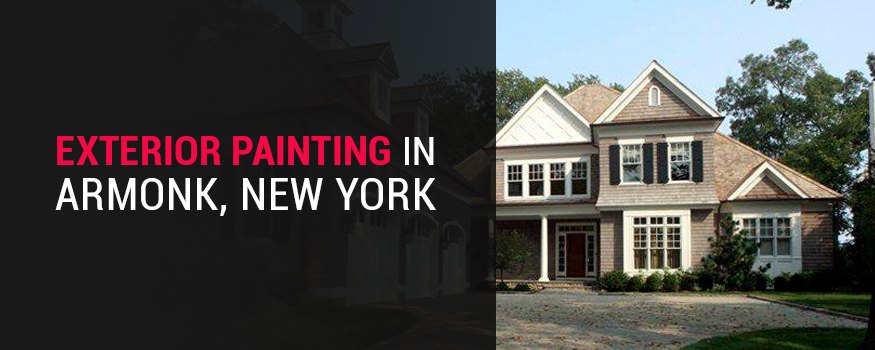 Painting the exterior of your house in Armonk can enhance your home's curb appeal by giving it a clean, updated appearance. Hire a professional company to take on this time-consuming yet rewarding project. Whether you're putting your house on the market or you want a new color for your living space, you can trust Shoreline Painting as your exterior painting contractor in Armonk.
Advantages of Our Professional Exterior Painting Services
Adding a fresh coat of paint to the surface of your property provides the following benefits:
Enhance your house's curb appeal: The exterior of your property is what visitors notice first when they pull up to the curb. Worn-out, chipped paint makes your home look old, while a fresh coat of paint shows your neighbors and guests that you care about your living space.
Increases property value: If you're putting your house on the market, an updated paint job will encourage potential home buyers to place an offer. Since painting your siding is more cost-effective than replacing it, you will have a higher return on investment (ROI) with this simple project that results in a fresh look.
Protects your home against pest and moisture damage: While paint offers aesthetic benefits to your living space, it also adds as an extra shell of protection against humidity. While worn-out paint leaves your home vulnerable to mold and mildew buildup, a new paint job seals cracks in the outer layer of your property and prevents rodents from burrowing in your house.
Brings necessary repairs to your attention: Before a paint job, our team cleans and inspects the exterior of your house for damage. If they find cracks in your siding or roof that you wouldn't have noticed before, you can make these repairs for a safer and more energy-efficient living space.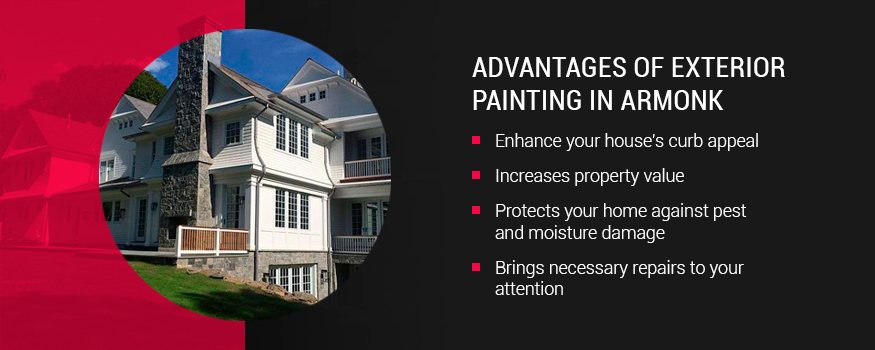 Why It's Best to Choose Shoreline Painting
We understand that polishing the color of your house requires more than a can of paint and a brush. Even if the weather is clear, inspecting, prepping, cleaning and painting your living space could take days. Your time is valuable, so you should hire a professional to take care of this tiresome task instead of doing it yourself.
Consider these benefits:
We have experience working with all types of homes: Whether you have a one-story bungalow or a three-story Victorian, our team can inspect, clean and paint the intricate details of your home. If your property was built before 1978, the exterior paint might contain toxic lead that a professional can safely detect and remove.
We have the right tools for the job: If you paint the house yourself, you would have to gather all the equipment to prepare, clean and color the exterior. You would also need to stand on a tall ladder as you work. Professional painting contractors in Armonk are comfortable with heights, and they have the proper equipment on hand, including re-caulking supplies and high-quality paint.
We have the skills and confidence to paint your living space:If you've never painted before, changing the color of the exterior of your house is not the best time to try it. As you carry out the project, you may notice cracks in the paneling or dust and debris that you should've washed and inspected before you started. You may end up spending more money repairing your paint job than you would spend hiring a professional. Expert painters have developed their exterior painting craft by learning from their novice mistakes over the years.
Shoreline Painting Is a Trustworthy Exterior Painting Company in Armonk
If you're researching exterior painting contractors in Armonk, our team at Shoreline Painting can provide the services you need to upgrade the outside of your home. Here are some of the reasons why our customers have such positive reviews about our services:
We bring more than 35 years of experience: We have provided interior and exterior painting services to coastal New York and Connecticut, including Armonk, New York, for the past 35 years. During this time, we have listened to our customers and perfected our expertise. Our repeat customers can testify to our reliable, professional approach with each homeowner.
We provide eco-friendly, durable paint: Our team at Shoreline Painting only offers the highest quality paint for our clients, so we're on the elite list of Fine Paints of Europe Master Certified Painters. Fine Paints of Europe offers eco-friendly paint that gives your living space a clean, long-lasting finish.
We offer professional service and consultation:As your exterior painting contractor, we are flexible and accommodating to your requests from start to finish. If you don't know what color to paint your property, we can give you advice on the current painting trends and what we think would enhance your property's curb appeal. We also take care of the burden of inspecting your living space for cracks, prepping the house and adding that new coat of paint.
An Overview of Our Exterior Painting Process
For more than 35 years, our professional painters at Shoreline Painting have followed this process for our exterior painting services: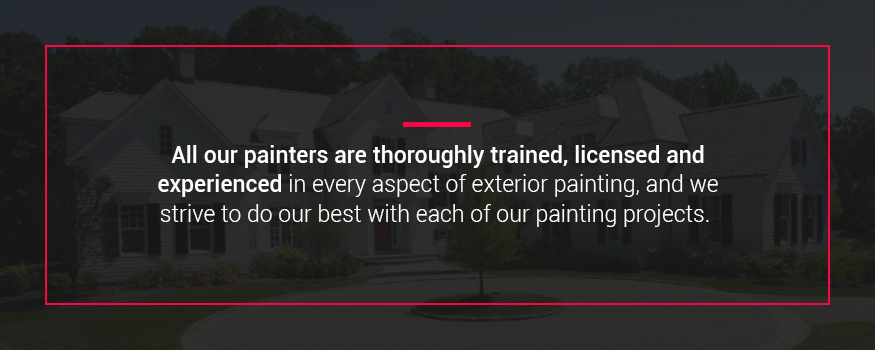 Consultation: Before we even start painting your house, we will meet with you and ask you questions to get an idea of what you want. While you may not know what colors to choose for your home, we can give you suggestions and help you discover your unique style. We'll also discuss our high-quality, eco-friendly paint options with you and create a plan for your clean, energy-efficient property.
Preparation: When we arrive at your house, you can rest assured that we'll take care of everything for you, including setting up the supplies. Our services include preparing the house for painting by priming areas, removing mold and mildew and filling in holes or cracks. We also take the siding material and the climate of your living space into consideration as we choose the best paint to resist moisture or UV damage.
Painting: All our painters are thoroughly trained, licensed and experienced in every aspect of exterior painting, and we strive to do our best with each of our painting projects. We will decorate your property with the same care we would use to paint our own. Our expertise has given us the confidence to take care of a house of any architectural design with our durable, long-lasting painting products.
Contact Shoreline Painting for Exterior Painting Services in Armonk, New York
Painting the exterior of your living space provides both aesthetic and energy-saving benefits that will make you proud of your property. Our experts at Shoreline Painting would be happy to answer any questions you may have about painting the exterior of your home. When you're ready for professional exterior painting services contact us online or call 203-302-1086 for a free quote.