April 20, 2021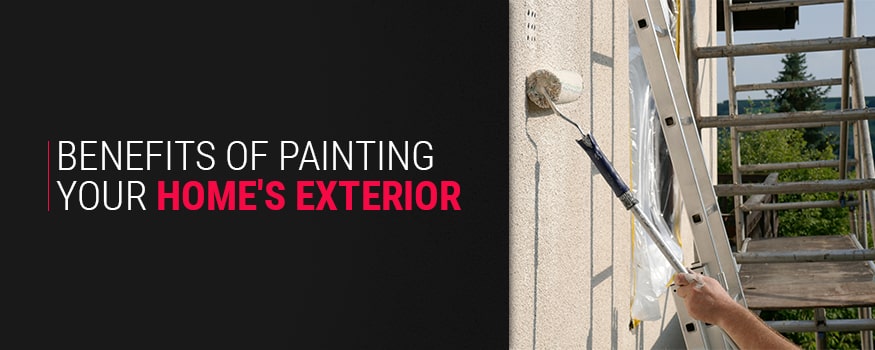 Are you ready for a change that increases your home's resale value? Consider upgrades that will enhance your house's appearance. For example, you could choose projects like installing new floors, updating the kitchen or changing your landscaping.
One of the best home renovations you can complete is a fresh coat of exterior paint. While it may seem like a simple change, painting the exterior of your house can drastically improve its curb appeal. You'll wonder why you didn't refresh the color sooner!
You'll find there are numerous benefits to painting your home's exterior. From enhancing curb appeal to adding a layer of protection, an exterior paint job is an excellent home renovation.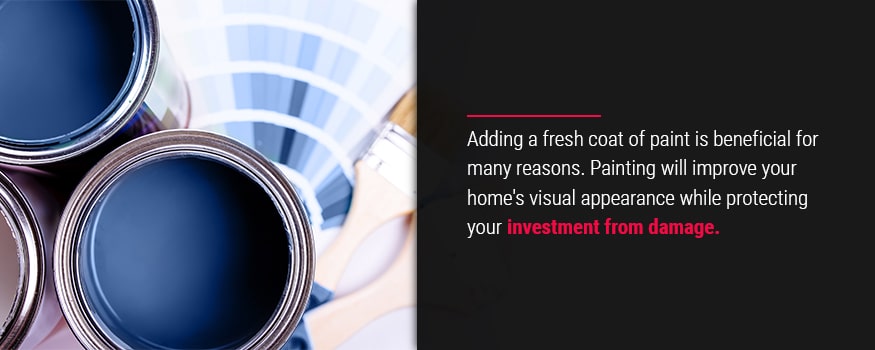 Why Paint the Exterior of a House?
Adding a fresh coat of paint is beneficial for many reasons. Painting will improve your home's visual appearance while protecting your investment from damage. An exterior paint job proves to be a practical solution for many homeowners.
Check out the 12 benefits of painting your home and learn why you should hire a professional to get the job done right the first time.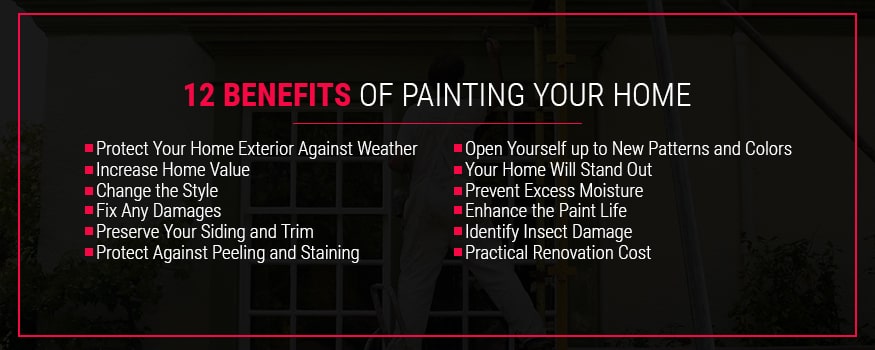 12 Benefits of Painting Your Home
If you're a homeowner who needs a little more convincing about the benefits of exterior paint, this information will help you make your decision.
1. Protect Your Home Exterior Against Weather
Rain, wind, snow, fire and other natural phenomena are damaging to your home. You want to shield your home from harm, and high-quality exterior paint can help you accomplish this goal.
You can think of a fresh coat of exterior paint as a "force field" that is durable enough to resist weather damages. Some exterior paint can prevent moisture from getting into your home and causing mold, which is a health hazard and a repair you want to avoid.
High-quality outdoor paint can also help protect your home exterior against dust and insects entering your home or causing damage.
2. Increase Home Value
Your home is likely the most significant investment you've made in your life, and every renovation you complete retains or increases your resale value. Maintaining your house's curb appeal by giving it a fresh paint job is a great way to boost its selling price.
While your home's appearance ultimately benefits you, it can also attract potential buyers if you decide to put your house on the market in the future. A newly painted home looks enticing to you, your neighbors and any passersby who catch a glimpse of your house.
3. Change the Style
Think back to your tastes when you first moved into your home. Your style has likely changed since then, whether you've lived in your home for a year or a decade. Whether you once loved your house's exterior color or haven't been a fan of it from the beginning, you can update your home to appropriately match your taste with an exterior color you love.
A fresh exterior paint color can revamp your house's aesthetic. It can help make your entire home look new and even improve the trim, siding, roof and more features.
4. Fix Any Damages
When you hire painting professionals to paint your home's exterior, they can help point out any current issues requiring repairs. Small, hard-to-spot damage like scratches, mold or mildew, rotting wood and water stains are some things a painter might call to your attention while they're working on your home.
You might not have noticed these problems before getting a new paint job. Now that you know about them, you can make repairs and have peace of mind knowing your home's exterior is nearly damage-free with a fresh coat of exterior paint.
5. Preserve Your Siding and Trim
Your home's siding and trim are susceptible to dirt, water damage and other harm the elements can cause. It's crucial to take care of these so your house's exterior continues to have outstanding curb appeal.
Along with cleaning and properly maintaining your siding and trim, freshening them up with quality exterior paint will have them looking brand-new. The paint will help protect and seal the trim and siding from the outdoor elements and make them last a long time before you have to replace anything.
6. Protect Against Peeling and Staining
Old exterior paint can begin to peel or develop water stains over time. If you notice any peeling or staining, it's time to repaint your home's exterior.
Before a professional painter repaints your home, they'll take steps to remove the peeling paint, fill any holes or cracks and clean the walls.
A newer, high-quality exterior paint is likely resistant to peeling and great at repelling various stains. When you get your house painted, you'll enjoy enhanced visual appeal for years to come.
7. Open Yourself up to New Patterns and Colors
One of the best parts of painting your home is looking through all the various color options and patterns you can use. You can compare different shades and narrow down your color options before deciding which color is the perfect choice for your house.
If you're unsure what colors complement each other or if a specific color goes well with your roof shingles, you can contact your professional painting company for a consultation. They can suggest different color combinations and ideas of what colors will make a splash in your neighborhood.
8. Your Home Will Stand Out
A new coat of paint on your home's exterior will look fresh and sharp compared to the other homes on your street. It will make a lasting impression on all your guests and neighbors. The crisp, bright colors will surely make your home stand out from the rest.
While you want your home to be visually appealing, you don't want it to stand out for the wrong reasons. Choosing a color that suits your style, your neighborhood and your home is essential to making your house look great and hold or increase its value. It can also be helpful to consider your landscaping when you're selecting a color for your home.
9. Prevent Excess Moisture
Repainting can help maintain your home's exterior in many ways. A typical home exterior damage it can help prevent is moisture retention.
Too much moisture can cause any wood in your home's structure to root or become weak, leave water stains, damage other features outside your home or leak into the interior.
Water and moisture damage are likely to occur during seasonal changes, like in the winter or rainy seasons. A new exterior paint job can help protect your home from experiencing moisture-related issues and improve curb appeal.
10. Enhance the Paint Life
The paint you currently have on your house likely doesn't stand up to the quality of specific exterior paints today. Modern exterior paints last much longer than they previously did by standing up to the weather, insects and dust like a champion. Whether you decide to only touch up parts of your home's exterior or do an entire makeover, you'll enjoy the fresh paint job for a long time. Ask your professional painting company what paint they use and its quality to see if it's the solution you're looking for.
11. Identify Insect Damage
Besides spotting cracks, water damage and other issues with your home's exterior, experienced painters can find any signs of insect infestation or damage on the outside of your home.
Insects like termites can be responsible for severe wood damage in your home, especially if you have a  wood-frame house or wood trim. Before professional painters begin their job, they'll spot any areas of termite or insect damage you'll need to take care of before you get your house painted.
If you hadn't decided to paint your house's exterior, you might not have noticed insect damage until it required extensive repairs.
12. Practical Renovation Cost
While repainting your home is not cheap, the renovation is well worth the price. It's an especially wise decision when you decide to hire a professional painting company to accomplish the task. A qualified painter will complete the job properly and use quality materials, tools and exterior paint. It's best to leave the exterior paint job to the professionals.
It's a simple renovation that will benefit your home in numerous ways. You'll be thankful you invested in hiring a professional painting company to repaint your home's exterior and improve its function, aesthetics and value.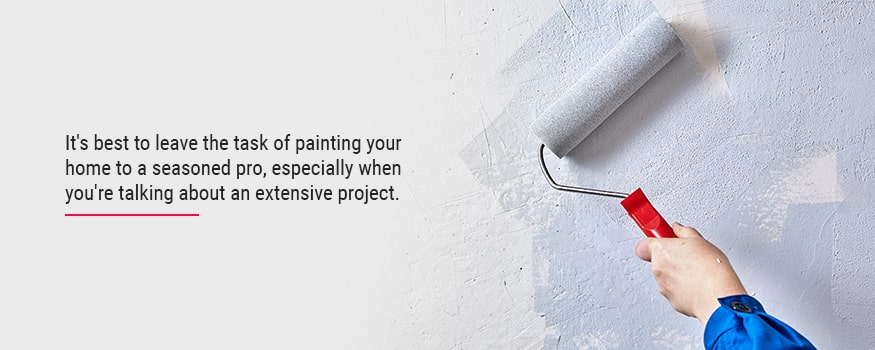 Why Consider Hiring Shoreline Painting?
You've considered all the benefits of repainting your home's exterior and decided you want to complete this project. Now that you've made your choice, it's time to take the first step — hiring a professional paint company like Shoreline Painting.
It's best to leave the task of painting your home to a seasoned pro, especially when you're talking about an extensive project. That undertaking can quickly become more than you can handle. Professional painting companies will save your home from uneven patches and messy lines that are common with DIY paint jobs.
Why else should you consider hiring Shoreline Painting to paint your home? Learn how hiring professional painters is the best decision and why they are sure to complete the job with quality work.
Timely job: Professionals will work efficiently because they have experience in painting houses and know how to get the job done. They'll save you a lot of time by arriving with all the tools, paint and other resources that will let them finish the project in no time. They'll likely provide you with a specific time frame in which you can expect them to complete the work, which helps you and your family resume your typical routine.
High-quality work: Experienced professionals have the skills and training to complete the job and provide the best possible results for homeowners. You can expect clean lines with no paint chips or debris. They also know how to clean the surface thoroughly before they start painting to ensure their work lasts for a long time.
They handle the cleanup: Not having to worry about the cleanup is one of the best reasons to hire a professional painting company. Tidying up afterward can be the least fun part of any DIY project, but a professional painter will handle everything for you. After they finish painting your house, all you have to do is relax and enjoy the finished product.
Professional equipment: You know a professional painter will do an incredible job because they have access to top-of-the-line painting equipment. Most homeowners won't own or have access to the same tools professional companies rely on to paint the outside of a house. A professional painter will also know which paintbrush or tool to use to get the cleanest lines and best result, so your home's exterior looks beautiful.
Stress-free job: You'll be thankful you hired a professional painting company because you won't have to worry about everything you need to accomplish to paint the outside of your house. You'll leave all the work to the professionals, like bringing paint, ladders, tarps, paintbrushes and painter's tape.
Professionals are insured: Since you're hiring a professional company, they'll have the licenses and insurance to safely complete the job. If the painting crew accidentally damages part of your home, their insurance company will likely cover the cost of repairs. It's essential to thoroughly review all the documentation and communicate with your painting company to understand their conditions before hiring them to paint your home.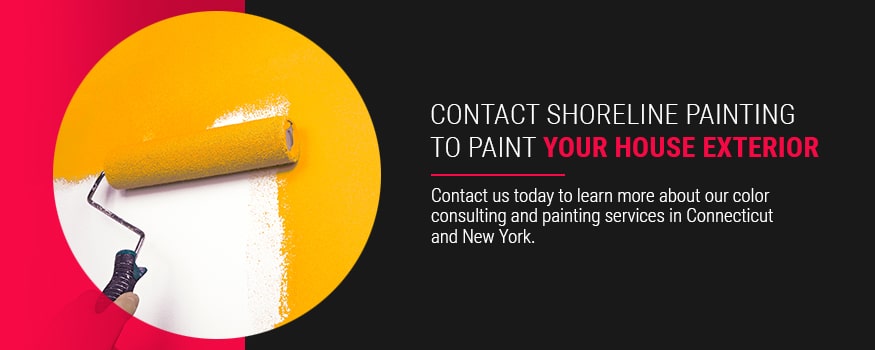 Contact Shoreline Painting to Paint Your House Exterior
A fresh exterior paint job is what you need to make your house look outstanding and protect your property investment for many years to come. If you're looking for ways to maintain your home's exterior, hire Shoreline Painting to accomplish this curb appeal renovation.
Our company is a Fine Paints of Europe Certified Master Painter, and our nearly five decades of experience will show in the transformation of your home. Contact us today to learn more about our color consulting and painting services in Connecticut and New York.
Recent Posts