September 29, 2020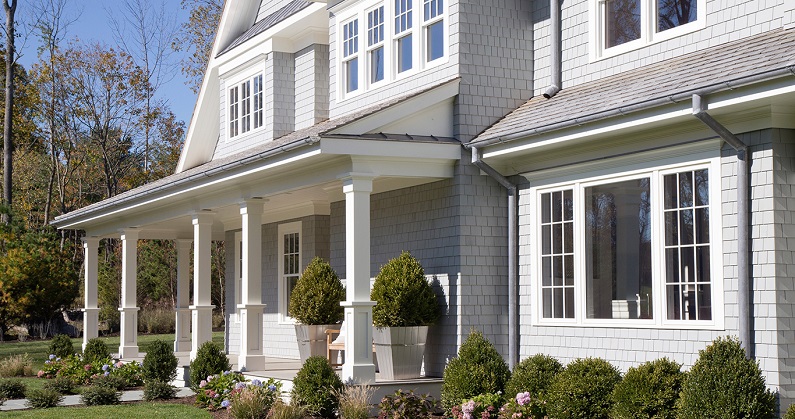 You want a new look for your home's exterior. Where do you begin? It's tempting to try different siding altogether — but that's an intensive and costly project. Plus, you may change your house's features more than you intended. That's why many hire professionals to paint their siding for them.
How does Shoreline Painting & Drywall paint different siding? Here's a look at each process we use for various materials.
How to Paint Aluminum Siding
A house with aluminum siding benefits from weather protection and low maintenance. That said, this material can fade faster than other options. Can you paint the aluminum siding on your house? Absolutely! A professional paint job can revitalize your home's exterior in a major way.
To paint exterior metal siding like aluminum, our team does some unique preparation. A wash or self-etching primer guards against issues like mold, oxidation and rust. We use this product before painting to provide an adhesive layer. A 100% acrylic exterior paint works best for aluminum siding since it's lasting and flexible.
How to Paint Exterior Wood Siding
Wood siding looks gorgeous — and even better, it's a workhorse against weather and other outdoor elements. Like any siding, your cedar, pine or spruce exterior will slowly degrade over time. A little surface preparation along with a new paint job from Shoreline Painting & Drywall can restore your home to its original appearance.
A wood cleaner creates a clean slate for cedar and other types of wood siding to shield itself from outdoor elements. As usual, we make sure to apply a primer beforehand.
How to Paint Rock Siding
A brick or stone facade can often look dull or worn-down after many years. A little paint can make your home pop. Because rock materials can take on more dirt than other siding choices, it's important to clean each area painting.
When it comes to choosing paint, there are a few options that work well for rock siding. A mineral, stucco or masonry paint looks best. These choices can settle more perfectly into any crevices. It's a smart idea to use an acrylic latex primer, especially if you aim to cover dark stone with light paint. Your painting team from Shoreline Painting & Drywall will decide on specific measures to ensure your rock siding looks amazing.
How to Paint Exterior Vinyl Siding
This material serves as a popular choice due to its cost-effectiveness and durability. That said, you can't expect any siding to be invincible against continuous outside elements like wind and rain. A paint job can ensure your vinyl siding looks terrific. Our experts will take a few vinyl-specific concepts into consideration.
For example, your vinyl siding can shift and move. A type of paint with acrylic and urethane ingredients can accommodate those contractions. Our team will also decide whether your home's exterior needs a primer. While some other siding materials always need preparation, your vinyl siding might not need primer unless its color has faded entirely.
Choose Shoreline Painting & Drywall for Your Exterior Painting Needs
Shoreline Painting & Drywall has served New York and Connecticut for more than 35 years. Our painters can tackle any siding paint job so that your home resembles its original beauty. Feel free to contact us today to learn more about our professional painting expertise.
Recent Posts