February 17, 2022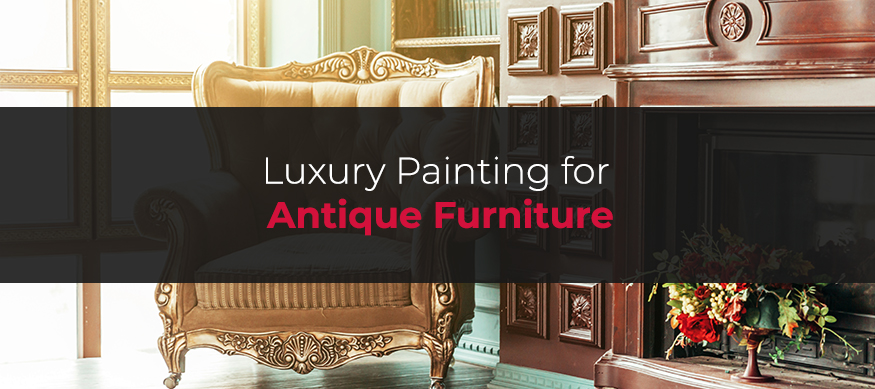 Antique furniture can add a touch of timeless beauty to your home. However, as it begins to wear out over time, you'll have an important decision to make — should you attempt to restore the furniture or just replace it altogether? There are many advantages to having your antique furniture professionally painted and refinished. If you find yourself on the fence about restoring antique furniture, understanding the value of restoration will surely inspire you to give professional refinishing and painting a chance to bring your antique furniture back to life.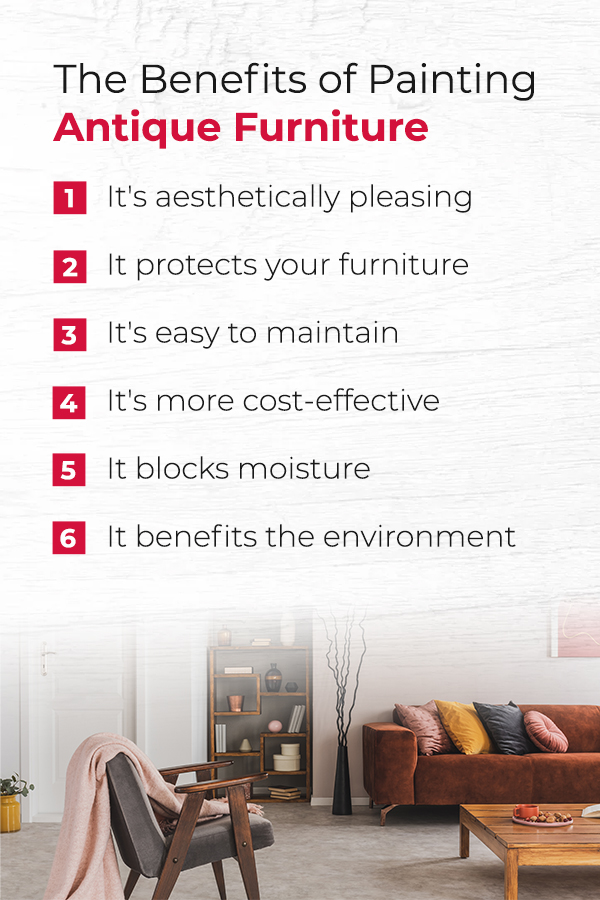 The Benefits of Painting Antique Furniture
If you keep it properly updated and maintained, an antique wooden cabinet, dresser or table can add a classic, luxurious element to virtually any room in your home, whether it's a bedroom, bathroom, kitchen or guest room. Even something as simple as a professional paint job can reveal the untapped potential of a piece of furniture and improve its quality dramatically. Once a professional has refinished it, you might not even recognize it.
Here are six benefits to having your antique furniture professionally painted:
It's aesthetically pleasing: If used correctly by a professional painter, furniture paint can create a stellar, contemporary look for any antique piece while maintaining its vintage aura at the same time. The right paint color can also help accent the overall theme of the room, complementing other decorative pieces such as wall hangings, rugs and lamps.
It protects your furniture: A high-quality, durable brand of paint can protect the wood of your antique furniture. Paint serves as a barrier and reduces the furniture's vulnerability to scratching, denting and other damages.
It's easy to maintain: Painted antique furniture is relatively easy to clean and maintain. About once a week or so, use a damp cloth to gently wipe down your furniture or go over it with a duster. With high-quality paint, you'll never need to worry about paint chipping or trying to match colors with a touch-up job.
It's more cost-effective: Purchasing a brand new set of furniture can be very expensive. By having a professional paint and refinish your antique furniture, you can keep it fresh and up to date while saving a considerable amount of money. Refreshing your existing furniture also saves you the hassle of searching for, buying and moving new furniture into your home.
It blocks moisture: Moisture can damage unfinished wood, causing swelling, cracking, stains and prominent watermarks. Fortunately, furniture paint can shield the wood in your antique furniture from moisture exposure, preserving the pieces for longer.
It benefits the environment: Manufacturing new furniture produces additional carbon dioxide. Restoring existing furniture is a more eco-friendly solution because it keeps old pieces out of the landfill and conserves resources, which is always a bonus.
Should I Have My Antique Furniture Painted?
When deciding whether or not to have your antique furniture professionally painted, you'll want to consider several factors. Here are some questions you might have that could influence your choice, as well as some tips to help you feel more at ease about these possible concerns: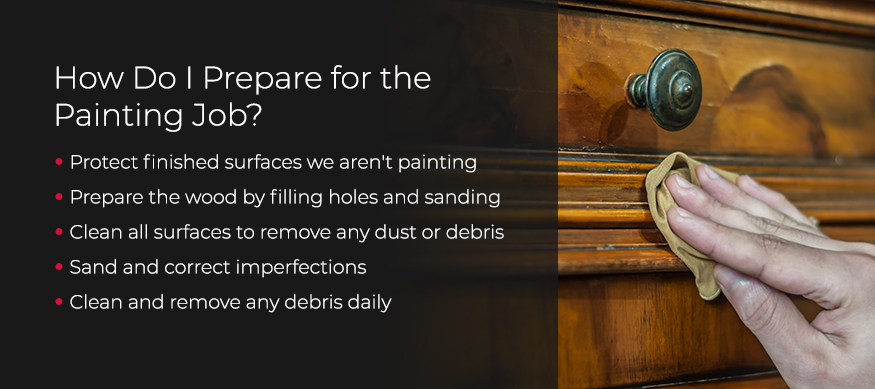 How Do I Prepare for the Painting Job?
Leading up to a detailed paint job, it's important to understand what the painting company expects of you and what they'll take care of themselves.
The painter you hire should discuss their process in detail with you before performing the job — this way, you will know exactly what you need to take care of on your end, if anything at all, and what you can expect from them. Proper communication between both parties is one of the key elements to completing a professional paint project successfully.
Unlike other companies that may require you to clean any rooms and drape the floors and other furniture yourself before proceeding with the painting process or charge an additional fee to handle these tasks, at Shoreline Painting, we take care of all the tedious preparation work so you don't have to. To ensure top–quality finishes, we provide the following services before each painting project:
Protect finished surfaces we aren't painting
Prepare the wood by filling holes and sanding as necessary
Clean all surfaces to remove any dust or debris
Sand and correct imperfections between coats of paint
Clean and remove any debris daily
Will the Job Be Messy?
Any paint job is bound to create some sort of mess. However, cleaning up this mess is part of the job you hire the painter to do, whether they're painting your antique furniture or the exterior of your home. A reliable painting company will take care of any mess they make without leaving it in the hands of the customer.
At Shoreline Painting, we clean our work areas thoroughly at the end of every day and after we complete each painting project. This cleaning process includes — but is not limited to — removing debris from yards and dusting rooms.
Is It Time-Consuming?
The amount of time needed to complete a paint job can vary, depending on the project and the number of people working. Your painter should discuss these details with you and provide you with an estimated timeframe before they start painting your furniture.
As with any other painting project, a fully-staffed team will get more work done in less time. Fortunately, Shoreline Painting has a large team to ensure your antique furniture gets the attention it deserves while staying within your deadlines.
When Is the Best Time to Start Painting?
While you may not expect the seasons to affect the quality of a paint job, weather and humidity levels can determine whether the paint dries evenly and maintains a clean look. Winter and fall are typically the best times to complete an interior paint job, as the low humidity levels allow the paint to dry more quickly and bond more effectively.
These seasons also tend to be less busy for painting companies, so it will likely be easier to book a painting service around this time. However, you can still complete painting projects at any time of the year, and they can be done outdoors during warmer seasons.
Through rain or shine, Shoreline Painting offers both interior and exterior painting services and will complete indoor and outdoor projects year-round. The best time to have your antique furniture professionally painted is as soon as you decide to do it.
Does Painting Antique Furniture Ruin Its Value?
This is a common concern for those looking to paint or refinish their furniture. However, if a professional paints your furniture done using the right techniques, careful attention to detail and quality paint, your antiques can actually increase in value. For this reason, a top-notch paint job makes all the difference. To ensure a well-executed job, it is best to hire a professional to handle this task for you.
Can I Trust My Painter to Do the Job Well?
When consulting a professional for an antique painting project, one of the largest — and arguably most important — factors you will likely take into consideration is whether you can trust that the company will fully meet your expectations and transform your vision into a reality.
To fully communicate these needs to your painter so that both parties are on the same page, it's always a good idea to establish a written contract. This will take care of necessary legal protections such as insurance, and it will outline the specifics of the painting project. The contract will likely include details such as:
The estimated work schedule and amount of time it will take to complete the job
The location of the project
The paint colors that will be used for the job
The services that will be performed
The details regarding fees and payment
The required materials, equipment and tools
The people involved in the project
Additionally, when looking for the right company to paint your antique furniture, you want to make sure the company is licensed. With Shoreline Painting, you can feel at ease knowing our company is fully licensed and bonded.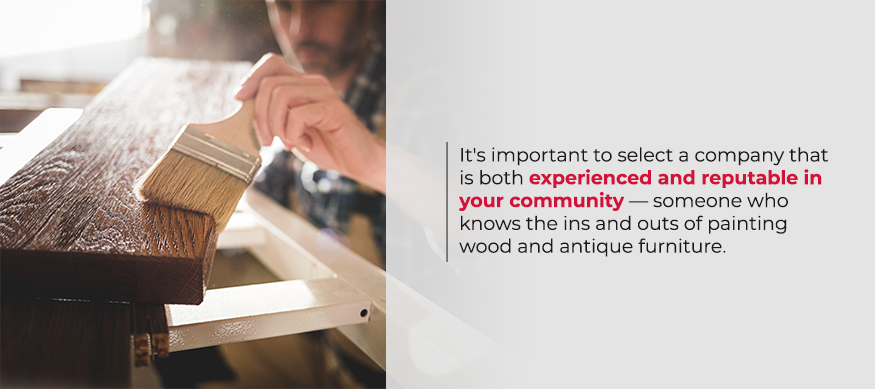 The Importance of Hiring a Professional Antique Painter
We strongly advise that you do not attempt to paint your own furniture, especially if they are antique pieces. We also don't recommend hiring a generic painting company, as this job requires an expert who understands the specifics of painting wood furniture. For a complex project that requires exceptional attention to detail and care, finding the right company to perform this service is especially critical.
Before hiring a professional painter, you want to do thorough research. It's important to select a company that is both experienced and reputable in your community — someone who knows the ins and outs of painting wood and antique furniture. At Shoreline Painting, our skilled staff has the knowledge necessary to properly refinish and paint antique furniture. We specialize in the following areas:
Using the correct paints: We understand the importance of using quality name brands to ensure the best paint finish for antique furniture. These paints create an even color application and smooth finish that lasts a long time. They can also withstand cracking, peeling and fading. At Shoreline Painting, we use environmentally friendly primer, paint and varnish products by Benjamin Moore and Fine Paints of Europe.
Having the necessary equipment: Quality equipment is another key factor to a successful paint job. It's important to have all of the essential tools for every phase, whether it's spackling, priming, painting or sanding. Reliable equipment includes sturdy rollers, brushes, primer, masking tape, putty knives and sandpaper.
Understanding the complete process: Our professional painting interior process covers all aspects of interior painting, including planning and preparation, painting execution and cleanup procedure following the paint job. This detailed process applies to walls, ceilings, trim and furniture.
Ideas for Painted Furniture
If you're looking to paint your antique furniture in a way that is modern, elegant and aesthetically pleasing, but you feel you don't have the proper eye for design, Shoreline Painting can help. With expert attention to detail, our team of professional painters will work with you to select the right colors, finish and texture for your furniture.
One of the perks of being a homeowner is the ability to create a space that's uniquely yours — you can design the interior space to your liking based on your personal style and color preferences. We recommend selecting your paint colors in terms of cooler and warmer tones. Shades inspired by the winter and fall seasons open up an array of warm and cool color palettes that will accent any room of your home beautifully.
You can also paint and refinish your antique furniture based on certain features you are looking to touch up, draw attention to or minimize in different rooms of your home. With kitchen furniture, for instance, even a simple refinishing process can make your cabinets look brand new. At Shoreline Painting, we can help you create a brand new look for your kitchen by stripping off the old finish, removing and polishing the old hardware and providing you with paintwork that brings out the individual character of your cabinets. For bathroom colors, we recommend pairing off-white flooring, fixtures and furniture with walls of neutral colors such as whites, beiges, blues and grays.
Need some more inspiration for selecting the perfect paint colors? At Shoreline Painting, we offer helpful tips on choosing paint colors to match your tile floors, as rooms should generally be designed from the bottom up. Once you establish the right color and style for your flooring, you can consider an array of ideas and possibilities for designing the remaining aspects of your room, such as furniture, walls and other decorative items. We also recommend looking at paint samples to gather some potential ideas for colors and understand what finish options you have to choose from.
Keep in mind that a color may appear a certain way on a sample or in a store, but the shade could alter slightly during the paint application process due to the lighting in your room and how it changes throughout the day. When you work with Shoreline Painting, we are more than happy to consult with you on color selections. If you're unsure of where to start, how to pick shades that complement each other or work well with certain lightings, feel free to speak with one of our experienced team members for an in-home color consultation.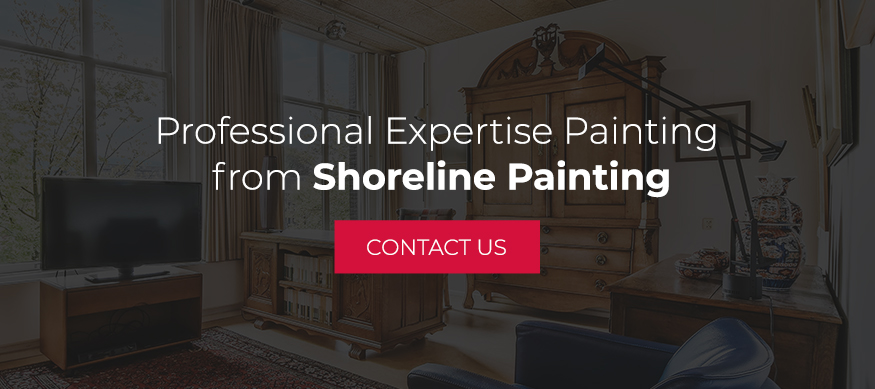 Contact Shoreline Painting for Your Antique Painting Needs
If you're searching for a fully licensed, bonded and insured company with the experience and knowledge needed to refinish and paint your antique furniture, look no further — Shoreline Painting is your team of professional painting experts here to meet your needs. We're a family-owned and -operated Fine Paints of Europe Certified Master Painter with 35 years of experience in the industry. Our quality and detailed paintwork brings customers back time and again.
It's time to give your furniture and home the care and attention they deserve. Let us take care of your antique furniture or other painting needs. For a free estimate or quote, contact Shoreline Painting today.
Recent Posts