May 29, 2021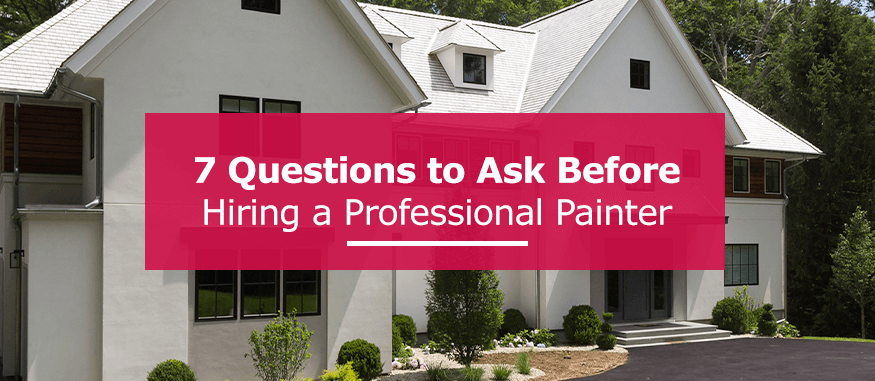 Knowing how to hire a professional painter will ensure a paint job does more than just transform your home for now. Quality professional painting services can increase your home's value and protect its exterior for years to come with results you're sure to be happy with.
At first glance, it might be hard to tell what company deserves your business. Knowing what questions to ask a professional painter can help distinguish between companies that might look similar at first glance. When you're getting ready to hire a professional painter, it helps to have a list of questions prepared ahead of time to ask the painting contractor.
Here are some questions to ask for a deeper understanding of the company you're considering with accompanying answers that highlight the Shoreline Painting difference to help you make the right hiring decision.
1. What Sort of Prep Work Will You Do?
Prep work is essential to inquire about in both exterior and interior painting questions. Doing the proper preparation before painting is the most important part of the painting process. At Shoreline Painting, we are proud of our meticulous preparation processes. Our system provides quality results and peak efficiency, no matter the size or scope of the project.
These preparations can be divided into two major areas:
Steps taken to protect finished surfaces: To protect your home, we cover all finished surfaces prior to starting. That includes covering floors, windows, millwork and decorative hardware. That being said, making sure your home stays neat and clean isn't a one-and-done situation. Our courteous, professional painters clean their work area and remove all debris daily.
Steps taken to prepare the surface to be painted: Our professionals inspect every surface they'll paint, letting you know of any necessary replacements or repairs. For exterior applications, we'll wash surfaces to remove dust and dirt, and we'll sand, patch, seal and prime areas for better paint adhesion.
Skipping steps in preparing the surfaces to be painted can result in bubbles or cracks in the paint that will require the job to be redone to fix. You won't have that problem when you choose Shoreline Painters. Our preparations include removing all imperfections before painting. We take additional steps as appropriate for different materials.
For example, before painting aluminum siding, we apply a self-etching primer to provide an adhesive layer and protect against mold and rust. Prior to painting drywall, we apply spackling or drywall joint compound to fill any cracks or gouges that would otherwise show through even once freshly painted.
2. Who Will Be Working on the Project?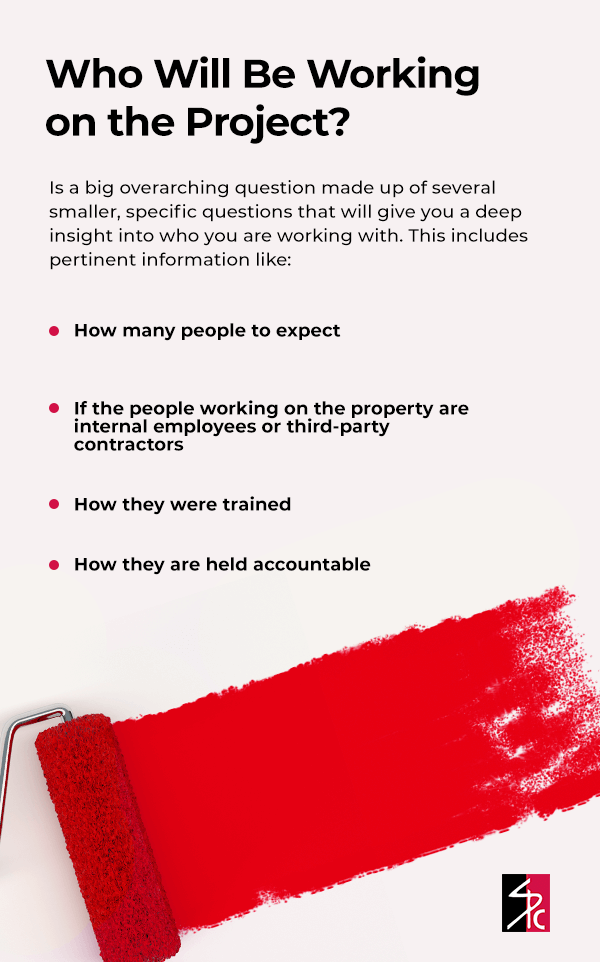 Who will be working on your project is a big overarching question made up of several smaller, specific questions that will give you a deep insight into who you are working with. This includes pertinent information like:
How many people to expect: The number of people present is a good indicator of how long the task will take and the quality of the work that will be done. All else being equal, a fully staffed team will get more done in less time than three or fewer people. Shoreline Painting has a large team to ensure your project gets the attention it needs to be completed up to our rigorous standards and within your deadlines.
If the people working on the property are internal employees or third-party contractors: Another important component of this question is if the company is using internal employees or subcontractors. Employees will generally have a more vested interest in the quality of your paint job than a third-party contractor. Long-term employees have an established relationship with the company. Employees who don't represent their company well don't tend to last long.
How they were trained: Another reason outside contractors often provide lower quality work is a lack of training. Companies have more control over the training of their own employees and can confidently attest to their skills and qualifications. At Shoreline Painting, our trained painters know how to inspect, prepare, prime and paint a variety of surfaces and materials.
How they are held accountable: Shoreline Painting takes pride in our all-star staff that provides exceptional service and quality craftsmanship. We are fully bonded, licensed and insured, and our painters are skilled in all interior and exterior painting facets. They apply the same care and attention to detail on each job as if they were working on their own homes.
3. Who Do I Contact if I Have a Question or Problem?
Communication is key to a positive service experience, and painting is no exception. It is frustrating to have no point of contact when you have a question about the job after the start of the project.
A lack of communication isn't a problem when you contract with Shoreline Painting. We built our business on exceptional customer service and will put your needs first. A job site supervisor, crew leader and general manager will be present throughout the duration of every project. In addition to ensuring that our paint finishes are smooth, seamless and clean, they are there to support you and answer any questions you may have during the process.
Even after the project is complete, we are available and easy to contact. We are a local business with a longstanding history of top-quality performance. We stand by our work. If something goes wrong, we'll be there to fix it.
4. When Will You Be Working on the Project?
You'll want to get a feel for the projected timeframe when choosing a painter for your home. This information includes dates the painters will be working, what times they will be working each day and how many days the job is expected to take. A routine schedule with clear start and stop times each day signifies a well-run and organized company.
Note that not all paint jobs will be completed on time. While most projects can be completed in less than five business days, some projects may take a little longer, particularly if they are large or complicated projects. There are outside factors that may extend the timeframe of a project, as well.
If the project is outdoors, unfavorable weather conditions may delay the project. Under such circumstances, your painter should be forthcoming about the delays. They should explain the cause and the steps they are taking to resolve the project while updating you on changes to the project timeline. That represents quality communication and a dedication to being upfront and honest with customers.

At Shoreline Painting, we hold ourselves to the highest standards. When you meet with our professionals for a free quote, we will provide you with an accurate price estimate and project timeline. You will know when we'll show up, what we will do and when we will be finished. If weather conditions or other unforeseen circumstances will impact the completion date, we will promptly notify you so you don't have to worry about playing guessing games. Open and honest communication is one of our professional foundations.
5. What Products Will You Use?
The quality of primer and paint will have a major impact on the end quality of the project. Beware of companies trying to cut costs using inferior brands of paint. Despite what others may tell you, the quality of paint matters.
High-quality paint creates a more durable finish and a more even application of color. It looks nicer and lasts longer. Durability is particularly crucial for exterior painting. Quality paint protects your home from the elements. A durable finish will resist fading, cracking and peeling, boosting your curb appeal for years to come.
Shoreline Painting chooses quality products to give you the best results. Ask our professional painters what brands we recommend and why we stand by them. You can also ask our painting contractors for a color consultation. One of our knowledgeable consultants will provide you options that best suit your home and style preferences. Brand and color shouldn't be the only considerations, however.
Our professional painters at Shoreline Painting will note the special circumstances that apply to your paint job, such as:
Whether the paint is for indoor or outdoor use
The temperature and moisture levels the paint will be exposed to
The surface that is being painted
Ask our painters what factors they're accounting for and how it impacts the type of paint they're choosing. They will proudly explain the benefits of their choice. When we select paint for your home, we account for key characteristics such as mold resistance, durability, ultraviolet radiation resistance and environmental friendliness.
Shoreline Painting is a proud partner of top-quality paint providers, including Benjamin Moore, Sikkens and Fine Paints of Europe. We are a Fine Paints of Europe Master Certified Painter.
Fine Paints of Europe only certifies professional painters referred by a local retailer who attend special training for the best application of their products and provide clients with quality work at a fair price. Fine Paints of Europe produces the finest interior paints for their clients. These paints are odorless, fast-drying and look beautiful for 10 years or more, significantly longer than other brands, and we're proud to offer their products to our clients.

6. What Are Some Potential Complications That May Arise? How Will You Handle Them?
This question will evaluate a paint company's ability to recognize and respond to complications. You want assurance that your painters are experienced and knowledgeable and that they'll address any possible concerns with you as soon as they're aware of them.
Our experienced painters at Shoreline Painting know how to handle any challenges that arise during the painting process. We may need to expand the project to address complications discovered during our thorough inspection and preparation processes.
We may need to do small carpentry repairs or wood replacement if we discover rot. For older homes, lead paint is another common concern. If your home was built prior to 1980, the exterior is likely covered with lead-based paint. Shoreline Painters is an EPA lead-safe certified firm. Allow our knowledgeable experts to handle your exterior paintwork to ensure the proper containment and recordkeeping protocols are followed to keep your family safe.
Another outside factor that can cause potential delays for exterior painting is unfavorable weather conditions. In addition to rain, excessive heat, cold, moisture or dryness can affect the quality of a paint job. We know better than to rush through a job when non-optimal conditions will impact the quality of the finished product. We'll paint only when the circumstances are appropriate to give your property a smooth, durable finish that won't bubble, peel or crack prematurely.
7. Do You Have Customers Who Could Verify the Quality of Your Work?
While the questions above can help determine the quality of a professional painter, the most direct approach is to ask for proof of their performance. A company can say all the right things and still fail to deliver. Customer reviews are arguably the most reliable indicator of what you should expect from a company.
Shoreline Painting is a well-established company. Property owners across coastal New York and Connecticut have trusted us with their interior and exterior paint projects for over 45 years. We have a long list of raving fans who are happy to testify about the quality of our work and the professionalism of our team.
The only proof that might speak louder than satisfied customers is samples of completed work. You probably can't walk door to door asking to inspect your neighbor's paint and who did it for them, but our online project portfolio is the next best thing. View some of our exquisite completed works to get a sense of what we can do for your property.
Looking for Professionals to Paint Your Home? Contact Shoreline Painting
If you are considering hiring a painting contractor for your property in Fairfield County, Connecticut or Westchester County, New York, Shoreline Painting can help. Our professional painters are known for attention to detail and clean, quality work. We are happy to answer any questions you may have. A conversation with one of our painting contractors will make it clear that you are working with a skilled professional who is passionate about painting.
Contact us for a free color consultation and an accurate price estimate. See the difference an industry-leading painting company makes.

Recent Posts