September 24, 2021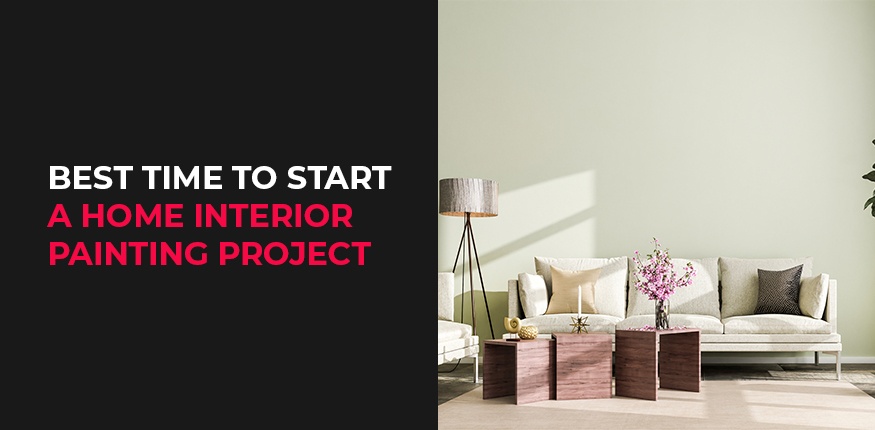 Finding the perfect time to begin any home project involves various factors. You want to make sure the weather and working conditions are excellent for the team completing your home project and provide the best conditions for a high-quality project. A common home project that can rely on seasonal conditions is painting the interior of your home.
How you approach your interior painting project can impact the look, style and quality of the project. From the colors you select to the time of year you want to complete the project, you can determine the best way to accomplish an interior paint project you love.
Learn more about painting your home interior and how you know it's time for a fresh coat of paint in your house.
What Are the Best Times to Start a Home Painting Project?
Even if you plan on only painting the inside of your house, the time of year you decide to start the project may alter factors of the paint job. You want the paint to dry evenly and look professional, and the weather and humidity levels play a big role in how well the paint will apply and dry on your walls. Because of these factors, two of the best times to begin an interior paint project are in the fall or the winter.
Painting your home during the winter and fall is beneficial for many reasons, including:
Less humidity: The weather during the fall and winter is less humid than the warmer times of the year. Lower humidity helps with the painting process because the paint will dry more quickly and bond properly to the wall surface. Your project can be completed in less time in lower humidity.
Great time for indoor projects: When the temperatures start to cool down, it's more comfortable to work on projects inside. You can reserve the outdoor projects for warmer days and complete interior projects when it's too cold outside.
Less busy: The fall and winter can be less busy for professional painters, so scheduling your interior paint job may be easier than in the spring or summer.
Beautiful color inspirations: The best part about owning a home is creating a space that's uniquely yours. You can choose the style of your home's interior and the colors that you prefer. Selecting colors inspired by the fall or winter seasons open up an array of warm and cool color pallets that will look beautiful in your home.
Fall Inspired Interior Colors
The fall season welcomes warm and earthy tones. Drawing inspiration from the leaves changing colors and autumn holiday decorations, you can find lovely paint colors for the inside of your home. Including fall colors in your home can conjure feelings of energy and warmth. If you want to achieve a fall-inspired feel in your home, check out these interior paint colors that can match your style and be perfect for your fall interior painting project:
Golden yellows, like mustard
Warm neutrals, like cream, chocolate brown and caramel
Deep reds, like rusty red
Warm grays, like stone and smoky gray
Orange tones, like pumpkin or burnt orange
Green tones, like emerald green, olive and moss
Winter Inspired Interior Colors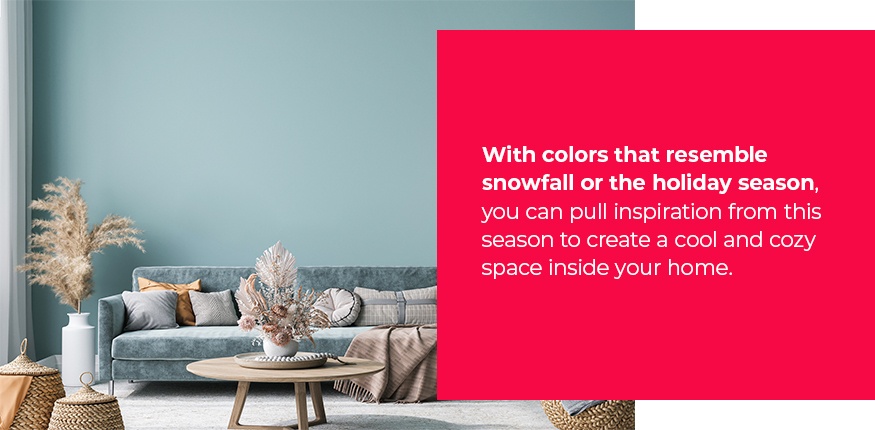 Winter can bring picturesque weather and crisp temperatures. With colors that resemble snowfall or the holiday season, you can pull inspiration from this season to create a cool and cozy space inside your home. If you want to include winter hues inside your home, check out these paint colors that can be an excellent choice for your winter interior painting project:
Winter whites, like snow and ivory
Red tones, like cranberry and burgundy
Blue tones, like icy blue, navy and indigo
Black accent walls, like ebony
Green tones, like sage and emerald
Winter neutrals, like taupe, tan and soft gray
10 Reasons You Should Paint Your Home Interior
Your home is a place for you to relax, spend time with family and host friends in your welcoming space. Keeping your home in great condition and making your living space as comfortable as possible are two essential aspects of owning a home. While updating furniture, adding new decorations or upgrading appliances are ways you can upkeep your home, painting the inside of your house is a project that can make a big difference in the appearance of your home's interior.
People decide to paint the inside of their house for numerous reasons. Whether you want to change the colors in your home or you need to cover up damage on the walls, a fresh coat of paint can upgrade your living space.
You should typically repaint your home's interior walls every five or seven years. The timeline can change depending on the room and the wear on the walls.
If you're unsure of when to hire the professionals at Shoreline Painting & Drywall to complete a home interior paint job, consider the following reasons why it's time to give your walls a fresh coat of paint.
1. It's Been Years Since Your Last Interior Paint Job
Think about the last time the walls inside your home were painted. If it's been well over seven years, your home is ready for a professional paint job. Some rooms in your home should be painted more often, including:
Bedrooms: While adult bedrooms typically can last a long time before needing a fresh coat of paint, children's bedrooms are a different story. Whether it's wanting a new color on their walls or damaging the paint on the walls, kids' bedrooms often need to be painted every two or three years.
Kitchen: The kitchen can quickly become a messy place. With food and beverages splashing on the walls and messy hands touching the paint, the walls in your kitchen may need an update sooner than five years. You might need to hire professionals to paint your kitchen every three or four years depending on the state of your walls.
Bathrooms: The high amount of moisture in bathrooms can cause the paint on the walls to wear down more quickly than in other rooms in your home. It's important to use high-quality paints in bathrooms so they can withstand the conditions of the room. You'll likely need to paint your bathroom every three or four years.
Hallways: It's surprising how many times you pass through the hallways in your home. These walls can be susceptible to more wear and tear because of the continuous foot traffic. You may need to have these walls repainted every two or three years depending on the damage.
2. You Notice Flaking or Cracking
You'll know it's time to hire the professionals from Shoreline Painting & Drywall when the paint on your walls begins to crack or flake. Paint can start cracking or flaking for numerous reasons. If the wall surface wasn't properly prepped during the previous paint job, the paint has been on your walls for many years or the paint is exposed to extreme hot or cold temperatures, it can flake and crack.
Flaking or cracking paint hinders the appearance of the inside of your home. When you first notice any home in your wall with cracking paint, call up Shoreline Painting & Drywall to update the inside of your home.
3. The Color Is Fading
The paint on your walls will begin to fade over time. You'll notice the color fading more on darker hues than lighter ones. While high-quality paint is created to be fade-resistant, it may still need a fresh coat of paint after the years go by.
The paint color can fade rapidly from sunlight exposure, using low-quality paints, various chemical agents or poor painting techniques. The team at Shoreline Painting & Drywall can help resolve this problem by providing a high-quality interior painting project.
4. You're Ready for a New Color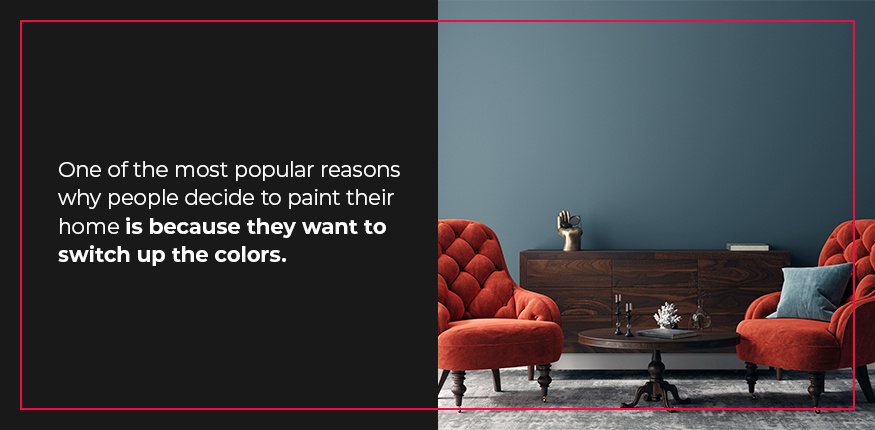 One of the most popular reasons why people decide to paint their home is because they want to switch up the colors. Your style can change over the years, and new trends are constantly appearing for home improvements and color palettes.
You spend a significant amount of time inside your home, and surrounding yourself with colors that you enjoy and make your home comfortable is essential. If you're ready to make an update in your home to match your current style, consider scheduling a home interior painting project to give your home the transformation it deserves. Our color consultants at Shoreline Painting & Drywall have extensive experience helping individuals and families to find the best color scheme for their homes.
5. Your Walls Have Stains
Stains can happen for many reasons, especially in your kitchen, bathroom or kid's rooms. Stubborn stains can impact the appearance of your home. If cleaning isn't enough and you need to cover up these spots on your walls, schedule a professional painting project for the inside of your home to update your living space.
6. You're Selling Your Home
Painting the inside of your home before putting it on the market is a beneficial investment. Newley painted walls can help make your home more appealing to buyers by depersonalizing it and freshening up the inside. Consider a painting project before selling your home with the help of Shoreline Painting & Drywall.
7. You Have Damaged Walls
Walls can take a beating over years of living in your home. You may find holes, chips, marks and cracks in the wall because of pets, moving furniture, kids playing and other common events. While there are ways to repair some of these damages, the walls can look cleaner when you add a fresh coat of paint on top of wall repairs.
8. You're Purchasing a New Home
After you close on a new home, you should consider repainting the inside of the home. Moving into a new home often means you're either living with the previous owner's color choices or you're moving into all-white rooms. The colors on the walls already may not match your style, so consider painting your walls when you move into a new home.
9. Your Walls Have Water Damage
Situations that require home repairs are common. You can experience a plumbing leak, overflowing bathtub, a leaky roof or other water damage problems. You may find water damage on your walls after major leaks in your home. Water damage can leave spots on the walls. After you repair your plumbing or roof issues, consider repainting your walls that were damaged by water to improve the interior of your home.
10. You Have Dull or Fading Ceilings, Trim or Baseboards
Other parts of your interior that may need a fresh coat of paint are your ceilings, trim and baseboards.
Painting your ceilings can make your rooms look brighter. White ceilings can start to fade or turn yellow over time because of daily wear.
Your home can benefit from repainting the baseboards and trim inside your home when you decide to repaint the walls.
Benefits of Painting the Interior of Your Home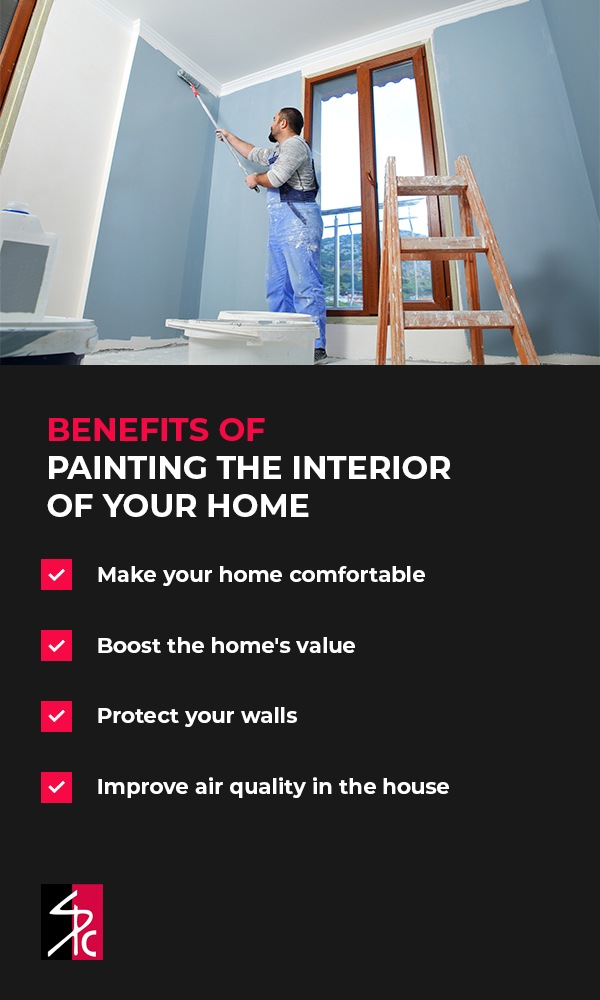 Deciding to schedule an interior painting project for winter or fall can help improve the visual aesthetic of your home. In addition to looks, there are many other benefits that you can experience after an interior paint job. From giving your home a clean look to protecting your walls, you'll appreciate the results after hiring Shoreline Painting & Drywall for your next interior painting project:
Make your home comfortable: Changing the colors inside of your home or refreshing the current walls can help make your home feel more comfortable. Colors can impact your mood, and including colors that will help you relax, feel more energetic or simply match your style can help boost your mood when you're spending time at home.
Boost the home's value: Investing in home improvement projects can increase the value of your home, including a new interior paint job. The home will look taken care of and appealing to potential buyers. You can also feel comfortable knowing that investing in a high-quality painting project will benefit your home in the long run.
Protect your walls: The material of your walls is porous and needs a layer of protection to prevent moisture damage or other structural issues. Adding a new coat of paint can help seal and protect your interior walls. Shoreline Painting & Drywall uses only high-quality paint that will protect your walls.
Improve air quality in the house: The quality of paint has altered over the years with the impact it has on a person's health in mind. Interior paints used to contain volatile organic compounds (VOCs), which can be released over time from paint and impact a person's respiratory health. You'll find that many paints now contain zero VOCs. Having better quality paint without VOCs is a benefit for yourself or loved ones who have respiratory problems.
Contact Shoreline Painting & Drywall for Your Next Interior Project
Having the inside of your home painted is an important project that should be completed with the best quality paint, materials and professional painters. If you're considering painting your home interior in the fall or winter, contact the professionals at Shoreline Painting & Drywall. We strive to provide first-class workmanship and proudly stand behind our projects. Take a look at our portfolio to view the stunning projects we've completed.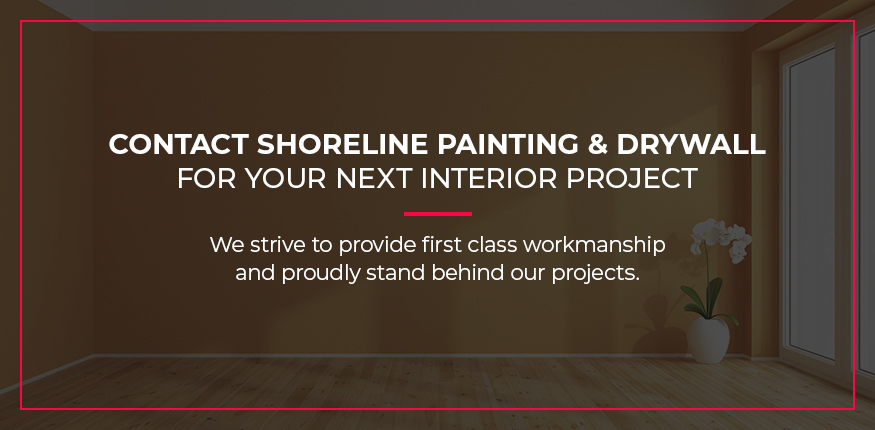 Recent Posts