February 21, 2023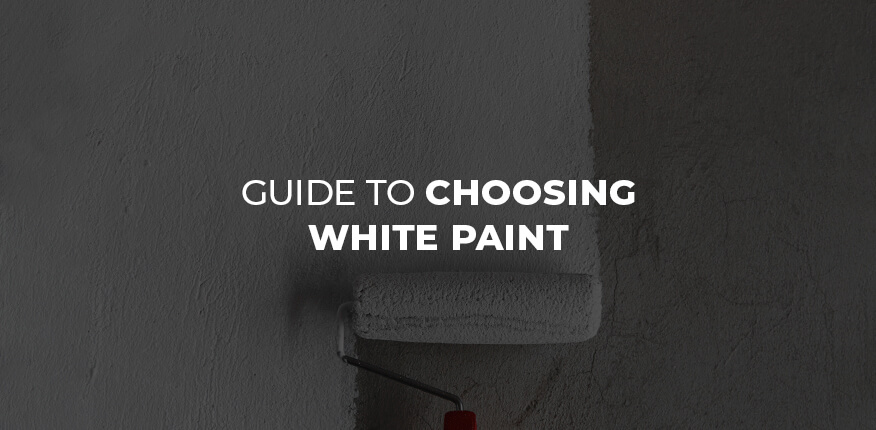 You can never go wrong with white paint for interiors. This airy, neutral shade is the perfect backdrop for brightly colored artwork, furniture and decorations while allowing dramatic finishes and flooring to take center stage. White paint also opens up smaller spaces so they appear bigger and brighter.
If you've ever visited a paint shop, you've likely noticed many different colors and types of white paint. Choosing white paint requires some thought, and the right one for your space depends on many factors. Read on for everything you need to know about how to choose white paint.
Consider the Undertones You Want in White Paint
Undertones are the subtle shades that result from mixing colors to create a paint color. Most paint colors, even white, have undertones.
Undertones come in various shades, including blue, green, yellow, purple, pink or beige. Undertones are what cause paint colors to appear warm or cool. These tones are not always obvious until they're paired with other colors or under certain lighting.
It's important to identify the undertones of your chosen paint so it doesn't clash with other elements in the room, like countertops or floors. Generally, it's best to match temperatures — warm with warm and cool with cool.
Warm White Paint Colors
Warm whites can have yellow, orange or pink undertones. These shades lend a creamy, comforting feel to your space.
Warm white paint colors work well in rooms that incorporate warm undertones in other elements. For example, in the kitchen, this may include warm, wood-tone countertops and flooring.
Cool White Paint Colors
Cool white paint colors have blue, green or purple undertones, with blue being the most common. Cool white paint colors lend a modern feel and work well when partnered with the following:
Other cool-colored shades or interior finishes
White appliances
Many marbles surfaces, especially soft cool whites
South-facing rooms with simple interior designs
Bright White Paint Colors (Warm or Cool)
The undertones in bright white paints vary depending on if they're warm or cool bright whites.
The most common undertone in bright white is yellow. But because this paint choice is bright, the undertones can be subtle, especially in rooms that receive ample natural light. Sunlight brightens and enhances bright whites even more, making their undertones less noticeable.
Bright white paint colors are a great choice in the following situations:
A cool color scheme, particularly marble surfaces
A clean color palette more so than an earth-toned one
In dark spaces
Soft White Paint Colors (Warm or Cool)
Soft white paint colors can have understated or more eye-catching undertones depending on whether they're warm or cool. Soft whites, especially warm ones, are common color choices for walls, cabinets and trim.
Soft whites complement almost any palette that isn't too cool. Cool soft whites are perfect in rooms that receive southern or western afternoon light, while warm, soft whites help to balance rooms that receive northern exposure.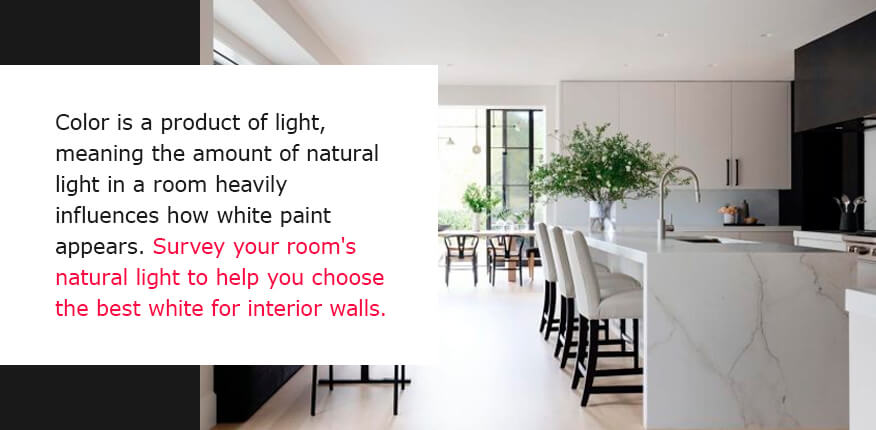 Consider Your Natural Light
Color is a product of light, meaning the amount of natural light in a room heavily influences how white paint appears. Survey your room's natural light to help you choose the best white for interior walls.
If your space is a darker, north-facing room that doesn't receive much natural light, avoid cool white paint colors — these can look shadowy and drab. Instead, opt for a warm white. It will present as a crisp white even if it looks cream-colored on the swatch.
If the room receives exceptionally low light, you may want to ditch white altogether and use a subtly warm gray or greige. These shades can make the room feel fresh instead of dull.
Naturally lit rooms with southern, eastern or western exposure look beautiful with warm, cool or pure white paint colors. For those extra bright rooms, a cooler or true white can help offset some of the sunlight.
Geography also plays a role in the characteristics of natural light. For example, the light in New York tends toward the gray and warm side. The best whites for this light will have similar warm gray undertones.
If getting familiar with the natural light in your home before choosing interior white paint colors sounds daunting, the experts at Shoreline Painting are happy to assist you.
Consider Your Furnishings
The furniture and decorations in your room will also affect how your white paint is perceived, so matching them to your paint is a good idea. If your room is filled with warm colors, you'll want to choose white paint with warm undertones, like red, orange, yellow and pink. Likewise, cool-colored furnishings warrant white paint with cool undertones, like blue, green and purple.
If your decorations are neutral colors, warm white paint will provide the perfect amount of softening.
Only Choose High-Quality Paint (And Hire High-Quality Contractors)
While it's essential to choose a white that works with your space aesthetically, the quality of the paint is just as crucial. High-quality paints consist of more color particles, giving you a longer-lasting finish.
Following are several more benefits of high-quality paints:
Easier application: Fine paints smooth on evenly, making brushstrokes disappear for a flawless finish.
Spatter resistance: Top-quality paints are unlikely to speckle the walls during application.
Concealment: Premium paints can conceal the old wall color in fewer layers, saving time and money.
Touch-up capability: Premium paints allow for easy and indistinguishable touch-ups.
Stain resistance: Fine paints are more resistant to dirt and grime, so your walls will be easy to clean.
Scrub resistance: High-quality paints are durable enough to withstand scrubbing without becoming damaged.
Imprint resistance: Horizontal surfaces like shelves and windowsills can take on the markings of objects placed on them, but quality paint with the right finish can minimize this issue.
Mildew resistance: The compounds that fight mildew are much better in high-quality paints.
Fade resistance: Fine paint can maintain a fresh appearance for many years.
High-quality paint results in an equally high-quality result when you hire contractors from Shoreline Painting. The professionals at Shoreline Painting will use reliable paints and products to transform your home into the white, bright and airy space you dream of.

Let Shoreline Painting Handle Your Luxury Painting Needs
Shoreline Painting has many shades of white paint for walls, and we can't wait to help you find the perfect one for your home. Once you make your selection, our expert painters will work to provide you with a beautiful high-end paint job you will enjoy for years to come. Call today to request a consultation!
Recent Posts