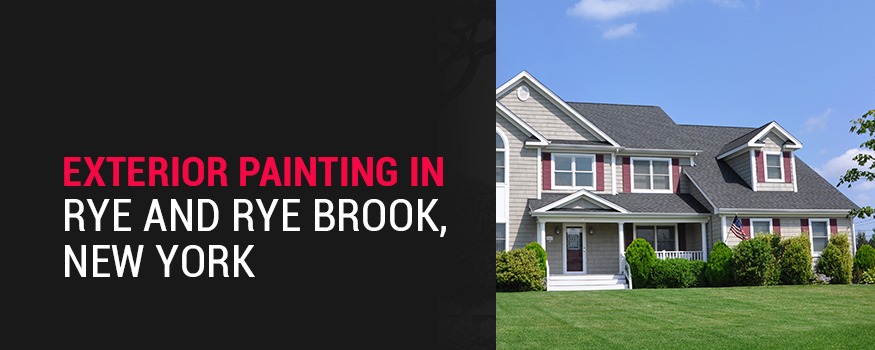 Exterior Painting Services in Rye and Rye Brook, NY
An exterior paint job is a simple yet effective way to boost your home's appearance while increasing its resale value and curb appeal. It's also a great way to stay informed about the condition of your home and keep it safe from naturally occuring threats, like insects and harsh weather. Our painting service professionals can help you navigate the process, ensuring a high-quality final product.
Advantages of a Professional Exterior Paint Job from Shoreline
Is your home or business in need of a refresh? Our professional exterior painting services go beyond freshening up a coat of paint.
For you, an exterior paint job means:
Attractive appearance: Nobody enjoys the look of cracked, peeling and faded paint. Changing or revitalizing the color of your home is the easiest way to freshen up your outdoor space. Whether you want to stick out from the crowd or blend in with the homes in your neighborhood, the right paint color can change the way you — and everyone else — sees your home.
Added protection: A fresh paint job looks great, but it can also protect your home. A layer of high-quality exterior paint can keep your structure safe from termites and other invading insects, and add an extra layer of protection against extreme weather and temperatures. If you have siding on your home, a paint job can prolong its lifespan and help it resist UV fading and mold or mildew growth. This enables you to maintain a structurally sound home, free of weak wood or siding. Additionally, should our professionals note any signs of damage or infestation while preparing your home for its paint job, we will alert you of the issue so you can take corrective and preventive measures before the problem worsens.
Resale value and curb appeal: Real estate experts agree that curb appeal is one of the most important factors when trying to sell your home. A clean, polished exterior — including a cohesive paint job — is the best way to grab the attention of passersby, making our professional exterior paint services a great way to increase your home's value.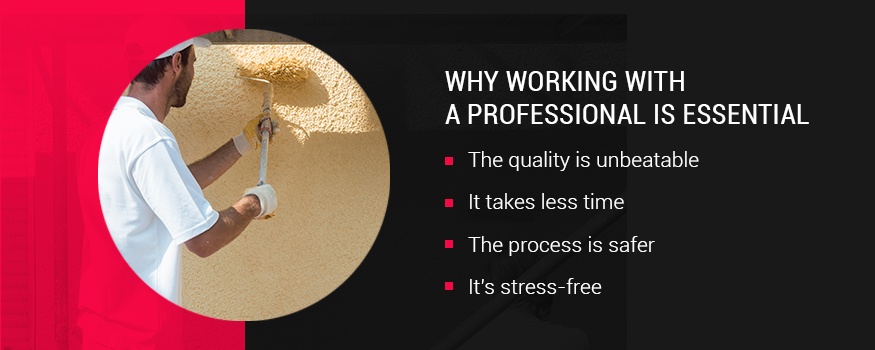 Why Working With Our Professionals Is Essential
Regardless of why you want an exterior paint job, choosing our professional exterior painting services is the best way to ensure you're getting a quality job led by a team of experienced specialists.
Here is why working with our professional service is crucial:
The quality is unbeatable: Because our team consists of experienced, licensed and fully trained painting experts, we can assess the needs and specific requirements of your home's exterior, including the surface texture, the presence of imperfections, siding type and more. Using this information, we develop the best plan of action to prepare, prime and paint your home. We know all the tips, tricks and techniques of the trade, which means we can help you make informed decisions about the color and type of paint or stain to use based on what's best for your home, as well as industry trends. High-quality paint and skilled application also mean your investment will last for years to come.
It takes less time: With work, family and other responsibilities, you've got a lot going on. Instead of trying to fit an exterior painting project into your schedule, let our professionals handle it. We will give your project all the time and attention it needs. We have all the necessary tools to complete your project, including long-handled paint rollers, sprayers and climbing equipment. Because we're good at what we do, you can count on us completing your painting project as quickly as possible.
The process is safer: Painting the outside of a house often includes ladders and other equipment, which makes it a hazardous project that should be handled by our professionals. The process is also safer for your house, freeing you of worry regarding misapplied paint or accidentally damaging the surface of your home.
It's stress-free: Finally, allowing us to tackle your exterior painting project means you don't have to worry about anything. We'll handle the preparation and the painting, leaving you free to sit back, relax and watch as your homeowner dreams come true.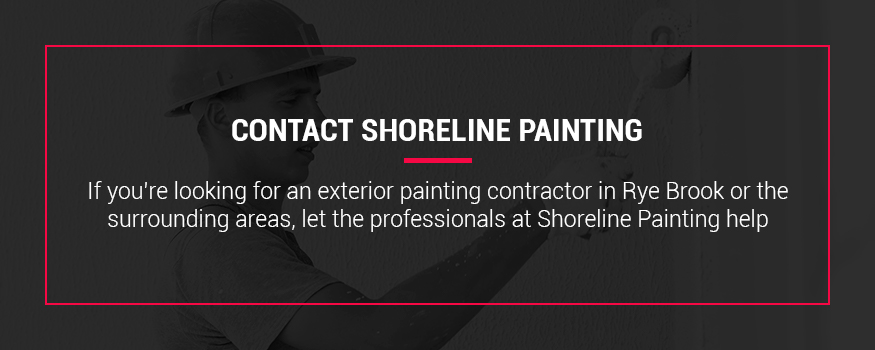 Shoreline Painting Exterior Painting Services: How It Works
Are you searching for a professional exterior painting company near Rye, New York? As a Fine Paints of Europe Master Certified Painter, we possess the careful training and knowledge required to deliver high-quality results, every time. There's a reason so many of our clients are repeat customers. We approach your home like we would approach our own — with great care and attention to detail.
Here is how the process works:
We will work with you to choose the best paint or stain for your exterior project, taking into consideration top-quality and environmentally-friendly supplies, as well as the look you want to achieve. Not sure which colors or finishes are right for you? A color consultation lets us analyze your space and give you recommendations based on your tastes, available space and lighting, as well as industry trends.
We will prepare the exterior of your home or business for painting by thoroughly cleaning the surface, covering exposed areas of your yard, spot priming where needed, filling nail holes, adding caulking and smoothing and sanding away any imperfections.
Utilizing a variety of professional techniques, tools and resources, our team of experts will work diligently to deliver high-quality results in as little time as possible.
As you can see, the process is simple, straightforward and designed to have minimal impact on your daily routine.
Contact Shoreline Painting for Professional Exterior Painting Services in Rye and Rye Brook
If you're looking for an exterior painting contractor in Rye Brook or the surrounding areas, let our professionals at Shoreline Painting help. For 35 years, we have been helping commercial and residential property owners bring their visions to life. Contact us today to get started with a free estimate. You can also view our portfolio or read our client testimonials to learn more about our previous work.
Exterior Home Painting in Rye and Rye Brook, NY
Professional Expertise from Shoreline Painting
There's no better way to turn heads and boost home value than with a newly painted exterior. If you're looking for professional exterior painting services please contact us today.