March 26, 2020

When was the last time your organization repainted? If it's been a while, you might not realize what a transformation a simple coat of paint can make. A simple change from an off-white to a bright white can make your business shine anew. Even without changing the color, you might be surprised how much that old coat of paint has faded over the years. A new paint job for your building's interiors and exterior can breathe new life and color into your business.
By understanding the many reasons why companies like yours choose to paint their properties, you can make an informed decision about whether you should repaint. Investing in painting will pay off through your ability to impress customers and maintain your building for years to come.
Reasons to Paint Your Company Building
Why paint your business? There are many benefits to a fresh coat of paint. Besides general upkeep, a paint job can have a subtle but powerful effect on your marketing efforts. You can generate new interest from customers by making your store, restaurant, apartment or office more inviting. You can even influence the perception of your brand through the use of a new color scheme.
1. To Increase Your Foot Traffic
We all tend to be more attracted to a building that looks well-kept and modern than we do to one that's run down. If you rely on drawing customers to your location, your building's exterior is the first impression you make on walk-ins. Interior paint makes your business more appealing, encouraging customers to stay longer. In a retail space, a fresh coat of paint will make your store more inviting to passersby. If you own a shopping mall, for instance, a new paint job for your interior will bring your tenants' stores more traffic.
Moreover, your commercial building is a physical manifestation of your company. So, even if your business doesn't rely on people popping in, you still leave an impression on people. Pedestrians and motorists pass your building every day, so exterior paint is vital to your relationship with the local area. A well-maintained exterior shows you are a vibrant, contributing member of the community. Beautifying your property is good for the surrounding area, so you'll improve your public relations and local government relations.
2. To Rebrand or Signify Change
As your business evolves, you might update your logo, redesign your website, put up new signage or print new menus. A total rebrand might add new colors to your logo's color scheme, or change the way you use color altogether. Some companies even create environmental branding guidelines, which dictate the colors, furniture and textures for their physical brand locations.
Whatever your rebrand entails, new paint can help you bring it off the page and into three dimensions. An accent wall that's color-matched to your logo can change up the usual off-white we've come to expect from commercial buildings. It can make your office more vibrant and immerse visitors in your brand when they enter your space.
Painting can also be a subtle way to signify change, even without a dramatic shift in your brand. A company under new ownership can use a new paint job to show the world they're ready for a fresh start. A business celebrating a milestone can give their space a bit of a facelift to mark the occasion. New paint can even indicate a change in direction or an expanded product or service offering.
3. To Improve Your Workplace
You and your coworkers spend a lot of time at the office. Commercial interior painting benefits employees as much as it helps business. A beautiful, comfortable environment can have a lasting impact on workplace satisfaction. Studies show that employees who are satisfied with their work environments are 18% more likely to stay at their current job. They're also 16% more productive. A fresh coat of paint can create a more attractive work environment for employees. When a company puts a little love into its interior design, people feel more at home working there.


One of the most desired elements of office design for employees is comfortable lighting. However, 61.2% of office employees have little access to natural light. Luckily, according to the American Coatings Association, a bright white room, or one painted another light color, can improve illumination over darker colors. So, a fresh coat of paint can have great benefits to your office space.
4. To Change the Mood of Your Business
The colors you use on your walls can have a significant effect on the mood of your business. The colors you choose can influence the way employees feel from day to day and may even help them focus. They can also create a psychological response in customers. According to Color Marketing Group, the international association of color designers, each color influences our moods and can impact marketing efforts.
Black signifies strength, power or authority. The color can be overwhelming if overused, so it's best to use the color as an accent.
White creates a sense of purity, cleanliness or neutrality. It can also spark creativity, with a kind of "blank canvas" effect.
Gray fosters feelings of practicality or solidarity.
Red signals urgency, with its common associations with stop signs, sirens and firetrucks. The color also increases appetite, making it great for restaurants. It stimulates passion, movement and excitement.
Blue promotes tranquility and peace thanks to associations with water and sky. It's often used by conservative brands because it is also associated with reliability and security. The color curbs appetites and promotes productivity.
Green can relax customers and promote the environment. It can also encourage decisiveness.
Yellow and Orange are both cheerful and optimistic colors. Orange can also encourage impulsive shopping.
Purple is associated with wisdom, royalty and respect. It's often used for beauty and anti-aging products, and it stimulates problem-solving and creativity.
5. To Eliminate Paint Damage
If it's been a while since you last painted your commercial space, you might find signs of paint damage throughout your building. Chipping and peeling are unattractive, and they reflect poorly on your business. Paint damage is a big concern for exterior paint jobs. While exterior paint has a long life and is tough and weather-resistant, it still requires maintenance and touch-ups. Outdoor paints will experience blistering and cracking over time. If you notice flakes or bubbles from your exterior paints, it's probably time to reapply.
6. To Meet Regulations
Buildings constructed before 1978 are likely to have lead paint on the walls. Any renovation, repair or painting project may release hazardous lead dust into the air. So, you may be required to repaint and eliminate lead paint hazards before conducting other renovations. The local laws in your area may have more regulations about the required maintenance of a commercial building. In New York City, for example, apartment buildings need to be repainted every three years.
7. To Keep Pace With Competitors
Consider two retail clothing stores sharing a large shopping plaza. One store looks well-maintained, with sharp colors reflecting their brand. The other's paint job has faded, and you can recognize the outlines of cracks and bubbles in the building's exterior. Which one would you go to to buy a new pair of pants? Paint might not be the first thing on our minds, but the quality of maintenance on a building still influences our choices.
If one of your local competitors has a shiny new paint job, they could be picking up some of your foot traffic. If your competition is heating up, a fresh coat of paint might be an unexpected strategy to win over customers. Whatever your situation, a top-quality paint job will help you show your customers why you can't be beat.
8. To Look Modern
Interior design and aesthetic trends emerge and fade away quite frequently. What looked fresh and modern even 10 years ago may look tired and stale now. Just as shag carpeting was all the rage in the 1960s, then fell out of fashion before returning as a fun retro trend, colors come in and out of style. A new interior color scheme for your commercial building might be just the thing to give your business a contemporary feel.
Pantone's 2020 color of the year, Classic Blue, marks a return to traditional decor in interior design. In a similar vein, Sherwin-Williams' color of the year is Naval. There's no doubt deep blues are the paint trend to watch. While changing up your paint color every year is not necessary, a more modern wall color can give your building a subtle refresh.
9. To Protect Your Property


Regular exterior painting is a critical aspect of preventative maintenance. Painting is a cost-effective investment in your property. It protects the outer surface of your building from deteriorating, so you don't have to pay for expensive damages later. Even the best paints will break down over time, cracking and losing their gloss and vibrancy. You may not notice these issues right away, but repainting before they become worse will protect your property from future damage. Painting now will keep your building and brand in good standing for years to come.
10. To Maintain Your Building's Market Value
Commercial exterior painting benefits your curb appeal. You might not own the same building 10 years from now as you do today. Whether your company outgrows its current building or you sell the business entirely, a well-maintained building has a much higher market value. You might consider paint as a way to leave a good impression on clients, and a fresh coat of paint will have the same benefit for your real estate.
A building's curb appeal will get buyers in the door, so a new exterior paint job is an excellent investment in your building's future resale value. Fresh interior paint helps buyers better visualize what is possible in a space. Potential buyers will use the walls as a blank canvas to build ideas off of, so a smooth, even coat of paint can go a long way.
How Often Should I Repaint My Commercial Building?
A fresh coat of paint can offer many benefits to both your building's interior and exterior. Once you understand the benefits of regular applications, you might be curious how often you should repaint to gain the full advantages. Exterior paint, which is usually made from acrylic latex and is graded for outdoor use, has a different lifespan than interior paint. You'll also have to consider other factors when deciding when is the right time to repaint your building.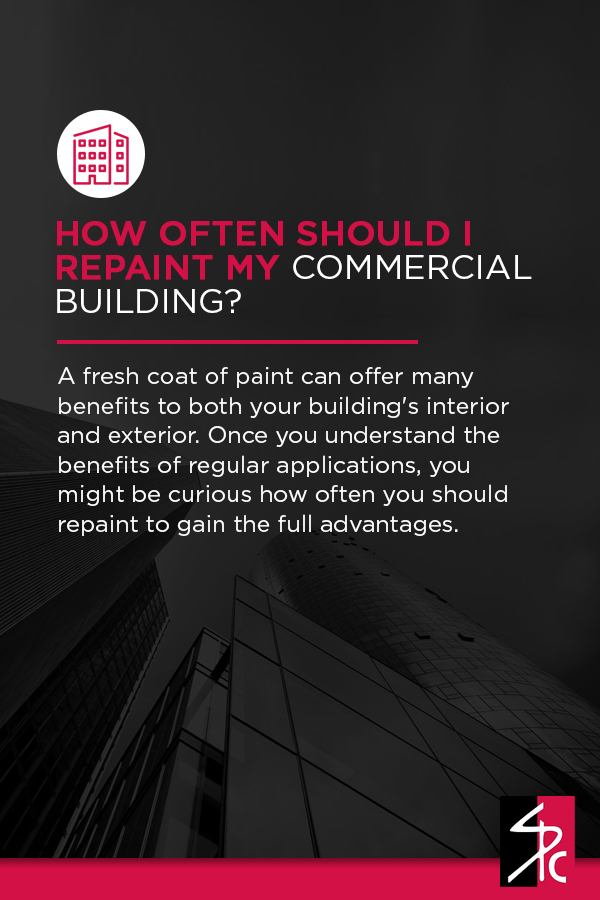 Exterior: The life of your exterior paint job will depend on various factors. The quality of the paint you use might be the most significant. A high-quality paint can last years longer than low-quality paint. Another factor is the weather in your area. Things like heavy winds, humidity and hailstorms can damage the exterior of your building, including its paint job. If your building shows signs of flakes, bubbles, peeling or cracking, it might call for a fresh coat. Typically, a professionally-applied paint job will last five to seven years.
Interior: While homeowners generally repaint their walls every five to seven years, commercial buildings should repaint more often. There's not always a set number of years you should wait, but if you see signs of wear on your interior walls, it's a good sign it's time to repaint. Chipping, dirt or stains on walls all reflect poorly on businesses and building owners. Even if you don't see customers in your office space, your employees understand your building maintenance as a reflection of your management. Several other factors contribute, including how much sunlight and usage a room sees. Generally, an office or store should repaint its walls every two or three years.
These estimates are given for typical buildings, assuming the paint is of high quality and applied by a professional. Several circumstances might cause you to repaint more frequently.
Direct sunlight: When a building gets lots of sunshine, its exterior paint will fade faster than a shade-covered property would. With good quality paint, a sun-soaked building will need a new exterior paint job about every three years. If the paint job is of lesser quality, it might need a fresh coat even sooner.
Bright colors: Vibrant colors bring energy and excitement and increase your building's curb appeal. Still, a bright color will start to dull after a few years, and reds and deep colors are particularly vulnerable. If your building has a brightly-colored paint job, consider repainting every three years. If frequent repainting is a concern for you, consider repainting with pastels to get some added life out of your paint job.
Client-facing properties: Whether you rent your building to a tenant or rely on a steady stream of customers coming in, you want your building to stay in tip-top shape. A building's exterior generally needs a new paint job every five years to look well-maintained. You might be able to get away with repainting less frequently for a warehouse or any building that customers do not come in contact with. An office interior or retail store that sees regular clients should repaint every two to three years.
Trust Your Building to Professional Commercial Painters
Whether you choose some new colors or keep your tried-and-true design, repainting your business will give your building a fresh, professional look. A new paint job is an investment. It will attract new customers and impress your current ones. You'll also maintain your building and protect it from future repairs. If your commercial building is ready for an update or in need of a little attention, call Shoreline Painters. We're a Stamford-based, family-owned painting company dedicated to providing you with the top-quality workmanship you need.
We are a Fine Paints of Europe Master Certified Painter with a focus on interior and exterior commercial painting. Whether you have a vision in mind for your new painting project or want a professional eye to help you pick the perfect colors to complement your brand, we have the capabilities to handle your project. Our top-quality crews will repaint your commercial properties in Fairfield County, Connecticut; Westchester, New York; and beyond.
Ready to give your building that new-paint smell? Contact us today.


Recent Posts