October 25, 2022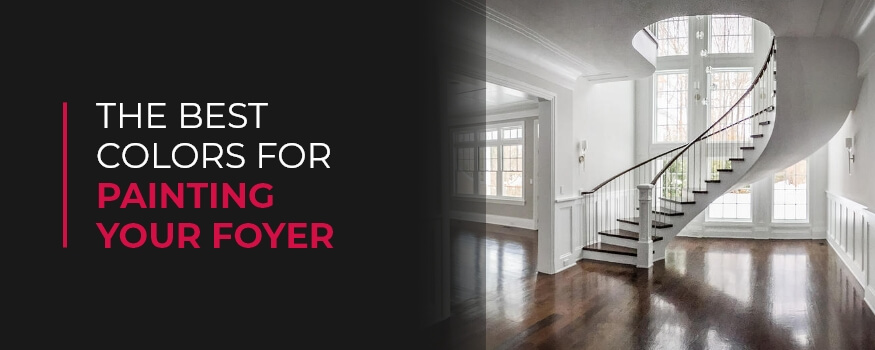 Your home's entryway is the first space your guests observe as they walk through your front door. Luckily, you don't need to invest a lot of time or energy in your foyer's decor — the right paint color can create a welcoming ambiance and a seamless transition to the other rooms in your home.
Consider the following factors to find the best foyer paint colors for your home and make your decision as easy as possible.
What Mood Do You Want Your Foyer to Convey?
Paint colors play a significant role in creating certain moods when you enter a room. Since your foyer is a transition from your front door to the rest of the home, it's the perfect place to set the mood you want your guests to feel once they come inside. Some of the possibilities include the following:
Welcoming: Subtle paint colors can create a sense of space, helping your guests feel relaxed and welcomed into your home. Choosing colors that seamlessly transition into the rooms attached to the foyer will also make it easy to pass through these spaces.
Elegant: A touch of luxurious paint colors can leave your guests feeling like they are in the presence of royalty. Rich hues and bold accent colors are perfect for highlighting chandeliers, long staircases and various flooring options.
Cozy: The right paint colors can have you feeling right at home as soon as you enter the house. Warm colors and earth tones create a relaxing ambiance that will leave you ready to snuggle up with a good book by the fireplace.
Rustic: If you have a farmhouse aesthetic throughout your home or enjoy the simple country lifestyle, a rustic ambiance can make your foyer feel like a cottage getaway. Light, warm tones that match wood and stone accents around the entryway create a perfect combination of colors and textures.
Interior Design Factors to Consider
The features in your foyer make your entryway come to life. They can also impact the ambiance you want to create and the colors that will look best. Before you make your decision, consider the items you want to highlight and the ambiance you want to create.
Factors like lighting, flooring, decor and size will all impact the best color for your foyer. Considering how these factors fit together will let you enhance the whole room with your paint selection.
Lighting
You can easily highlight your favorite entryway features through lighting elements like chandeliers, overhead lights and lamps. Your lighting can also help adjust the colors you want to incorporate in your foyer.
The easiest way to coordinate your lighting and entryway paint colors is to see what kind of light you already have in the space. Your lights will either have a yellow or white shade — both options look great in a foyer, and you can create a coordinated palette of colors based on each type:
Yellow lights: Yellow tones work best with warm paint hues. These colors include red, orange, yellow, brown and beige.
White lights: White tones match perfectly with cool paint colors like blue, green, teal, gray and purple.
Both types of lighting also work well with white and black if you want a simple yet beautiful finish for your foyer.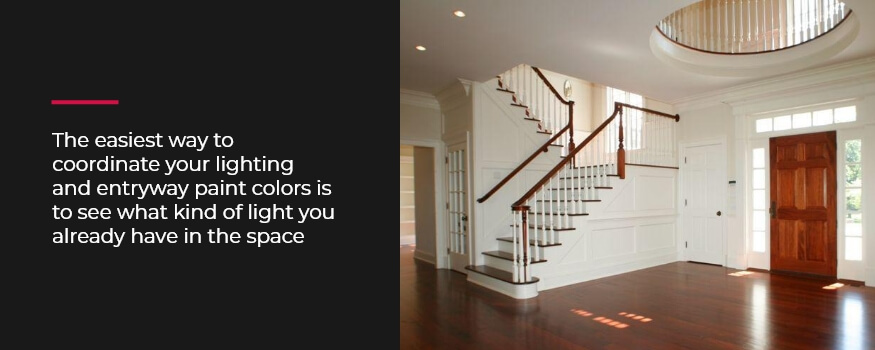 Flooring
Similar to coordinating your lighting hues and paint tones, the flooring in your foyer will work best with specific color palettes. Flooring in warm tones should still pair with warm colors such as red, orange, yellow, brown and beige. The same rule also applies to cool floor tones, which fit best with blue, green, teal, gray and purple paints.
The floor's texture can also contribute to the paint color's vibrancy and ambiance:
Carpets: Beige and white carpets are a comfortable flooring option to create a cozy vibe in your foyer. Since these light colors make the room feel bigger, you may want to choose a paint color that does the same. Pastels and subtle hues of any of your favorite colors can make your foyer feel like home.
Wood: With the right paint color supporting it, this versatile flooring option can create a rustic, elegant or welcoming foyer. Dark brown and gray wood floors pair perfectly with rich, cool tones such as navy blue, aubergine, emerald green and black for a luxurious entryway. Light brown wood and subtle tones such as pale yellow, sage green, lilac and pale pink are beautiful combinations that invite your guests to explore the space.
Stone: Slate and marble floors add a natural grace to your foyer that can complement both vibrant colors and darker earth tones. If you have brown or gray natural stone flooring, give your entryway a rustic atmosphere that feels like home with faded greens, oranges, reds and yellows. Marble floors of any color work well with vibrant shades of blue, purple, red, green and white for elegance around every corner.
Transition to Other Rooms
Since your foyer connects to other rooms in your home, you can take inspiration from these spaces and create a matching or contrasting look:
Matching: Use the flooring and walls in your connecting spaces to create a color palette to pull from when choosing a paint shade for your foyer. Whether your entryway transitions into the living room, hallway, kitchen or staircase, choose an entryway color that matches or coordinates with your existing hues.
Contrasting: If the spaces that connect to your entryway use vibrant colors, you can choose a white, gray or beige for your foyer to highlight the richness of the other rooms. You can also apply the same rule if your other living spaces use muted colors and choose a vibrant shade for the foyer.
Decor
Even the most subtle details in your entryway can come to life in unexpected ways. Whether you enjoy collecting paintings for your home's decor or love the clean lines of a minimalist aesthetic, your foyer's decor can determine the best entryway paint colors for you.
Decor that uses gold or light brown accents pairs well with warm tones such as red, yellow, orange, brown and beige. If you prefer silver-, dark brown- and gray-accented decor, cool tones such as blue, green, purple, gray and teal will make a perfect color combination.
Drawing inspiration from your decor can also help create a color palette that flows throughout the foyer. Take note of the color in the artwork, vases, house plants and picture frames you plan to use in your entryway. If your collection doesn't fit under a single color scheme, start with your favorite piece to build on over time.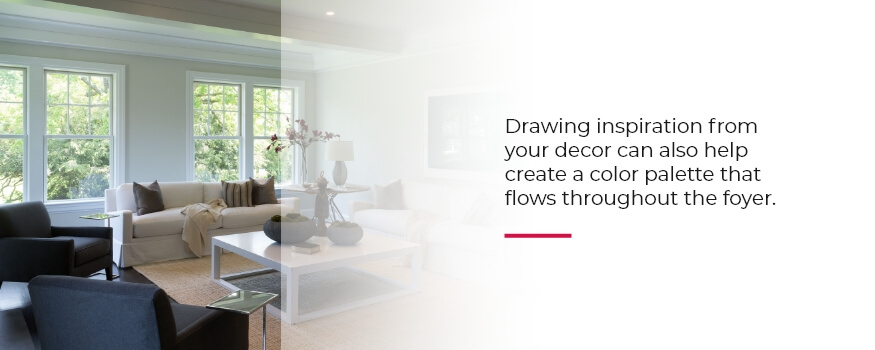 Foyer Size
Colors can create an optical illusion to make a space feel bigger or smaller. You can use this same trick in your foyer to create a comfortably compact entryway or a spacious, welcoming area for your family, friends and guests.
Choosing a darker paint color can make your entryway feel smaller, minimalist and modern. Black, dark gray, navy blue and forest green create the illusion that the corners of the room are closer than they truly are — when the corners are more challenging to pinpoint, the space feels slightly more compact.
Darker walls also give you a cozy, warm feeling, especially if you have a larger foyer space that you want to minimize. You can make this space your own by adding a few interior decorations or enjoy the minimalism of a small entryway with a dark paint color.
On the other hand, lighter paint shades are a perfect choice if you want your foyer to feel larger. Light colors make it easier to pinpoint the room's corners and can make them feel farther away, creating an open, elegant ambiance.
Small foyer entryway paint colors include white, pale gray and muted or pastel colors. These shades work wonders in small spaces, making the room feel more open. When you choose a light color for your foyer, you have the creative freedom to add more decorations, rugs and lighting fixtures to make the space truly come to life.
4 Ways to Choose the Best Foyer Paint Colors
Now that you've had the chance to assess your foyer's size, decorations, lighting and connecting rooms, you can start looking for the best paint color. Finding a color that works for you can take time, but exploring the possibilities now will help you create a beautiful space that you, your family and your guests can admire for years.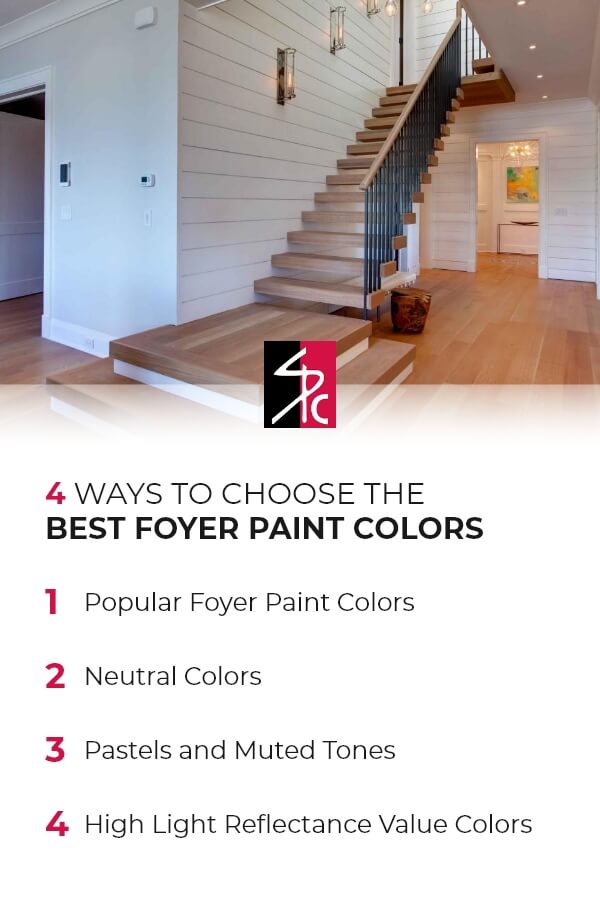 1. Popular Foyer Paint Colors
Trending hues are the easiest route to take when deciding on paint colors for a foyer. Homeowners are constantly experimenting with new shades to enhance their style and decor so you can turn to current foyer layouts for inspiration.
Some of the most popular interior colors in 2022 to use in your foyer include:
PPG's Olive Sprig: This light, lush green shade promotes feelings of re-growth, so you feel rejuvenated every time you walk through your front door. Olive Sprig will pair well with light wood floors and gold decor to match the nature-inspired tone.
Benjamin Moore's October Mist: Choose Benjamin Moore's October Mist paint for a cozy, nature-inspired entryway ambiance. This color combines sage green and beige to form a calming color you can use as a base or accent for your foyer. Like Olive Sprig, light brown wood floors and gold accents coordinate well. You can also pair this color with stone floors for a woodsy feel in your entryway.
Pantone's Very Peri: Pantone's 2022 color of the year is a rich lavender blue that combines a relaxing blue hue with an energizing violet-red undertone. A soft but vibrant purple, Very Peri's gentle sense of royalty can add a touch of elegance to your entryway. Since it straddles both cool and warm tones, your floor and decor options are nearly endless.
2. Neutral Colors
Beige, white, black and gray are simple colors that fit perfectly into almost any interior design and architectural style. These tones are excellent for creating a minimalistic and welcoming ambiance to your foyer. The simplicity of these colors gives you a wider range of creative freedom to choose other styles of decor, lighting and accent pieces that use neutral tones as the base.
For a minimalistic style that offers subtle flair, choose one neutral color with black accents throughout the room. Use the neutral tone as a simple yet beautiful base for your walls while adding black around any windows, doorframes and indented architecture parts. This combination can create a timelessly chic look for your foyer.
3. Pastels and Muted Tones
Light and vibrant hues make your foyer feel more spacious and family-friendly, and pastel colors are always a hit if you or your guests have young children. Playful hues also appeal to adults who want an entryway that shows their fun side. Pastel colors are shades with less saturation — you can select light blues, greens, yellows, purples, pinks and oranges to coordinate with other light tones in your foyer's flooring and decor.
While muted tones are also less saturated, their effect can be very different. The colors of nature in your entryway promote peace and wellness each time you walk through your front door. Faded blue or green on your walls or as accents coordinate perfectly with dark brown floors and beige carpets for a calming ambiance in your entryway. You can also choose a subtle beige or white to use faded blue and gray in your foyer's furniture or decor.
4. High Light Reflectance Value Colors
Natural light can make your foyer feel spacious and lively throughout the day. Even if your entryway receives little natural light, you can use colors with high light reflectance value (LRV) to your advantage. These paint hues reflect light rather than absorb it, so you can enjoy bright colors and a welcoming feeling as soon as you step foot in your foyer.
Stylish colors that have high LRV include:
Gray
Blush Pink
Lavender
Pastel yellow
Light blue
Bright orange
Terracotta
Find Professional Interior Painting Services to Style Your Foyer
With Shoreline Painting, you can enjoy a beautifully painted foyer that welcomes you home each day. Finding the perfect paint color for your entryway can take time and experimentation. Luckily, you can get a color consultation with our expert team to ensure you're satisfied with your final decision. One of our experienced consultants will consider current trends and your foyer's layout to find a paint color that fits your vision and personal aesthetic.
When it's time to paint your foyer, our professional team can provide you with a quality interior paint job that creates your dream foyer style. Our careful and professional 14-step painting process includes preparation, painting, inspection and clean-up — you can rest assured that an experienced team will tackle every aspect of your foyer's final look.
Contact us today to get started on your dream foyer.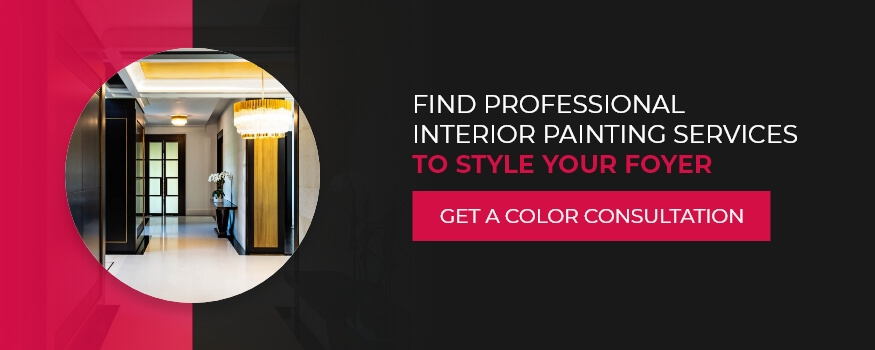 Recent Posts