December 4, 2015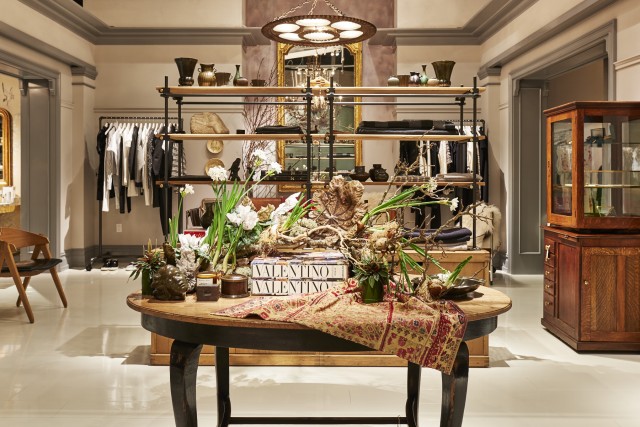 *Shoreline Painting is proud to announce their key participation in the goop pop up in NYC.
Valentino x goop to Introduce a Special Capsule Collection
Designed and Custom-Furnished in Collaboration with Celebrated New York Design Firm Roman and Williams, goop mrkt Joins The Shops at Columbus Circle at the Time Warner Center November 23 through December 24
This holiday season, goop, the powerhouse e-commerce company, sets up shop in NYC with goop mrkt. Inside the premier Shops at Columbus Circle at the Time Warner Center, goop mrkt brings the unique lifestyle brand from online to on Broadway, inviting NYC's global audience to experience its curated content offline.
As visitors enter goop mrkt, they will be transported into the real-life representation of goop's digital world, as designed in collaboration with award-winning design firm Roman and Williams, who drew inspiration from working with goop Chief Creative Officer Gwyneth Paltrow. Roman and Williams bring downtown uptown with interiors and hand-made custom furniture and accessories that create unexpected juxtapositions in a high-touch loft setting.
Additionally, goop mrkt will feature the world premiere of an exclusive Valentino x goop capsule collection. Valentino Creative Directors Maria Grazia Chiuri and Pierpaolo Piccioli, with Paltrow as their muse, developed the collection, and collaborated with Roman street artist SOLO for each item's artistic design.
Guests from New York and beyond who visit goop mrkt will be able to browse merchandise from goop favorites across fashion, beauty and home including Nili Lotan, Carven, Stella McCartney, Kjaer Weis, Juice Beauty, Staub and more. Consumers will also be able to shop curated selections from partners including Lands' End, Reebok, Carbon 38 and Skagen. smartwater® sparkling, an official beverage partner of goop mrkt, will offer attendees a special first taste of the vapor distilled sparkling water.
Additionally, West Village-based Chalait will be onsite daily serving matcha green tea lattes, and guests will be invited to enjoy daily makeup touch-ups from a variety of clean beauty brands and special happy hour holiday events from goop mrkt's official alcohol partner, DEWAR'S 12.
In addition, everything – including the bespoke interiors by Roman and Williams and built by premier builders Best & Company, as well as all furniture and décor items custom-designed by Roman and Williams with local artisans such as Argosy, or curated exclusively for goop mrkt from esteemed design names including DeGourney, Les Looms and Carlos de la Puente Antiques – will be available for sale in store or online, allowing visitors the rare opportunity to experience and own a piece of goop, or to gift goop this holiday season.
Contributors to goop mrkt design and furnishings include: Best & Company, Argosy, deGournay, Waterworks, l'Observatoire International, VCA, Inc., Fine Paints of Europe, Rode Brothers, Lacanche Ranges- Art Culinaire, Carlos de la Puente, Art Space NYC, Balsamo Antiques, BK Antiques, Dienst & Dotter, Florisity, Laserow Antiques, Olde Good Things, PORZELLAN MANUFAKTUR NYMPHENBURG, Red Chair, Shoreline Painting & Drywall, Design and Direct Source, Sub Zero, Lowe Hardware, Double-Knot, Espasso, Les Looms, Xenomania, Paula Rubenstein, Andrianna Shamaris and City Foundry.
For more information about goop and updates on goop mrkt, visit www.goop.com.  Join @goop on social media using #goopmrkt and #valentinoxgoop.
Dates:                   
Monday, November 23 – Thursday, December 24.
Store Hours:
10:00am – 8:00pm (Monday – Saturday); 12:00pm – 6:00pm (Sunday)
Where:
The Shops at Columbus Circle at the Time Warner Center 10 Columbus Circle; New York, NY 10023
Contacts:
Katherine Stein | (646) 784-5438 | katherine.stein@civic-us.com
Recent Posts