November 20, 2014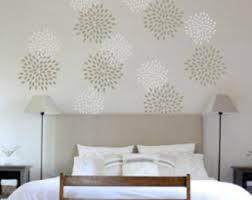 There have been some interesting trends in interior house painting the last few years. Many homeowners have chosen to use some unique methods for a more decorative touch. Color has always been one of the main design elements used for personal expression, but modern trends have also begun to embrace a variety of painting techniques that can add dimension, depth and texture to a room. Here are a few of the most recent specialty painting trends.
Stencil Painting
Stenciling is perhaps one of the easiest ways to create a faux finish. A pre-cut design is placed on the wall and then it is painted over. Once the stencil is removed, the cut-out leaves the desired decorative design on the wall. There are many stencils available through arts and crafts stores and painting companies, or you can make your own design for an original touch. Stencils are typically used for accent walls but may be used to add a decorative element to any room of the house.
Strie Painting
Painting companies have used the strie method for many years to achieve a unique design. You can use any color combination suitable to your taste. A base coat is applied to the wall and then a glaze of another color is applied on top. By dragging a bristled paint brush through the top layer, the base color will bleed through. This offers a nice textured and layered touch so the wall looks as if it is covered in fabric or wall covering.
Sponge Painting
Sponging is a technique used to provide texture and depth to walls. It can also provide a delicate look. It is important to prepare the walls appropriately in order to ensure you get the desired results.  Interior home painters use a dampened sponge to blot a glaze mixture on the wall. This technique can offer a stunning effect the designer can personalize. For instance, to achieve a more subtle texture, use colors with little contrast and apply less glaze with the sponge so the base color is allowed to show through more. To achieve a bolder texture, use colors in sharp contrast to one another and apply the glaze sparsely. You can also choose any color combination in between to achieve the desired effect.
Looking for something uniquely you? Contact us to speak to our Connecticut interior home painters to explore a variety of painting techniques.
Recent Posts