September 22, 2017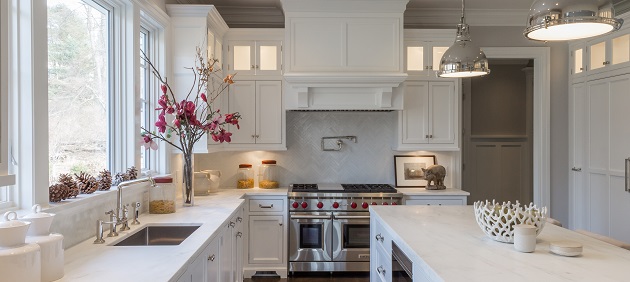 Kitchen cabinets play two roles within your home: they increase its functional capabilities and contribute to its aesthetics. You'll want to choose a layout that works for you and your family and a color scheme you can be happy with for a long time.
Kitchen cabinet painting may seem like an easy task to check off your list, but in practice it can be quite complex. You'll want to consider what color or stain works best for the material you've chosen, minimize the amount of visible brush strokes on your surfaces and apply coating in a clean, even manner. The activity can be a tedious, time-consuming task that is beyond many DIY-ers' patience and schedule flexibility.
Hiring kitchen cabinet painters is a viable, smart option for many people. In addition to providing technical expertise to ensure your kitchen cabinet paint job is performed properly, a professional team can offer expert design advice to help you make an informed decision.
Should You Paint Your Kitchen Cabinets Yourself?
If you're a professional painter with a lot of spare time on your hands, painting your own kitchen cabinets is a no-brainer. For those of us who aren't quite as experienced or don't have the time to devote to such a project, hiring a professional is a sensible option.
Here are a few things you'll want to consider when pondering whether to paint your kitchen cabinets yourself:
Time: To paint your cabinets properly, you'll want to set aside time for several processes. First, you'll want to prep their surfaces — this can involve a fair amount of sanding. Next, you'll want to prime them. After that, you'll want to apply two coats of paint. Keep in mind you'll need to budget time between each coat of primer and paint for drying and any extra sanding. If waiting around for these contingencies doesn't appeal to you, hiring a painting company to help with cabinet painting is a good idea.
Equipment: You'll want to make sure you have a few different grits of sandpaper — coarse, medium and fine — to account for all types of surface preparations. Next, you'll want to outfit your toolkit with paintbrushes, rollers, roller cages and trays. Drop cloths are also necessary, helping protect your floors from paint splashes. If you don't have the time to collect these tools or the space in your home to store them, you should consider calling a professional painter.
Experience: Cabinet painting requires an attention to detail that may not pair well with the skill sets of many do-it-yourself house painters. Visible brushstrokes, blotches and striations are highly visible. If the ideas of these imperfections bother you, enlisting the services of a professional painter would be preferable to going it alone.
Changing Your Mind: If you find soon after painting your cabinets that you aren't happy with the color or stain you've chosen, you'll have a lot of sanding and surface prepping to do to get them ready for another option. Should you be dissatisfied with the work of a professional, having them re-do their work with a different color is a lot easier and a lot less work for you.
Shoreline Painting: Your Cabinet Painting Professionals
If you're a homeowner in Greenwich, Stamford, Norwalk, New Canaan, Darien or Westport, CT, Westchester County, NY, or New York City with cabinets that need a professional painter's touch, contact us here at Shoreline Painting today.
We're a family-owned painting company based in Stamford, CT, with several decades of experience in residential painting projects. Our friendly, knowledgeable team will work with you to determine your needs and provide your cabinets a striking new look that will stand the test of time.
Recent Posts