August 28, 2019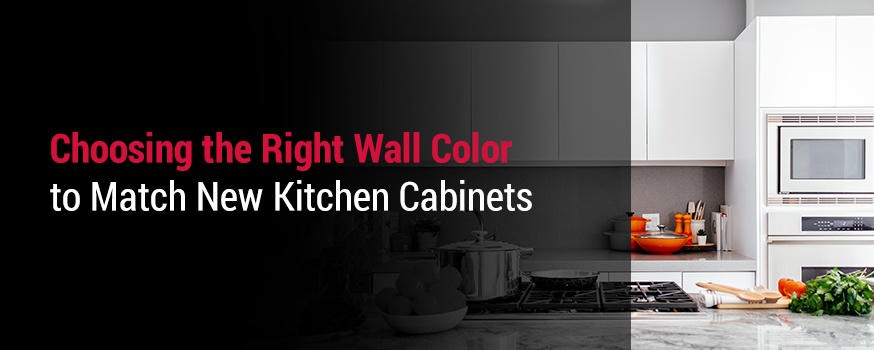 If you've recently gotten new kitchen cabinets or just had them refinished, it could be time to upgrade the walls around your kitchen. But the question is, what color do you paint them?
What are the best wall and cabinet color combinations, and how do you choose the best wall color for your new kitchen cabinets? If you're looking for guidance before deciding, we can help.
This complete guide will help you pick the right color paint for your walls to make sure that they go perfectly with your cabinets.
Choosing the Right Wall Color Based On Your Cabinets
When choosing the right wall color to match your new kitchen cabinets, first consider the material and appearance of your cabinets. While wood cabinets pair well with earthy, neutral colors, metal cabinets pair well with cool ones. Painted cabinets can present an even greater range of options, so when choosing your wall color, base your decision on what looks work best with the type of cabinets that are in your kitchen.
Colors That Pair Well With Metal Cabinets
If your cabinets are made of metal, find a color that will complement their sleek, reflective look. Typical kitchen wall colors may not be a great match with metal cabinets. Instead, consider pairing them with a dark gray, red or white if your cabinets are metallic grey. For white cabinets, most cool colors will work well as a backdrop. Metal cabinets stand out and attract attention, so you can choose a color that accents them well or tones down their metallic appearance.
Kitchen Color Schemes for Wood Cabinets
If you've chosen wood cabinets, consider which colors will match well with the wood's warm tones. Natural wood colors like oak, maple and walnut look best when paired with earthy shades. Avoid bold colors that can clash with wood cabinets. While you may want a dark pink for your kitchen walls, the result could be disastrous when paired with cherry cabinets. Limit your favorite bold hues to accent pieces, and stick mostly to neutral colors for bigger portions of the room, like the walls.
Even neutral colors like white come in various shades, so experiment with different tones. If you're unsure about which colors have warm undertones to complement your wood cabinets, ask a professional for some assistance in pointing you in the right direction when you purchase your paint.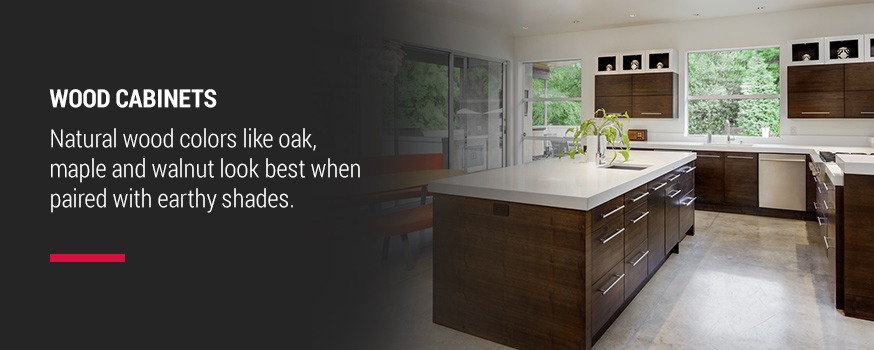 Wall Colors for Painted Cabinets
You may want a wall color that works well with your cabinet's paint color, whether that means enhancing the cabinet color you love or blending it into your space.
If you want to showcase your cabinets' color for all to see, pick a wall color that will emphasize them. Choose paint with the same undertone as your cabinets but a couple of shades darker. Your cabinets will draw the eye, and the room will appear more spacious. If you'd rather make your cabinets blend into the background, you can choose an attention-grabbing wall color. A bright, bold shade can make your cabinets less noticeable.
Choosing Your Paint Based on Your Color Scheme
When you combine texture and color into your kitchen design, you can create a beautiful, inviting room in your home. To learn what color might work best with your new kitchen cabinets, break out your color wheel. Consider all of your color scheme options, from contrasting colors to harmonizing hues.
1. Complementary Colors
Complementary colors are colors placed directly across from each other on the color wheel. In a kitchen, these two colors can appear both brighter and cleaner than a neutral color scheme.
A lot of cabinets are wood and brown, so you'll want to consider paint colors placed opposite of brown. These tones include various shades of blue and green, such as turquoise, teal, aquamarine, light blue, medium blue, gray-green and soft gray.
With darker wood cabinets like cherry wood, which has a slightly reddish tint, shades of green for your walls will complement your cabinets well. For especially dark cabinets like ebony or mahogany, select a lighter paint color for your walls to open up and brighten the room — something like aquamarine, ivory, beige, icy blue, seafoam green or pale yellow.
2. Harmonizing Colors
Instead of contrasting colors, you could also opt for harmonizing shades for your kitchen. Consider your kitchen as a whole, and select a wall color that brings the entire room together. Maybe your ideal shade of wall paint matches the grain in your cabinets, or perhaps you prefer muted colors that will accent your cabinets and draw attention, such as ivory, salmon, pale aqua, light gray or a soft yellow. Avoid dark colors, as they might seem to shrink your kitchen's size and could clash with your cabinets.
White cabinetry can pair well with most wall colors. To brighten and expand your room, select a light color like white, yellow or beige. One of these shades will likely make your kitchen feel cheerful and pristine. On the other hand, if you'd prefer to darken the room, try darker colors like red or mocha.
The wall color you choose to match your new kitchen cabinets depends on how you want the room to come together and what your objectives are. Do you want to brighten the space or darken it? Do you want to accentuate your cabinets or mute them? The paint color you choose for your kitchen will depend on what you are striving to accomplish with the room.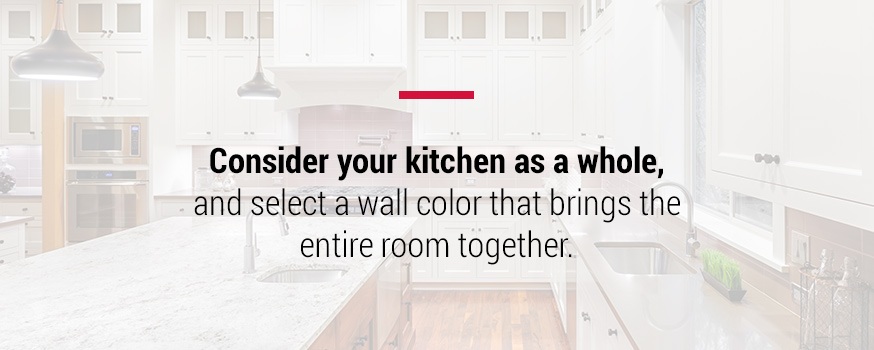 Additional Tips for Choosing the Right Wall Color
If you're still not sure what colors might work well with your new cabinets, we have a few additional tips to help you choose the right paint color for your kitchen walls.
1. Find Inspiration
When you're trying to choose a wall color, keep an eye out for inspiration and actively search for it. You may admire the wall color a friend or relative has chosen. On the other hand, you might discover the kind of color scheme you don't want.
The internet and social media can also be a great space to look for inspiration for your wall color. Pinterest is specifically designed for those seeking inspiration and offers an array of home design images you can pin to your own personal inspiration board for your kitchen. You can also collaborate with a partner or family to pin images to a shared inspiration board.
Beyond Pinterest, you can also scour blogs that focus on home design to find some ideas for your kitchen's walls.
2. Understand the Undertones
Sometimes we can't tell what the undertones of a color are when we look at lighter shades. Then, when we choose that color for our walls, the result is vastly different from what we expected. If you hate the color brown, for example, you probably wouldn't be happy to realize your wall paint has brown undertones.
To determine a color's undertone, look at the darkest shade of that particular color in the paint swatch. This shade is also known as the true color — the color with no undertones. Be sure to check the darkest shade on the color strip so that you can identify the exact undertone before it's covering your walls.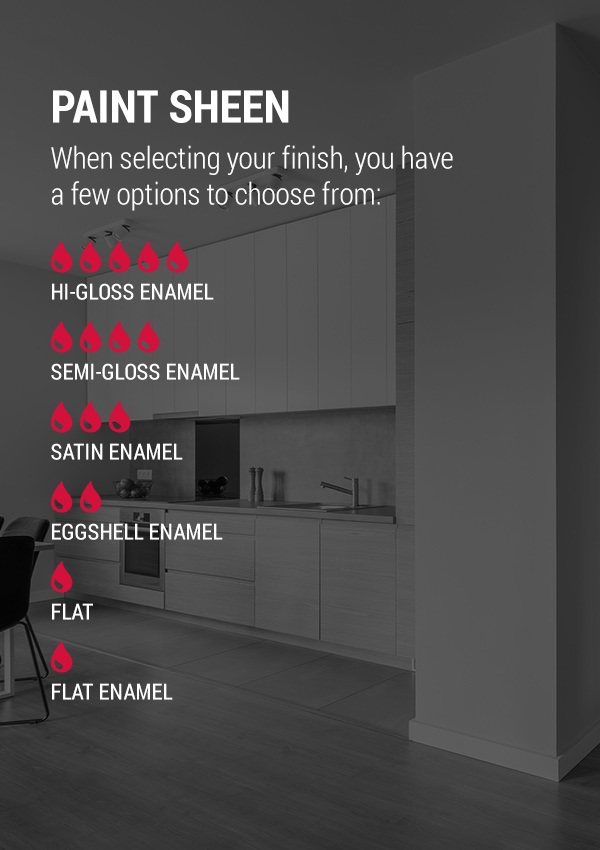 3. Choose the Right Sheen
Paints with a sheen to them will make flaws stand out. If you're attempting to disguise or draw attention away from blemishes in your kitchen, select a paint that has the minimal amount of shine possible. When selecting your finish, you have a few options to choose from:
Hi-gloss enamel: This finish appears shiny and almost glass-like. It's generally used for high-traffic surfaces, such as a railing.
Semi-gloss enamel: If you're looking for shine but want to avoid a glass-like appearance, semi-gloss may be the option for you. This finish is great for high-moisture areas, cabinets or trim.
Satin enamel: This finish has less shine, is easy to clean and is great for rooms with moisture, such as bathrooms or kitchens.
Eggshell enamel: For just a little shine, this is the finish for you.
Flat: If you're looking for no shine, choose this finish. It works great in low-traffic rooms.
Flat enamel: Like flat paint, flat enamel has next to no shine. Further, it's easier to clean — a great option for a home with pets or kids.
Sheen can play a prominent role in your wall paint's appearance, so consider your options and decide what works best for your kitchen's aesthetic.
4. Use Testers
Testers are a great way for you to choose the right wall color to match your kitchen cabinets. You can buy them in a few different colors or shades to get a better idea of what the walls will look like and how the color will look at various times of the day when the light hits it. You may want to leave these test samples up for at least a week to get a good idea of what the color looks like in different lighting and times of the day.
If you're testing on white walls, test on a bigger area to get a precise idea of how the color works with your new cabinets. The process is inexpensive and allows you to try out several colors at once before you decide on your perfect shade.
5. Stick to Neutrals
Unless you want to draw all eyes to your kitchen walls with a bold color, stick to neutral tones. A bold wall color will pair well with neutral furniture and cabinetry. Otherwise, you may want to select a neutral tone.
You may think neutral means white, gray or brown — but in home decor, neutral actually refers to light or medium colors that match well with other colors. Neutrals can be cool or warm. They come in different undertones, such as blue, green, gray, yellow or brown. Cool neutrals have blue or green undertones, while warm neutrals have red, yellow, orange or brown ones. When selecting a neutral shade, picking between a cool or warm neutral is the first decision you'll want to make.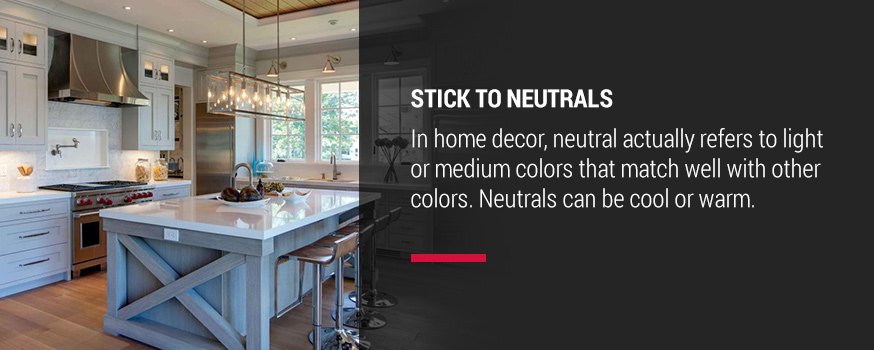 6. Pair a Color With Your Accessories
Don't forget about your kitchen's other accessories when selecting your wall color. Paint some poster board with your potential wall color and hold it near other furniture and appliances in the room to see if the color fits well with them.
If you want a country or cozy aesthetic for your kitchen, pair your natural wood, linens or wrought iron furnishings with a warm orange, brown or yellow paint color. For example, shades of yellow like honey, mocha, buttercup or sand can work well for this vibe. For a kitchen with stainless steel appliances, opt for shades of blue, such as aqua, China blue or icy blue.
To avoid overpowering your kitchen's furnishings or cabinets, stay away from a bright paint color.
7. Establish a Color Theme Throughout the Home
Don't forget to consider the existing colors in your home when making your decision. Perhaps you want to establish a cohesive theme throughout your house. Maybe your kitchen is part of an open layout, and you want the wall color to work well with adjoining rooms to avoid clashing colors. In that case, you may want to use different shades of the same color to add depth and differentiate between rooms.
You might choose an accent color from one room to be the main wall color of another room. This consistency of color can make your home's design feel cohesive.
Let the Professionals Take Care of Your Kitchen
Shoreline Painting & Drywall has provided interior and exterior painting services for more than 35 years as a family-owned and operated company. We prioritize quality and integrity, so you can trust us to produce superior-quality work for your home painting projects.
We offer free quotes, and most of our customers return because of the high quality of our work. They know they can expect an interior or exterior paint job that will enhance their homes exactly as they envisioned when they work with us.
Residents of Fairfield County, Connecticut or Westchester County, New York, and surrounding areas can learn more about our kitchen cabinet painting services as well as our professional color consulting services.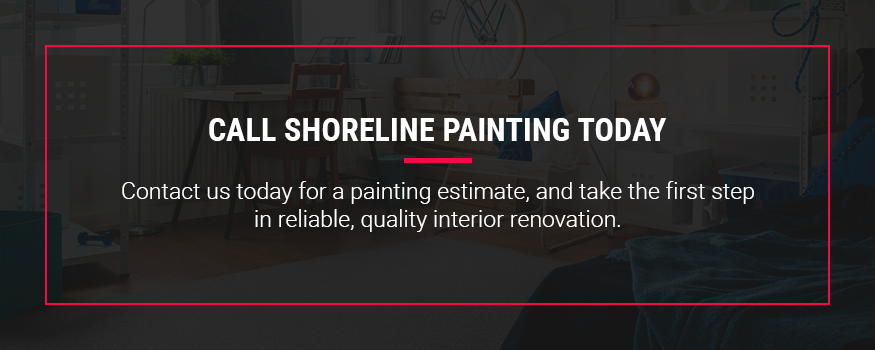 Recent Posts