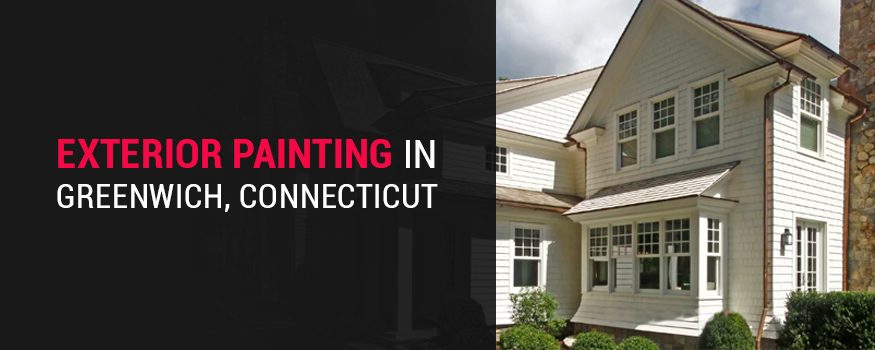 Exterior Painting Services in Greenwich, CT
Maybe that old white house paint is starting to yellow or peel away, or maybe you just want a change. Perhaps the old color doesn't go well with your newest landscaping addition. Whatever the reason, a fresh coat of exterior paint can breathe new life into your Greenwich home. It can make your siding look like new again or help your home fit in with its surroundings.
An exterior painting company in Greenwich, like Shoreline Painting, can finish the job in no time and with expert care and attention. Learn more about our exterior painting services in Greenwich, Connecticut, and professional painting services in general.
Advantages of Exterior Paint Work
You might wonder whether you need a new exterior paint job. After all, as long as your current paint isn't peeling off the siding, you should be fine, right? It turns out that a new paint job can offer a wide variety of benefits to everything from your wallet to your curbside appeal.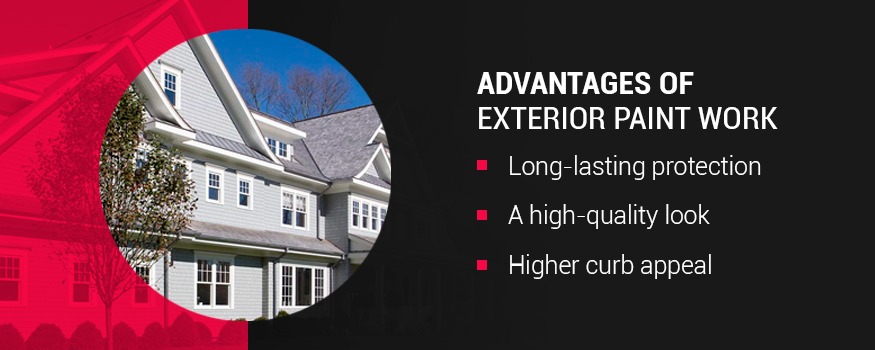 Long-lasting protection: If your paint is old, your home might not be as protected as it could be. A new coat of paint can be more resistant to changes in moisture and temperature. It can help protect your home from the elements, including dirt, grime, mold and sunlight. Formulas are more advanced than they were in the past, and the new coat will create a new barrier between the house and the rest of the world.
A high-quality look: New paint will give you a fresh look, complete with beautiful color and a sheen that will last for years. Modern paint formulas can hold their own against ultraviolet (UV) rays and provide resistance to chalking, fading and stains.
Higher curb appeal: Depending on the current condition and if you're changing the color, new exterior paint can boost your property value and curb appeal. You can make it better match your landscaping efforts, and maybe even the look of the whole neighborhood. Some areas with strict homeowner's associations might want your home to have a specific look, and a paint job can help you reach that.
We understand how important your home is and the value of making it look its best. A new coat of paint is something that can drastically change the appearance of your house, regardless of its size and style.
Working With a Professional Exterior Painting Company
The benefits of a new coat of exterior paint are clear, but when you try to paint the house yourself, you lose out on many of them while also losing time out of your day. If you want high-quality results, professional painting services are the way to go.
Here are some of the ways that an exterior painting company can help:
Specialized experience: Professional painters can handle odd architecture, uneven ground and intricate detailing that could easily trip up a less-experienced painter. Any specialty features like this should be left to the pros.
Paint knowledge: Professionals can help select the best paint for your home and its unique setting. Some houses may need more mold-resistant or UV-resistant paint, depending on the area.
Surface preparation: Home exteriors can require a wide variety of fixes before any surface coating is applied. Without appropriate preparation, the paint might not adhere well, or the preexisting problem can show through it. A door frame that's in poor condition, a corner of the house that's been hosting mold or a side that's covered in dirt can all spell trouble for an inexperienced painter. Professionals know what to look for and can make quick work of these issues and create the perfect canvas for exterior paint.
Paint care: If your home is older and still sporting paint from before the 1980s, it might have lead in it. While this dangerous component can be incredibly difficult for most people to work around, professional painters have the tools and knowledge to dispose of lead paint effectively without harming the environment.
Materials: You might not have buckets, rollers, bleach, power washers, brushes and ladders lying around, but we do. Hiring professionals offers access to the tools that can get the job done better and faster.
Simply put, painting is one of those activities that you should really leave to someone who knows what they're doing. An unskilled painter might apply too thin of a coat, create sloppy edges or miscalculate their paint needs. There are myriad aspects that can go wrong when doing exterior painting on your Greenwich home, but the professionals know how to avoid them for a high-end result.
Even people confident in their skills tend to turn to the pros because of the simple matter of convenience. You won't need to gather supplies or spend days on the project or worry about messing something up. You can go on with your life, heading to work and spending time with your family instead of sweating in the sun.
Why Shoreline Painting
When it comes to working with professionals, you have a lot of options. Shoreline Painting offers excellent results to homeowners in Greenwich and the surrounding areas. We're experts and can bring any paint job to fruition, no matter how complex. Our painters are fully trained and licensed, with all the experience needed to create a stunning new coat of paint on your residential or commercial building.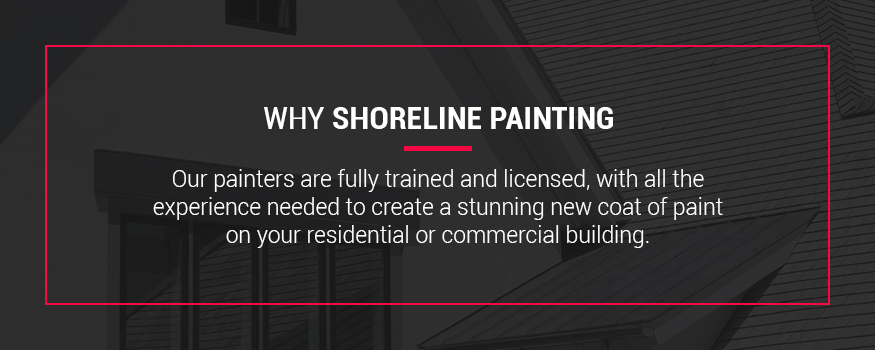 We take care of all prep work, including priming, sanding, removing dirt and mildew and caulking any necessary areas. Plus, our painters can help you select the right paint or stain for your home. That selection may include paints designed for:
UV radiation resistance
Mold and mildew resistance
Durability
Shoreline does its part for the planet. Many exterior paints can be high in damaging volatile organic compounds (VOCs), which pollute the ozone layer and contribute to smog. To combat this, we provide environmentally friendly, recycled paint options. By recycling paint, we reduce the amount of VOC-filled paint that gets disposed of into the environment. Plus, it helps reduce waste and the energy costs to produce all-new paint. Shoreline wants to make sure the air in Greenwich stays clean and breathable — ask about using these eco-friendly options to help out!
Professional Exterior Painting Services in Greenwich
If you're ready to give your home a refresh, look no further. For the premier exterior painting company in Greenwich, Shoreline Painting has you covered. We hold the title of a Master Certified Painter from The Fine Paints of Europe and have been in the industry since 1975.
In that time, we've helped satisfied customers throughout Fairfield County, Westchester County and the surrounding areas. Greenwich is one of our more popular destinations, and we'd be happy to refer you to some of our past clients. For more information on exterior painting contractors in Greenwich, reach out to us today!
Exterior Home Painting in Greenwich, CT
Professional Expertise from Shoreline Painting
There's no better way to turn heads and boost home value than with a newly painted exterior. If you're looking for professional exterior painting services please contact us today.