April 22, 2015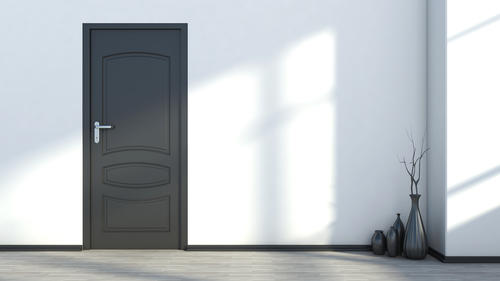 When it comes to fashion and style, there isn't a classier color than black. For example, black is often used in accents to add just the right finishing touch to an outfit. Many interior house painting contractors suggest it can have the same stunning effect when used in the home. One of the current trends is to paint interior doors black. Before you consult with your home painters, explore some of the reasons black is an exceptional choice for a door in your home.
Elegance and Class
Having a black door totally framed by white walls can have a stunning effect in a room. This single color can offer an immediate feeling of sophistication and class. Painting interior doors black creates an atmosphere of elegance in any space and can add style to an otherwise boring stock door.
Make a Door Disappear
While black can be an excellent choice when it comes to interior house painting, it's not best to use this particular color on a door located in an extremely closed-in area because the dark hue can make the area feel smaller. However, used on a door that is in an open space, black can have a soothing effect. To downplay a door you'd rather not be the focal point of a room, use black to divert attention to other areas. This shade can also be a great way to disguise a room's faults or tell visitors how far they are allowed to look. Black doors tend to set a boundary for the eyes.
Aesthetic Effects
Painting a door black can add certain aesthetic effects and design elements to any room or space. For instance, most painters will tell you it's the perfect color for making a short ceiling appear taller. A black door draws the line of sight upward so the ceiling appears to be higher than it really is. This effect makes black an excellent option for interior doors in areas, such as basements. When doors are painted black, it can also bring a nice dramatic look to areas with dark flooring.
Complementary of Accents
Black doors are ideal for drawing attention to other black accents in an area. By painting a door black, it repeats the accompanying black accents and helps pull the area together as a whole. This keeps the décor from feeling too spaced out or non-cohesive. A black door can echo trim, furnishings or other pieces containing black accents and help a room feel rich and comfortable at the same time.
If you are ready to explore the aesthetic effect of black interior doors with experienced painting contractors, please contact us. Shoreline Painting and Drywall in Connecticut has brought new ideas to homeowners for more than three decades.
Recent Posts