June 25, 2014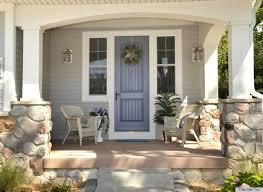 Making your house a home includes the outside too! Whether you're an owner of a new home or just thinking about adding a little pizazz to an older home, taking your home to the next level by painting your door can be the pop of color you need to turn your beautiful home into the envy of all your neighbors. If you're interested in changing the look of your home, here are a few ideas for conquering exterior painting.
Make It Bold
For those who opted to buy a home painted with neutral colors, such as beige, white or gray, choose a color that will stand out in stark contrast to your home to give it an edge and make it more inviting. For example, a blue door against a gray house could turn it from dreary to cheerful in a just a few coats. The key is to think outside of the box. A few alternate options could be a purple door against a beige home, orange with a lighter green, or even a dark green door with a dark red brick home.
Make It Fit
All accent colors are not created equally so choose a color that resonates with the exterior of your home. Does your home have wood paneling or brick? Does your front walkway have a rock path or concrete? Ask your exterior painting services to coordinate your new door color with those of the unique exterior aesthetics you carefully chose for your home.
Make It You
All style lessons aside, the most important thing about this process is to make it your own. If your favorite color is yellow and you would like to incorporate it into your home by making it your front door color, try to find a shade of yellow that complements the exterior of your home and your own personal style. Your home is a reflection of you, and your door is a small part of that outward expression of yourself that comes across in a big way when the color is right.
Exterior painting services can achieve the curb appeal you want. The goal is to make a drastic change with a result that is aesthetically in unity with your home. Shoreline Painting & Drywall can help you figure out which shade best fits you and your home to make it stand out. Our quality service, expertise, and integrity, will create the look you desire without any of the hassle. Contact us to get started.
Recent Posts