June 28, 2019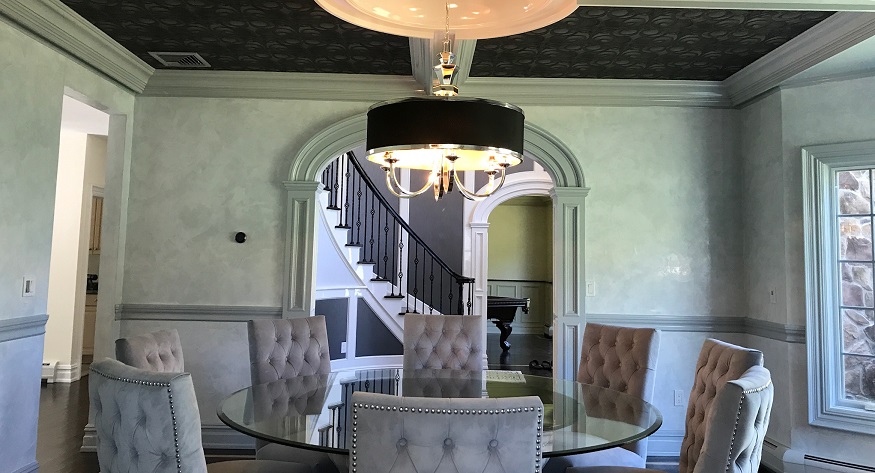 Is your home beginning to feel drab and uninspired? While a clean, blank canvas is meant to surge your creativity, it often leaves homeowners feeling devoid of any drama or personality.
By keeping up with the latest paint color trends for 2019, you can determine your mood for the upcoming year and find fresh sources of imagination. From soothing palettes to melt into at the end of a long day to bold, electric accent walls to encourage conversation, 2019's home paint color trends can add visual appeal and elegance to any room of your home. You might even be surprised at some of the latest 2019 paint trends.
2019 Home Paint Color Trends
With so many different personalities, the most popular home paint trends of 2019 have incorporated a range of bold yet delicate hues that suit any homeowners' personal tastes. Find tranquility, connectivity and sophistication in the following five home paint color trends you're sure to be obsessed with for the rest of 2019.
1. Playful Pastels
Envelope your home in a relaxed and calm lifestyle that's accentuated with the light, delicate and flirtatious tones of the pastel palette — from soft lilac grays to chalky whites and lingering mist greens. Pastels are like shapeshifting colors that, when paired with light furnishings and decor, can slow the mood the room and seamlessly flow your different spaces together, adding healing energy for peace and serenity.
For a more contemporary vibe, many 2019 pastel hue trends are paired with deep blues that mimic the color of a cool sea or deep midnight. Bedrooms and bathrooms are the perfect places to incorporate playful pastel colors.
2. Deep, Moody Hues
Think of the most elegant, rich space you've ever strolled through. Recall images of deep, lush green botanicals, intricate copper and gold accents, solid dark greys and tasty merlot colored purples. These impeccable tones paint everything in a sophisticated lens. Keep in mind, these gorgeous dark 2019 paint trends should be reserved for larger rooms that are well-lit to avoid being too overpowering or dark.
If you're obsessed with these colors, you can be creative with their usage by painting them in a sectioned off space, architectural feature or accent wall. Or, pair them with white furniture and decor to keep the space light and welcoming.
3. The Wild Side
When you need to feel empowered and connected, embrace your energy with bright colors like bold mustards and golds, majestic purples, reds, greens and yellows. These hues encourage creativity, dynamic late-night conversations and loud, unique ideas. Embrace even the fairest details of your home by pairing them with these wild color combinations to stand out. To balance these eccentric colors, pair them with neutrals like nebulous whites or mushroom-colored grays for warmth and grounding in your living spaces.
4. International Inspiration
Escape to parts unknown by painting your living spaces or home exterior with a collection of colors inspired by exotic environments and luxurious international locations. Sun-washed, warm hues in tans that mimic the look of tanned leather and hot sand, light greys that provoke images of wool blankets and deep oranges that reflect a setting sun are a popular feeling for 2019.
These colors are perfect for those with wanderlust and an earthy spirit who need an alternative to bland beiges and boring browns. Give your interior spaces a casual, relaxed elegance and more personality that muted neutrals can't offer.
5. A Bit of Everything
Modern homeowners should never have to choose between their most delicate sensibilities and most eccentric outbursts — and that's where 2019's home paint color trends come in. The most innovative color manufacturers have created beautiful color schemes that incorporate the best elements of all of this year's home paint trends.
This range of hues encompasses light natural clay browns to leafy greens to bright floral pinks for an organic, yet urban feel. By threading all of these hues delicately throughout your home and connecting your living spaces, you can create a relaxed and thriving aesthetic.
Let Shoreline Painting Help Revamp Your Home With 2019's Home Paint Trends
Become a trendsetter and rethink your interiors for the new year with one of 2019's paint trends. Trust the trained and innovative professionals at Shoreline Painting. We have more than 35 years of interior and exterior painting experience throughout Fairfield County, CT, Westchester County, NY and beyond. Our skilled experts are Fine Paints of Europe-certified with a focus on quality tools and products for a lasting, beautiful finish. We also proudly offer professional color consulting services.
To explore your 2019 color options, call us today at 203-302-1086 or complete our online contact form to request a free estimate.
Recent Posts