December 14, 2015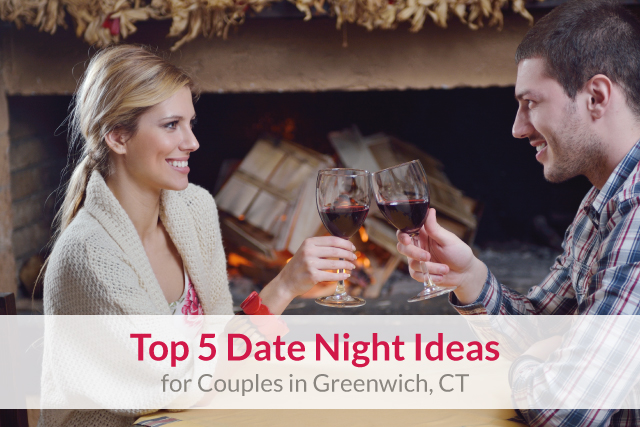 There is no shortage of date ideas in Greenwich, CT, whether you're planning a first date or you're just trying to shake things up a little by trying something new. Its location along the Long Island Sound lends a charm to Greenwich, with date entertainment options available both on land and on sea.
Starting at one of the best restaurants in Greenwich is always a smart move to impress your date. You can linger at the restaurant, or move on to one of the other entertainment options in the Greenwich area. With no shortage of eateries in our city, you're sure to find one with the upscale ambiance, delicious menu and customer-centered service you want.
However you spend your date night, the experience should capture the essence of Greenwich and all it has to offer. Anyone can take a date to a chain restaurant or sit through a movie together — but you want to go above and beyond to create a memorable date night.
Not sure where to go? We have several suggestions. No matter what your tastes, you're sure to find a genuinely Greenwich way to spend a night on the town with your special someone. And even if your date doesn't pan out, you'll enjoy the time you spend together when you choose one of these Greenwich date destinations.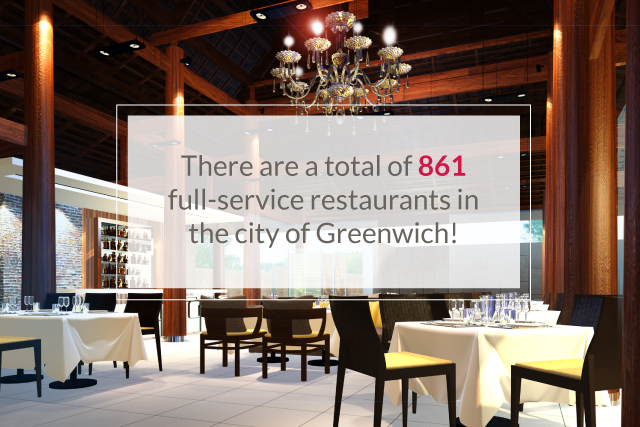 Start With a Bite
A romantic meal at a restaurant is a natural first stop on any date. Whether you opt for a date lunch or a dinner out on the town, you'll find plenty of good date night restaurants in Greenwich — there's actually a total of 861 full-service restaurants in the city!
But how do you choose? Your taste in food is an obvious starting point. If you're going to enjoy an upscale restaurant, it should have a menu that makes you drool. And don't forget your date's preferences. You may not share a meal, but make sure you choose a restaurant that offers something for both of you. In other words, don't take your strictly vegan date to the best steakhouse in town — that's a sure sign you didn't think of your date when you picked the dining destination.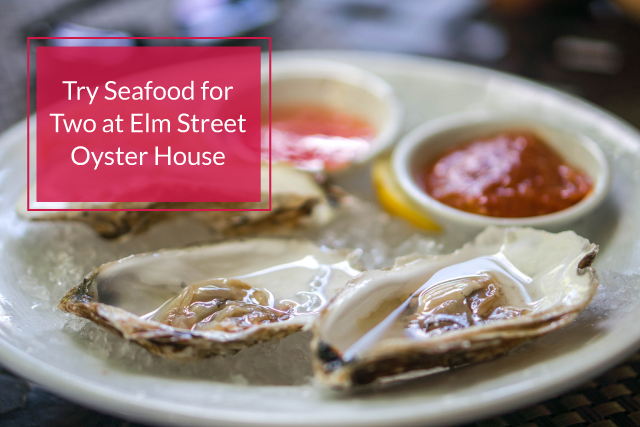 Trying something new can make date night exciting. Here are a few top-notch Greenwich restaurants that make our cut of top date night destinations:
Seafood for Two: Elm Street Oyster House is a natural choice if your date prefers surf over turf. Nestled in the heart of Greenwich, Elm Street Oyster House serves exquisite seafood dishes such as pan fried oysters. If you prefer your oysters raw, the Elm Street Raw Bar offers up six different options.
The food looks just as outstanding as it tastes with beautifully plated meals no matter what you order. Beyond the noteworthy food, this restaurant option serves up a cozy, intimate feeling with its décor — the perfect place to cozy up with your date for an intimate conversation (or to gaze into one another's eyes). Don't forget to enjoy the artwork hanging above the bar and the mural in the dining room: It's like an art museum and a top-notch seafood restaurant all in one date location.
Fine Dining at Its Best: For top-notch service from a knowledgeable, courteous staff committed to excellence, make reservations for your next date night at Valbella. Located in the Riverside neighborhood, Valbella offers three dining rooms, a wine cellar and a patio surrounded in lush greenery as dining options within its mansion location.
If you opt for the patio, expect to enjoy water features and fire wells as the backdrop for your romantic meal. The menu features pasta, chicken, veal and other high-end staples, so both you and your date have plenty of options.
French Inn for the Win: Homestead Inn – Thomas Henkelmann oozes with charm and luxury. The fine dining option at the inn features a distinctive French style with a contemporary twist. Chef Henkelmann has experience in French, German and Swiss 3-Star Michelin restaurants, so it's safe to say he knows his way around the kitchen and will offer you a memorable meal!
The grounds of this luxury inn welcome you with unsurpassed beauty. With lush landscaping and beautiful architectural details on the mansion that serves as the inn, this location is a winning spot for your next date in Greenwich.
Romance, Italian Style: You can't beat the romance of Italy. Terra Ristorante Italiano brings that romance to Greenwich with a warm, upscale décor that even includes beautiful painted, curved ceilings. The menu features all the Italian favorites with a few surprises thrown in. With over 100 labels from both Italy and California represented on the wine list, you're sure to find the perfect glass for your date at Terra Ristorante Italiano. You definitely won't go home hungry with this Italian menu.
Sweet Ending: Travel to France without leaving Greenwich for a sweet end to your date night meal. Featuring classic French pastries with a contemporary flair, Bistro Versailles is a great place to enjoy petit fours, éclairs or apple Tarte Tatin after your main meal. Don't forget to order a glass of champagne to sip with your dessert.
The executive chef at this restaurant and bakery is classically trained in the art of French cooking, and this experience shows in the menu and on every beautifully plated selection at Bistro Versailles. Menu options cover breakfast through dinner, so you can enjoy a date at any time of day or night at Bistro Versailles.
Dive Into Culture
The Bruce Museum is a good location for a date in Greenwich when you want to challenge yourself or your date intellectually. The museum stands near the Greenwich Harbor and features a mix of permanent and traveling exhibits. Displays relate primarily to art and science, with exhibits featuring anthropology and natural history.
The traveling exhibits change frequently, so even if you've been to the Bruce Museum before, you're likely to spot many new artifacts to explore with your date. You may discover you have common interests, or the exhibits could spark some insightful conversations between the two of you.
Originally the private residence of wealthy textile merchant Robert Moffatt Bruce, the museum became property of the city in 1908 when Bruce deeded it to the city asking that it be turned into a museum. You'll need to start your date early if the Bruce Museum is on your list: It's only open from 10 a.m. to five p.m. from Tuesday through to Sunday.
For those who love the beach, the Bruce Museum Seaside Center in Greenwich Point Park is a strong choice. With its beach-related displays and touch tank, the location allows you to explore the sea while staying on dry land.
If you prefer to expand your horizons while enjoying nature, consider the Greenwich Aububon Center. This cultural date night stop includes 285 acres woven with miles of trails. You may see several species of animals and native plants while on your hike. Learn more about the natural environment of the Greenwich area in the Kimberlin Nature Education Center located in the main sanctuary.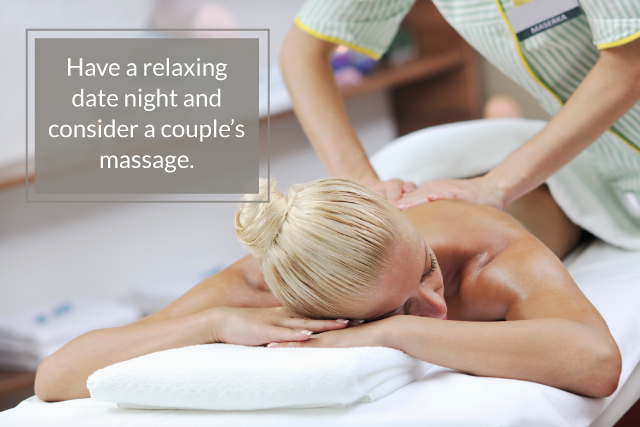 Leave Your Stress Behind
If you're looking for date night ideas in Greenwich that don't require a lot of thought, consider a couple's massage at one of the many upscale spas in Greenwich. This is probably the most relaxing date night option in Greenwich.
If you prefer to do your own thing, let your date choose a massage option while you choose your own. You can reunite after all of the hot stones and mud treatments relaxed and ready to enjoy the rest of your date together. Or you may be so relaxed you just want to head home for the evening.
Here are some day spa options in Greenwich that will leave you feeling pampered and relaxed:
Dream Spa and Salon: This spa creates a tranquil environment through its use of elegant décor and state-of-the-art spa treatments performed by a professional staff. The spa services list includes a couple's massage called the Dream Together Massage. Choose from three options: Swedish, Deep Tissue or Hot Rock.
Serenity Beauty and Spa: With a Greenwich Avenue location, a luxurious experience is a given at Serenity Beauty and Spa. The day spa staff includes highly sought after professionals in the field, so you and your date are in for a treat. While the menu doesn't specifically list a couple's massage, the spa is known for personalizing treatments to your needs. It also features a full list of men-specific massages and treatments, so everyone involved in the date feels comfortable.
The Spa at Delamar: This upscale spa is located inside the luxury hotel Delamar Greenwich Harbor. The Mediterranean-inspired décor in the spa area gives you the feeling of an escape without ever leaving Greenwich. Extra wide, heated tables offer a comfortable spa experience, while dim lighting and relaxing music help you find your relaxed place.
The Spa at Delamar offers a couple's massage or a deep tissue couple's massage, along with individual heated stone, four-handed and prenatal massages if you prefer to each go your own route.
Book a room at the Delamar Greenwich Harbor to keep your date night going all night long: It gives you the perfect overnight getaway in a luxury room after you've relaxed in the spa. Think of it as a way to extend the relaxation of the massage by keeping the real world at bay until morning.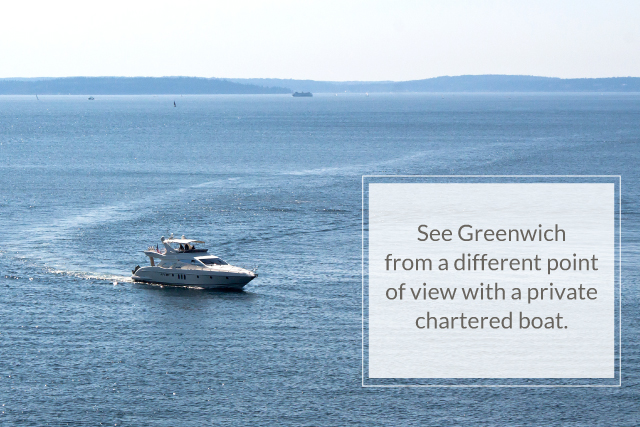 Set Sail on the Seven Seas…
…or at least on the Greenwich Harbor. A private chartered boat is the perfect way to see Greenwich from a different point of view. The lull of the waves, the beauty of the city from the water — this date night option definitely wins points for romance. You'll get bonus points if you schedule a sunset cruise on a luxury yacht. Watching the sun set over the water is definitely high on the romance scale.
You also get plenty of time alone with your date without the distractions found at a restaurant or other Greenwich hotspot. Or invite friends along for a double date on the water. Most charter boats offer options for groups of two or more, with various maximum capacities depending on the boat's size.
Greenwich Boat Charters offers dinner or cocktail cruises and waterfront tours. You can also take a boat to a restaurant along the shore or hitch a ride to New York City for a harbor tour. This is a different mode of transportation than anything you may be used to seeing in the Big Apple. Plan to spend several hours on the boat if you opt for a private boat charter, especially if it's headed for New York. You won't want to rush the experience.
If you're not ready to end the date when your chartered yacht pulls back into the Greenwich Harbor, keep the romance going with a stroll along the shore. A walk along the beach may seem cliché, but it's a sure way to woo your date. Find a quiet spot for some alone time, or stop at a busy spot to people watch with your date.
Shop 'Till You Drop on Greenwich Avenue
Greenwich Avenue is a hotbed of upscale shopping establishments with plenty of eateries sprinkled in. Grab your date and wander through the shops along Greenwich Avenue. If you pay attention, you'll likely pick up on some gift ideas, and you'll definitely earn bonus points for attentiveness.
From the top to the bottom of Greenwich Avenue, you'll find a variety of stores. Thinking of adding jewelry to the relationship? Steer your date toward Jewels by Viggi of Greenwich, Manfredi Jewels or Tiffany & Co.
Update your wardrobe at Kate Spade New York, Michael Kors, Ralph Lauren or Saks Fifth Avenue. Or simply stroll down Greenwich Avenue, gazing into the eyes of your date until you stumble upon a shop that draws your attention.
If you're ready to remodel with your partner or you want to daydream about your future home together, head to East Putnam Avenue above Greenwich Avenue. There you'll find a cluster of high-end home design shops specializing in everything from curtains and high-end mattresses to paint and furniture. Whether you buy or just window shop, you'll leave Putnam Avenue with a wealth of home design inspiration.
Romance in Greenwich
With so many date night options, you're sure to find one that fits your idea of a perfect date night. From water to land, shopping to dining, the relaxing to the intellectual, explore everything that Greenwich has to offer the next time you want to treat your date to a night on the town.
Recent Posts