May 30, 2019

When you decide your kitchen needs an upgrade, one of your first considerations is what to do with your cabinets. Cabinets serve many purposes, from visual appeal to storage, and they are a defining feature in most kitchen layouts.
That means how you approach them impacts your project. You may be tempted to rip out your old cabinets right away, but repainting is an ideal alternative if you still like your current kitchen floorplan and the shape of your cabinets overall.
A large part of this decision comes down to how much time, money and change you're looking for. Your situation and tastes also factor into whether you fully replace your kitchen cabinets or revitalize them with repainting.
Should I Repaint or Replace Kitchen Cabinets?
Let's go over what each option involves so you can gauge what's right for your kitchen:
Replacing: If you opt for replacement, this means pulling out your existing cabinets and replacing them entirely with new ones. You can situate the new cabinets in the same spots as your old cabinets, or you can reconfigure the layout entirely. Reconfiguration might be easier if the existing flooring in your kitchen runs under your current cabinets. If it doesn't, your cabinet project might also expand to include redoing your kitchen floor to make the floor uniform as well as level to ensure proper cabinet installation. The cabinet replacement process could include mounting new upper cabinets, securing base cabinets and leveling the counter surfaces. It also would consist of attaching the cabinet doors and adding final touches like handles and knobs.
Repainting: If you opt to repaint your cabinets, this choice will still take thorough preparation, including removing hardware, detaching doors and cleaning the area. Preparation also includes sanding and priming the wooden surfaces before finally applying several coats of your choice of paint and installing hinges and handles.
The projects differ quite a bit in their steps and outcome because each kitchen undertaking is unique. And, while it could be done on your own, hiring a trusted, professional contractor to complete either process can save you energy and time, especially if the do-it-yourself route is not an option you're comfortable with.
For any home renovation projects, the finishing details do matter — and are usually best achieved through proper prep completed by a skilled professional.
Repainting vs. Replacing Kitchen Cabinets
When it comes to revamping your kitchen cabinets, both replacement and repainting can make for a beautiful look and lasting quality.
Replacing and repainting may seem similar, but they have their own advantages and disadvantages. Weighing the differences between will enable you to confidently pick your renovation method.
In most cases, the elements to consider when you're deciding whether to repaint or replace your kitchen cabinets come down to time, convenience, cost, condition, appearance and material.


Advantages of Repainting Kitchen Cabinets
Repainting can give your kitchen a new look while working with what you already have. Revamping your space with this method means you'll have a speedy, convenient and cost-effective cabinet project. Here are some of the positives about repainting your kitchen cabinets:
1. Can Be Completed in a Short Timeframe
Specific timeframes vary depending on the size of your kitchen, but generally, professional repainting takes three to five days. Some tasks may add time to the project, like removing the cabinet doors and hardware, but overall, applying the paint is quick. Even drying time in between coats is short. Especially if you hire a skilled crew, the project should take under a week.
2. Gives Your Space an Updated Look
Cabinets can become dull in appearance over time, but if they were solidly-built to start, they will likely retain that feature. Repainting can restore your cabinets, giving them an up-to-date look and bringing back their original beauty.
A well-executed paint job covers the cabinet's existing surface. If you no longer want the look of just straight wood, for example, you can opt for a beautiful solid color instead — without having to replace your cabinets completely.
3. Can Be a More Relaxed and Easy Process
Repainting can be more convenient than replacing your cabinets entirely because you can update your kitchen without having to move appliances or worry about damage to your countertops, among other factors. You can just put a protective covering over everything and get to work.
Opting for repainting also means you don't have to get used to a different layout like you might if you were to replace your cabinets. You're just looking to bring back the original beauty of your existing cabinets, so there is no change in your setup.
4. Can Be an Affordable Option
With the paint and handiwork as the primary expenses, repainting kitchen cabinets can be budget-friendly. Depending on the quality of the products and the hired contractors, adding fresh paint is affordable and a reasonable investment.
When Is Repainting Not the Best Option?
Repainting brings many advantages. However, repainting only works if you have a solid foundation. That means if your cabinets are not the sturdiest and are constructed out of something such as thin plywood, repainting them won't add any kind of reinforcement to their strength.
Similarly, if your cabinets are in disrepair, with a lot of chips, cracks and other wear, it may be possible to cover up some of it with paint, but it won't fix the underlying issues. Repainting is entirely a cosmetic boost that can protect the surfaces of your cabinets. It is not a structural fix.
Advantages of Replacing Kitchen Cabinets
Replacing your cabinets can give your kitchen a complete makeover. In most cases, redoing your cabinets is ideal if they are beyond repair or structurally unsound, but, of course, you can scrap them if you just don't like them or are not happy with where they are located in your kitchen, too. Here are some of the advantages of replacing your cabinets.
1. Can Fix Worn out Cabinets or a Poor Layout
Over time, steam, cooking oil residues and temperature changes can cause wood warping and other structural issues for your kitchen cabinets, no matter how high quality they are. If your cabinets are showing signs of structural damage, simply repainting them won't be enough. Replacing them will be the better option to ensure your cabinets are structurally sound and can withstand daily use.
A problematic layout is also a good reason for cabinet replacement. If you're frustrated by the cabinets' location, minimal storage or shallow depths, you can change it. Rip out the old cabinets and put in new ones in a style and arrangement that will give you a kitchen space you love.
2. Creates Brand-New Look
Replacing your cabinets can give your kitchen a completely new aesthetic. If you had traditional wood cabinets before, you can opt for a different material, a different type of wood and more.
You can also have the cabinets created exactly as you want them. Do you want more shelves in each cabinet or for the cabinets themselves to be taller or shorter? Maybe glass front doors will give you the look you're going for. If you're wanting a true re-do of your kitchen, then replacing the cabinets is likely the way to go.
When Is Replacing Not the Best Option?
In some instances, replacing your cabinets may not be the ideal option to achieve what you would like to in your kitchen. Here's a look at some of those situations.
1. You're Not Looking to Make a Substantial Investment
Replacing your cabinets involves several stages, including demolition, new cabinet construction and installation, you can expect the costs to be much higher than with a process like repainting. If you're doing a kitchen remodel, a cabinet replacement can take up a large portion of the budget.
Custom cabinets and further specifications also push the cost up, so you'll have to balance the price with the longevity and investment quality of the new cabinets.
2. You're Looking for a Quick Update Option
Since you're essentially starting from scratch, replacing kitchen cabinets takes longer than repainting. From removal to installation, the process can take several weeks as the cabinets are prepared and you decide how to integrate them into your kitchen layout.
In addition, if you replace your cabinets, it's also likely you'll need to replace other elements in your kitchen, such as the backsplash, the flooring and even the countertops. Your existing motifs may not match your new cabinets, but it's also possible they can sustain damage when the cabinets are removed.
3. You Don't Want Major Disruption to Your Daily Routines
When you remove your cabinets entirely, it can be a disruption to your daily routines. You'll need to move everything that was in your cabinets, and you may need to move other items such as appliances. You might also need to relocate your sink and countertops to accommodate a new layout.
In other words, you will have an extended period where you will not be able to use all or part of your kitchen.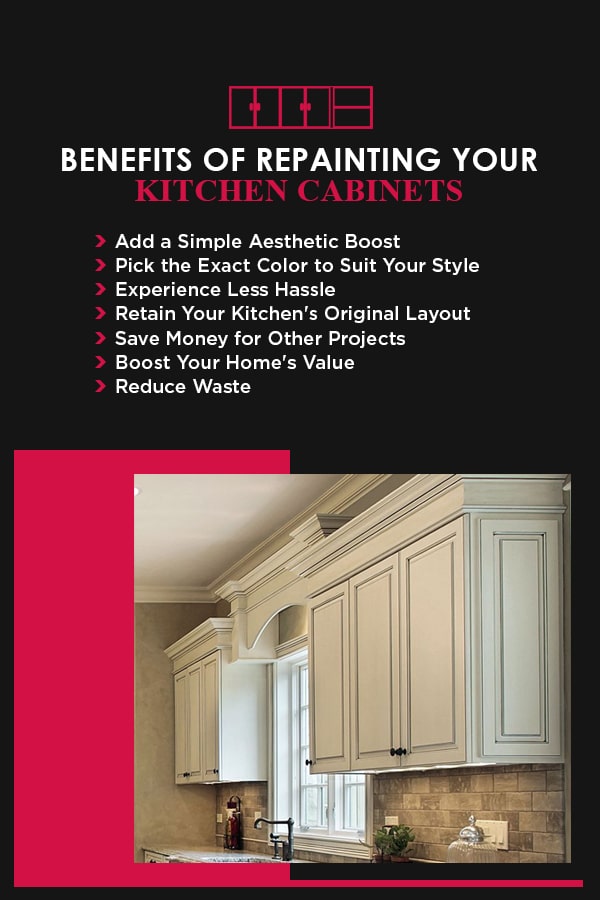 Benefits of Repainting Your Kitchen Cabinets
Now that you understand replacement and repainting, you probably have a solid idea about which one you need to go with for your home. If you're entertaining the possibility of repainting, check out these benefits to see whether it matches your objectives and resources.
1. Add a Simple Aesthetic Boost
If your cabinets are in good condition overall and are just looking a little worn or dated, you may not want to replace them entirely. With a quality paint job, your cabinets can look brand new — a satisfying upgrade without a major overhaul of your entire kitchen.
2. Pick the Exact Color to Suit Your Style
Do you want to change the color of your cabinets? Paint is versatile and effective.
Painting brings a highly personalized style to your kitchen. For example, you can go for elegance by using white or black paint, or you can go bold with red or blue. Would you like your kitchen space to be cheery and bright? A beautiful yellow might be an ideal option. You can also mix and match paint colors for a unique and fun look.
3. Experience Less Hassle
Repainting is a project that's less intense than a full-fledged cabinet replacement. While you will still need to keep things covered and may need to move items around, your kitchen will still be mostly operational during the process, and your routines won't be majorly disrupted.
4. Retain Your Kitchen's Original Layout
If you've spent time and effort creating a charming kitchen where you enjoy cooking and entertaining guests and you're happy with the overall look and layout, you may not want to change that. A complete renovation can bring you back to square one, but repainting keeps your kitchen's current layout and overall look intact.
5. Save Money for Other Projects
Cabinet painting services range in price, but they are a budget-friendly home improvement option. Painting your existing cabinets costs less than a full cabinet replacement, and the money that you save can go toward other projects in your home.
6. Boost Your Home's Value
According to the National Association of Realtors, 54 percent of the polled realtors suggest that sellers should complete a kitchen upgrade before trying to sell their house. Sprucing up your kitchen cabinets goes beyond making your place more appealing to buyers, though — it also increases its current livability for you.
The kitchen is likely a place you spend a lot of time. Even if you aren't looking to sell your house, upgraded cabinets can make for a much for enjoyable space to cook, dine and entertain.
7. Reduce Waste
When you replace your cabinets, it's possible you can donate them or salvage some parts, but you'll ultimately need to discard them. However, if your cabinets are still structurally sound and it's just their overall luster that has dulled over the years, you can breathe new life into them with paint.
By going this route, you'll conserve resources and avoid having to dispose of your old cabinets — which creates less waste.


Choose a Trusted Professional to Repaint Your Kitchen Cabinets
When it comes to repainting complex surfaces like cabinets, professional painting contractors deliver the best results. For more than 35 years, Shoreline Painting & Drywall has been offering superior interior and exterior painting.
Because we prioritize integrity and expertise, we have consistently performed successful, high-quality painting projects for homeowners.
Our expert team specializes in kitchen cabinetry refinishing, and we also provide repainting to give your space a gorgeous new look. Trust us to help you reenergize your kitchen cabinets.
If you're a resident of Fairfield County, Connecticut, or Westchester County, New York or surrounding areas and want quality results for your painting project, get in touch with us online or call us at 203-302-1086.
Recent Posts