December 23, 2016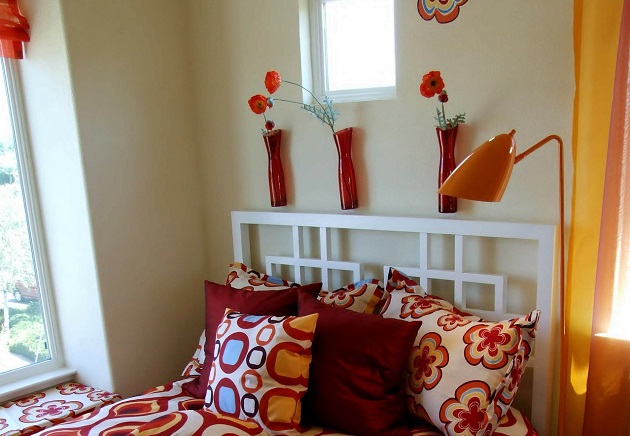 Adults and children often have different tastes when it comes to color. Younger people often like bolder, brighter colors, while many adults, stimulated enough by the stresses of everyday life, prefer more muted, neutral shades. Each child is an individual and will have her own tastes when it comes to paint color for bedroom walls. If you have a girl, paint colors for a room where she will be spending most of her time will be extremely important, and you want to do it right. Here are some ideas for painting your daughter's room (aside from pink).
Paint Color for a Baby Girl Nursery
While pink is certainly a fine paint color for a baby girl nursery, it's understandable if your concerned about your child getting locked into gender norms like pink for girls, blue for boys. A good compromise is some shade of purple, like lilac or lavender. Purple has qualities of both pink and blue, but it has a style all its own. Purple is the color of royalty, and the right shade of purple can be soft enough to relax a young child while bold enough to stimulate her. Purple is also a color you can complement with accents of pink, blue or cream to enhance its effect.
Paint Color Ideas for a Teenage Girl's Bedroom
When it comes to paint color ideas for a teenage girl, there's another factor to consider — what your teenager wants. The best approach is probably to sit down with your teenager and ask. Bring her a color wheel and go through it together to find her best choices, reminding her that the color she chooses should be one she can live with for the next four or five years.
Again, you can have multiple paint colors for bedroom walls, so think about one main color and another color to accent it. Shades of purple are still a good choice, as are light blues and greens. A painting professional should be able to offer you a free consultation to narrow down the possibilities even further.
If you and your teenage girl still aren't quite sure what color to choose, or you know your daughter is still finding herself and may go through many style phases including cycling favorite color schemes, you may want to go with a basic off-white shade like an eggshell or a cream color. The trick here is that these colors on the wall will reflect the colors in the room, so if your daughter is in a pink phase with pink rugs and pink furniture, the walls should appear pinkish as well. If the room has a blue theme, the walls can reflect this with a bluish sheen as well. With a basic off-white shade, the color scheme can evolve with your daughter's tastes.
General Room Painting Tips For A Girl's Room
There are few paint colors you should avoid for a girl's room. If you choose a mostly blue paint color for a baby girl nursery, she will not have gender identity issues because of it. In fact, equating blue with boys and pink with girls is a relatively modern phenomenon. You probably want to avoid colors like bright red or black as the main color theme for your daughter, as these colors may heighten levels of anger or depression, but almost anything — even black and red — can work in moderation.
If you're ready for a beautiful paint job for any room in your home in the Fairfield County, Westchester County, Hamptons or Manhattan areas, Shoreline Painting has paint color experts who can assess your situation and help you choose the right color scheme for your little girl's room. With expert painters, eco-friendly materials and a guarantee of quality, Shoreline Painting are the painters to call.
Contact Shoreline to receive color tips, ask general painting questions or request a quote on your paint job today.
Recent Posts